Best Swim with Dolphins: Dolphin Cove Jamaica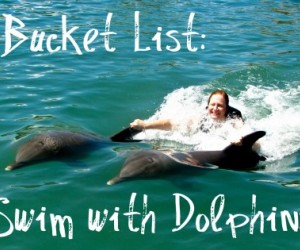 Swimming with the dolphins is a dream come true for most kids (and adults). If it's not on your kid's life bucket list, it's probably because they just don't know about it yet. But Dolphin swim experiences are not all the same and if you are going to go for a once in a lifetime experience, you want to get it right.
I have tried a few dolphin swims myself and recently I was lucky to be on a travel bloggers trip to Jamaica. We were invited to the Dolphin Cove in Jamaica and even the other travel writers who have done more dolphin encounters than I have agreed this was the best swim with the dolphins they had done.
What makes Dolphin Cove in Jamaica the best dolphin swim experience?
The People: Like everything else in Jamaica, the first thing that makes the Dolphin Cove dolphin swim experience exceptional is the people. Before you go down to the dolphin cove, the guide performs a short introduction, teaching you about dolphins and and their facility. Our guide was incredibly charming and entertaining, as were the trainers who helped us during the experience. Somehow Jamaicans just know how to make everything more fun and the attitude of our host definitely put us in a great mood and made us ready to enjoy our swim with the dolphins.
Interaction Time: A swim with the dolphins experience can range from getting to touching a dolphin from a deck to getting in the water and touching a dolphin in the water and giving a dolphin a kiss. Sometimes there is a deluxe option where you can be pulled or pushed by swimming dolphins. We were able to do the deluxe swim with the dolphins experience at Dolphin Cove and it was amazing.
I usually feel that there's a certain mechanicalness to dolphin experiences that makes me feel rushed and not at all how I dream swimming with dolphins should be, which is all blue lagoon-y and free. While I acknowledge that I was not actually swimming with the dolphins and Christopher Atkins, the Dolphin Cove swim with the dolphins is a longer and more relaxed experience and the fun and charming trainers make it as close to the lagoon as it gets.
At Dolphin Cove we got to spend a long time in the water with the dolphins. They did tricks for us and played and pulled us and pushed us in the water and we got to kiss them and touch them several times. I definitely felt by the end that we had gotten a full dose of dolphin-ness.
Know before you go:
We visited the Dolphin Cove in andy Bay (near Montego Bay) but there are two other Dolphin Cove locations in Negril and Ocho Rios.
Kids must be at least 3 years old and able to swim to swim with the dolphins. All children under 11 must be accompanied by a paying adult. Pregnant woman can not participate in any of the dolphin swims, but can do the dolphin touch and so can toddlers and non-swimming children. The dolphin touch is free for children under five with a paying adult.
In addition to the dolphin swim there are other activities at Dolphin Cove like a shark encounter and camel rides and they were adding more when we visited. Check the website to find out what they are offering now.

Bring your own towels, snacks, water and sunscreen. You aren't supposed to wear sunscreen in the water so a swim shirt is a good idea if you have one.
Swimming with the dolphins is always expensive. At Dolphin Cove the prices vary during different seasons so they do not list prices on their website or brochures. The photo below shows the prices and options at the time when we went.

The only thing that I didn't love about Dolphin Cove Sandy Bay Jamaica is that the photo packages are really expensive. After paying over $100 for the Dolphin Swim it feels a little rough to pay another small fortune for a picture. especially since cameras are not allowed down by the water so there's no chance of taking your own shots. But, it's a once in a lifetime experience and, all in all, totally worth it.
Find more about Dolphin Cove at DolphinCoveJamaica.com