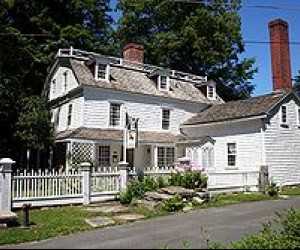 Keeler Tavern Museum Review: Experience a Slice of Life as it was 3 Centuries Ago
By Monika Nica
Why not take a refreshing short trip with your family back in time to visit one of Fairfield County's many historical treasures, the charming Keeler Tavern in Ridgefield?
As soon as you walk through the doubly fortified heavy front door of the impeccably maintained white building from colonial times, you enter an entirely different age from three centuries ago. It was then that 26 brave and determined families from far-away Norwalk followed narrow paths through dense woods and rich meadows to settle in an area yet uninhabited by colonists, in the midst of an unknown wilderness to start a new community that was to become the serenely beautiful town of Ridgefield.
The Keeler Tavern erected by an enterprising gentleman named Benjamin Hoyt was built around that time: with a single room, thick walls, tiny windows and a sturdy door on the side of the house to keep the family safe. Throughout the decades, the tiny little one-room house served as the homestead for several families, was extended to become a modest inn for weary travelers, a post office for a community firmly establishing itself on the edge of the early settlers' world, a more elegant hotel and eventually a peaceful, relaxing summer house. In 1966 the property was turned into a museum. Today it is an exciting little treasure chest where children and adults can immerse themselves into the mysterious and inspiring atmosphere of our earliest history while surrounded by an astonishing array of interesting and puzzling objects and items from times long gone by.

The museum offers tours narrated by seriously knowledgeable and jaw-droppingly engaging storytellers dressed in colonial costumes. Their sometimes amazing, sometimes hilariously funny anecdotes invoke images of grumpy settlers sharing pipes huddled around the beehive oven which claimed the lives of so many colonial ladies, describe the operations of the little post office wedged under the stairs of the 'dining room' where addressees had to pay for the letters sent to them. From room after tiny, unexpected room, the guides engage adults and children alike in stories about history and colonial life. We learn about colonial ladies chatting away in the 'parlor' separated from the grumpy pipers, sipping tea from handle-less cups as handles were easy to break on the long and not-so-smooth journeys from far away, We hear about war skirmishes, secret plans and troops marching through settlers' farms and towns. Children will be mesmerized by the War of Independence era cannon ball lodged in the external wall of the tavern and somewhat scandalized by colonial kids' rough and hard lot that tied them into unbelievable narrow cradles and 'highchairs' as babies, forced them to eat standing as younglings and assigned some highly undesirable and inconvenient chores even to the littlest ones.

The museum's rich collection of toys, furniture, clothes, household items appeal to everybody's imagination and walking through the little rooms organized into an almost maze-like pattern, scaling the creaky, old wooden stairs while following the extensions of the house through the centuries is a real joy. The tour ends in the museum's gift shop where adults can browse through history books and art while children can explore colonial era inspired toys and games and play dress-up with historical costumes in the museum's neat Children's Room.

A stroll in the tavern's yard and fenced-around garden can gracefully transition visitors back into modern times. Those not too tired from the experience can walk up the pleasantly shaded Main Street of Ridgefield for a refreshing ice cream treat at Deborah Ann's Sweet Shoppe to crown the afternoon.

Guided tours: Wednesdays, Saturdays, And Sundays: 1 pm to 4 pm, 45 minutes.

Tickets:
Adults: $5
Children under 12, seniors and students: $3

Deborah Ann's Sweet Shoppe
381 Main Street, Ridgefield, CT, 06877
Phone: 203-438-0065
Summer weekends open until 9.30 pm.
Keeler Tavern Museum
132 Main Street
Ridgefield, CT 06877
Deborah Ann's Sweet Shoppe
381 Main Street
Ridgefield, , CT 06877