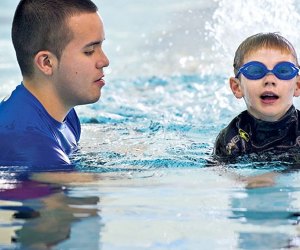 Swim Lessons for Kids in and Near Fairfield County, CT
Whether you have a little fish or a child who is scared around water, swim lessons are important for teaching kids to be comfortable and safe at Connecticut's many pools, lakes, and beaches. The Fairfield area is full of pools offering mommy-and-me, parent-child, and independent swim lessons that develop kids' confidence, survival skills, and individual strokes. Check out our Classes and Activities Guide for even more sporty and aquatic fun.
Children of the Sound, Norwalk
Boasting the title of "the largest swim school in Fairfield County," Children of the Sound offers private, semi-private, and parent-tot classes for children ages 6 months through 3 years. The classes focus on water safety and comfort, and are offered most weekday and weekend mornings.
YMCA, Various Locations
The YMCAs in Wilton, Westport, New Canaan, Greenwich, and Darien all offer 30 minute Mommy and Me swim classes. Some of these YMCA require memberships to participate; others do not.
Chelsea Piers, Stamford
The Chelsea Piers Swim School is designed around a progression-based curriculum for children ages 3 to 11 years old. The multi-sports complex offers parent-and-child swim classes, stroke discovery and stroke development courses in 18-week sessions running from January through June. All classes are taught in the facility's 87 degree teaching pool with a low student to teacher ratio.
Cunningham Aquatics, Stamford
Enjoy private or group swimming lessons, including beach & pool lifeguard training.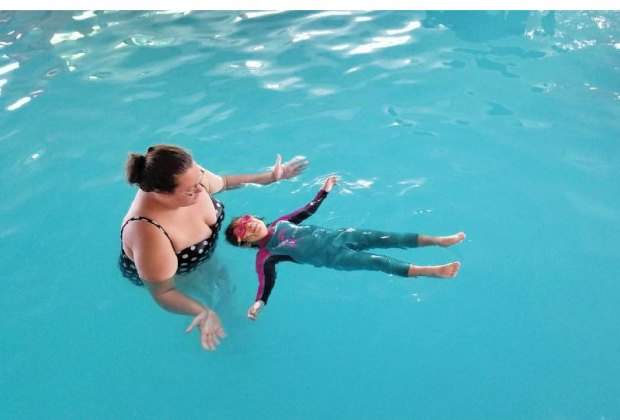 There's one-on-one instruction offered at the Penguin Swim School.
Penguin Swim School, Shelton
Offering year-round swim lessons at Homewood Suites by Hilton in Stratford, the Penguin Swim School offers one-on-one and two-on-one swim instruction. The swim school offers super flexible scheduling with highly-supervised lessons available seven days a week.
Velo-CT, Norwalk
Choose from Parent & Child classes, group lessons, or Early Afternoon class for children ages 3-5. Flotation devices are not used, allowing children to swim with the power of their own bodies.
Wings Over Water, Fairfield
Using the 'Swimplicity' method of instruction, Wings Over Water offers programs ranging from 'Parent & Tot to 'Olympian Excel.' Most classes are 30 minutes offered seven days a week. Wings Over Water also offers family swim, lap swim and birthday parties.

Originally published April, 2012. All photos courtesy of the programs