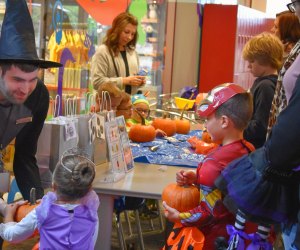 Things To Do in Connecticut this Weekend: Spooktacular Science, Autumn Festival, Fall Hikes
We have reached mid-October, and the fall weather has turned crisp as a Braeburn apple. The rustle and crunch of fallen leaves makes the perfect background noise for all the fall fun Connecticut has to offer. The Ansonia Nature Center is hosting its annual Autumn Festival, featuring horse-drawn wagon rides and a chance to meet spiders, bats, and other creepy crawlies. In Mystic, get active with a self-guided spooky nature hike. And for sweets and science combined, stop by the Connecticut Science Center for its Spooktacular Science Weekend.
If the spooky spirit hasn't quite struck you yet, there is the annual Tower Toot festival and foliage hike in Simsbury. But if your kids can get enough of Halloween, you're sure to find some activities involving pumpkins, costumes, candy, and more in our Connecticut Halloween Guide.
To make sure that you don't miss any of the fun, subscribe to our weekly newsletters and follow us on Facebook and Instagram. Read on for our highlights of events happening this weekend, and check our frequently updated daily event calendar for even more ideas.