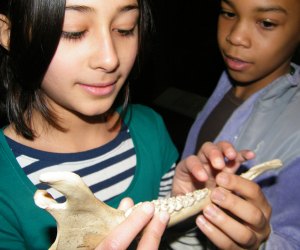 Weekend Fun: Hot Air Balloons, Country Fairs, and a Celebration of Native Culture
For most people in Connecticut, this is the unofficial last weekend of summer, as school districts start opening for the 2017-18 school year next week. But there's still time to enjoy the fun options that abound in the state this weekend, including a hot air balloon festival, sunflower mazes, and the Last Roar of Summer at the Yale Peabody Museum. When the sun goes down there is also plenty to do, including a food truck feast, or a post-game fireworks display at the ballpark.
We hope you'll follow Mommy Poppins Connecticut on Facebook, Twitter, Instagram and Pinterest, and subscribe to our newsletters to stay in touch. Have a great weekend!
All Weekend
Plainville Fire Co. Hot Air Balloon Festival—Plainville
Watch hot air balloons take flight, then stay to enjoy the carnival games, live music, and weekend-long classic car show. Free admission.
Brooklyn Fair—Brooklyn
One of the oldest continually operated fairs in the country returns, with agricultural competitions, bake-offs, arm wrestling competitions, tractor pulls, and more.
Summer's Last Roar—New Haven
Learn about the missing links between dinosaurs and birds on the last weekend of the "Dinosaurs Take Flight" special exhibit at Yale Peabody Museum. Free.
Terryville Lions Country Fair—Plymouth
A demolition derby, and scores of traditional agricultural contests highlight the festivities at the 69th Annual Terryville Lions Country Fair.
Sunflower Maze - Middlefield
Lose yourself in a 2.5-acre maze, made up of more than 350,000 towering red and yellow sunflowers. For every admission, $1 will go to the CT Children's Medical Center.
Saturday, August 26
Creatures of the Night Hike—New Canaan
How is your night vision compared to the animals that are most active after sunset? Put your vision to the test. Come prepared to spend an hour outside in the dark.
Exploring Spruce Hill—Litchfield
Take a walk along the twisty scenic trails of the White Memorial Conservation Center, then picnic on the grounds. All ages, but children must be able to walk about three miles. Free.
Band and Ice Cream Social—Salisbury
It's a summertime social on the grounds of the 19th Century Scoville Library. Bring a blanket. Music and ice cream provided. Free.
Food Truck Festival—New London
Choose a truck, place an order, and enjoy a live music concert on the waterfront at the New London Food Truck Festival. Free admission.
Baseball and Fireworks—New Britain
The New Britain Bees, an independent minor league community baseball team, present a fireworks display after the last out of their Saturday night game.
Sunday, August 27
Schemitzun—Mashantucket
Celebrate the culture of the Mashantucket Pequot Nation with drumming, dance, food, and a recreated 17th Century woodlands village. Shuttle service available from the Mashantucket Museum and Foxwoods Resort Casino.
Summer Music Sunday—Mystic
Free after-hours admission to historic Mystic Seaport gives guests a chance to stroll the grounds and listen to a live band perform. Free.
Colonial Kitchen Garden—Windsor
Learn about the history of the kitchen garden, and how they evolved over the years. Guests can also create and taste mint-infused drinks fresh from the garden.
Nature Hike—Ansonia
Explore 2.5 miles of trails at the Ansonia Nature Center. The forests, fields, and ponds at the center are changing continuously so every hike is unique. Free.
Heirlooms and Uglies—Coventry
The Coventry Regional Farmers Market is like a country fair each week, with a different theme and family activities. This week's theme is "Heirlooms and Uglies." Lots of other activities in addition to the farmers market. Free.
Scenic Summer Train Ride—Thomaston
Ride the Naugatuck Valley Railroad back in time on a scenic summer excursion through the Naugatuck River Valley.
Peter Pan Reimagined—Fairfield
Student performers will join Broadway veterans in a re-imagined musical designed to inspire young people to believe that anything is possible.
Image courtesy of the Yale Peabody Museum of Natural History