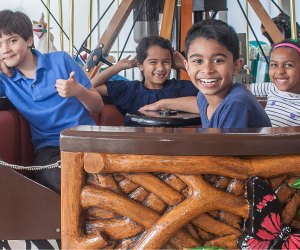 Weekend Fun: Carousel Stories, Pirates, and Connecticut's Coney Island
Summer is racing by at breakneck speed, with the last weekend of July already upon us. In addition to the numerous fairs and festivals this weekend there are a number of unique events perfect for a family with kids. For starters how about spending a day as a pirate? You can also learn about the history of carousels and their animals, and even celebrate reaching summer's halfway point. As always, in the event of rain, be sure to check that your intended activity is still on before jumping into the car.
We hope you'll follow Mommy Poppins Connecticut on Facebook, Twitter, Instagram and Pinterest, and subscribe to our newsletters to stay in touch. Have a great weekend!
All Weekend
Pirates Weekend—Norwalk
Pirates are invading the Sheffield Island lighthouse. Enjoy re-enactments of battles on the high seas, sea chantys, story telling and other activities.
Family Festival—Guilford
It's a weekend of traditional activities, games, and more, hosted by Guilford's five history museums. Children admitted to all five museums free.
Savin Rock Festival—West Haven
Rides, entertainment, games and lots (and lots) of food are to be found at the 36th Annual celebration of "Connecticut's Coney Island." Free admission.
Nutmeg State Games—New Britain
Come cheer on young athletes at Connecticut's largest multi-sport annual competition. More than 7.500 athletes will be competing in 22 different sports, and admission to all competition venues is free.
Mary Poppins—Torrington
This practically perfect musical is one of the most popular Disney films of all time. Now see the live stage version that won seven Tony Awards, including Best Musical.
Saturday, July 29
Midsummer Festival—Old Lyme
Enjoy a full day of festivities at 11 different sites throughout town. Art, food trucks, kids shows, activities, and more. Free admission.
The Little Mermaid Jr.—Darien
Darien Musical Theater Workshop presents a colorful and whimsical adaptation of the Broadway hit, featuring more than 70 performers.
CPTV Kids Day—Middlefield
Come meet PBS Kids' newest stars, Splash and Bubbles, and learn about marine biology, oceanography, and all the "citizens of the sea." Free.
The Eagle Huntress—Litchfield
Follow the story of Aishalpan, a 13-year-old Mongolian girl as she attempts to become the country's female competitor at the national eagle festival. The film also covers Aishalpan's life as a nomad living in a yurt on the Mongolian plains. Free.
Animation Celebration—Stamford
Bring a picnic and watch the Disney instant classic Moana at Mill River Park. Free.
Sunday, July 30
Carousel Storytime—Stamford
Join early childhood educator Roselyn Oponte as she reads stories about the history of carousels and the animals featured on carousels, then sing some songs, create song crafts, and ride a carousel. Free.
Scenic Summer Train Ride—Thomaston
Ride the Naugatuck Valley Railroad back in time on a scenic summer excursion through the Naugatuck River Valley.
Captain's Cove Harbor Cruise—Bridgeport
The Westport Historical Society hosts an afternoon of activities at Captain's Cove Marina. At noon there will be a harbor cruise aboard a 40-foot former US Navy launch. This event was originally scheduled for July 23 but was postponed due to weather. Admission to Captain's Cove is free, boat ride tickets are extra.
Wildlife Encounter—Hartford
Meet some unique tropical animals in a live interactive stage show at the Connecticut Science Center. Free with admission.
"Up-cycled" Sun Catchers—New Haven
Create a Mandala sun catcher using donated drum heads using transparent paints, markers, and other embellishments.
Image courtesy of the Mill River Park Collaborative