Martin Luther King Jr. Day 2018 Events for Kids in Connecticut
Fairfield County
Digital Art Workshop—Danbury
Danbury Library and associates from Microsoft will help participants bring their imaginations to life by learning new Paint 3D in Windows 10, and then creating their own artwork inspired by MLK's "I Have a Dream" speech. Free.
Community Curation Family Day Celebration—Greenwich
The Bruce Museum will be hosting family activities in honor of Dr. King throughout the day. Visitors can contribute to a community sculpture and create songs about friendship, fairness, problem solving, and respecting others with Cyd Slotoroff. Receive one free museum admission with the donation of one nonperishable food item.
Peace Doves—Norwalk
Kids will have an opportunity to create their own paper doves using their own painted hand prints and watch Dr. King's "I have a dream" speech. Included with museum admission.
Cards for Kids—Norwalk
To honor Martin Luther King Day, the Norwalk Historical Society is hosting a family-friendly Service Day Project on Sunday. Children will be creating cards for firefighters, paramedics, and law enforcement to thank them for their commitment and bravery. Free.

MLK Day Program at the Westport Historical Society—Westport
From creating dream clouds for the future, making love beads and peace sign wreaths, WHS has planned a fun-filled day of MLK celebrations. The historical society's drop-off program is for children age 6-11 to learn about the civil rights leader.
Hartford County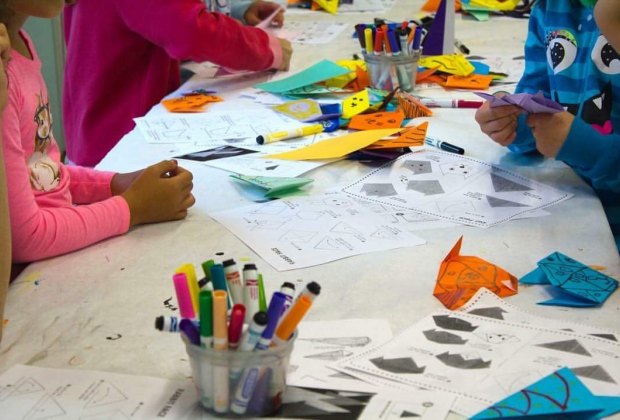 Photo Courtesy of Imagine Nation
Imagine Nation Celebrates Martin Luther King Jr—Bristol
Kids can share their dreams and visions while participating in a variety of special workshops throughout the day. There will be a Peace March at 11:00am and 2:00pm.
Community Day at NBMAA—New Britain
Guests can enjoy free admission to the New Britain Museum of American Art which will be offering a variety of ways to celebrate MLK day including an opportunity to learn about the connection between activism and deaf culture, and the role that the National Association of the Deaf played in passage of the Rehabilitation Act of 1973, among other legislation. Free.
Celebrating the Life of Martin Luther King Jr.—West Hartford
West Hartford's annual celebration paying tribute to Dr. King's ideals and vision is free and open all. This year's event, at the West Hartford Town Hall features keynote speaker Jim Williams, president of the Hartford Foundation for Public Giving. The Conard High School Jazz Combo, Voice of Bristow Middle School, and Conard's Voices of the World Choir will offer musical performances. Free.
Martin Luther King Jr. Community Day: Walk a Mile in My Shoes—Hartford
The museum sponsors an annual day-long celebration with hands-on activities including journaling, creating MLK videos, and pendant-making. Free.
Martin Luther King Day Open House—Hartford
Free tours of the Harriet Beecher Stowe Center will be offered from 9:30am- 5pm with plenty of hands-on activities and programs in the Visitor Center. Join the bell ringing for peace at noon. Free.
Litchfield County
Martin Luther King Vacation Workshop—Woodbury
Kids in kindergarten through 5th grade are invited to spend the day discovering the many ways animals adapt to winter. This will be a fun filled day packed with exploring the great outdoors, and age appropriate stories, games, and crafts. Preregistration is required.

New Haven County
Annual Celebration of Dr. Martin Luther King, Jr.'s Legacy of Environmental and Social Justice—New Haven
On Sunday and Monday, the Yale Peabody Museum opens its doors once again to honor Dr. King and his efforts to ensure environmental and social justice among all people. Free.
Martin Luther King, Jr. Conference—New Haven
Celebrate Dr. King's legacy at this community-wide event featuring over 700 participants offering student performances, storytelling, arts and crafts, and educational workshops. Free. ​
Family Pottery Wheel lesson—New Haven
Try your hand on the pottery wheel at The Clay Date's family one-time pottery wheel lesson. This 1.5 hour lesson offered for kids ages six and up at 10am. The Clay Date will be open from 10am-4pm for drop-in ceramics.
Eastern Connecticut
Winter Survival Strategies—Mystic
Join the Denison Pequotsepos Nature Center for a day of learning about animals and plants in winter. Children will play games, make a craft, and go for a hike.
Family Overnight at the Mystic Aquarium—Mystic
Sleep with the fishes—literally—at this overnight adventure at the Mystic Aquarium. Preregistration required.
MLK at the Library—New London
The New London Public Library is offering a special activity to celebrate the life and legacy of Dr. Martin Luther King Jr. on Sunday. Free.
Originally published 1/12/14.