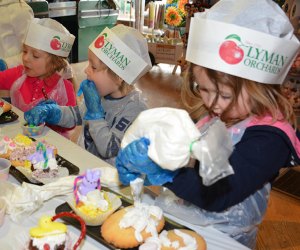 Easter Weekend Fun: Sweets, Passover, and the Music Man
Considering that the events of Passover and Easter are inextricably linked, the dates of the two religious holidays don't coincide as often as you might think. This year they do, which makes for an extra exciting weekend of holiday fun for families. If you're looking for a hearty Easter brunch or egg hunt, there are plenty to choose from, including events in Canton, Fairfield, and Simsbury. For Passover, traditionally celebrated at night, try the Community Seder in West Hartford.
Or maybe you're just looking for some kid-friendly opportunities to get outside for some fresh spring air. This weekend features Mystic's Spring Fever celebration, ice cream and mini golf in Farmington, and kite-flying in Greenwich. For indoor fun, you can learn about the the history of people and dogs, have a free afternoon at a museum, or see a classic American musical on stage.
We update our Events Calendar frequently so be sure to check back for even more great suggestions. To keep up with the latest family-friendly events and activities, sign up for our newsletters, and follow us on Facebook and Instagram. Have a fantastic weekend!