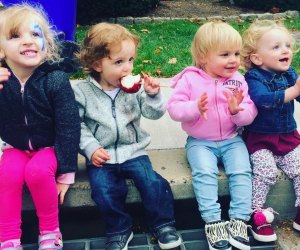 Columbus Day Weekend: Parades, Scarecrows, and Taste
It's Columbus Day Weekend, and the annual three-day holiday weekend includes the usual family activities like the annual Columbus Day parades in New Haven and Bridgeport. For a more traditional autumn-focused outdoor activity, check out the annual Southington Apple Harvest Festival, which draws an estimated 100,000 visitors each year. If you're in the mood for a little fall flavor, there is the annual Taste of Fairfield featuring two dozen restaurants, breweries, and food vendors, and the annual Mystic Chowder Days where you can indulge in clam fritters, fish tacos, shrimp po'boys and eight different bisques and chowders. With the kids off from school Monday, it's a perfect chance to have an extra family day exploring the 165 interactive exhibits at the CT Science Center, or any one of these 50 Things to Do With Kids on Columbus Day. As always, we recommend calling ahead in the event of rain to make sure outdoor events are still on.
We hope you'll follow Mommy Poppins Connecticut on Facebook, Twitter, Instagram and Pinterest, and subscribe to our newsletters to stay in touch. Have a great weekend!
All Weekend
Southington Apple Harvest Festival—Southington
A family event that annually draws more than 100,000 guests to the beautiful downtown Southington Green. Live entertainment, games, contests, and plenty of food. Free admission.
Chowder Days—Mystic
The annual Chowder Days menu is sure to satisfy all tastes, with chowders and bisques, plus seafood specialties and fall favorites. For an extra fee, take a unique hayride (on a boat).
Garlic Festival—Bethlehem
There will be demonstrations on growing garlic, cooking with garlic, and lots of garlic-y foods available at the 13th Annual Bethlehem Garlic Festival. Live music and carnival rides too.
All Hallows Weekend—Lebanon
Celebrate ghosts, goblins, and things that go "bump" in the night at the annual closing weekend of the CT Renaissance Faire.
Monty's Fall Festival—Oakdale
The Dinosaur Place Outdoor Adventure Park features lots of additional events this weekend, including a petting zoo, high-flying frisbee catching dogs, birds of prey demonstrations, and special balloon creations. Free with admission.
Saturday, October 7
Park Road Parade—West Hartford
Come together in the spirit of community fun at the 19th Annual Park Road Parade. Anything goes in this parade, from marchers with simple banners, to elaborate floats and musical entries.Free.
Pumpkins and Pooches—Colchester
The Colchester Town Green hosts the 19th Annual Pumpkins and Pooches Autumn Fair and Dog Show, featuring dog contests and demonstrations, crafts, food, and more. Free admission.
Learn and Play History—Windsor
Free admission before regular hours at the Windsor Historical Society Museum. Come see the exhibits and tour the adjacent art gallery. Perfect for all ages (crawling encouraged). Free.
Color Challenge Obstacle Course—Greenwich
The International School at Dundee is hosting its first-ever Color Challenge Run and Obstacle Course. The 1.5-mile run/walk features 10 obstacles and 4 color-powder stations. Proceeds benefit the school.
Open Cockpit Day—Windsor Locks
The New England Air Museum periodically hosts open cockpit days, where guests can climb aboard historic aircraft, including an F-100 Super Sabre, P-47 Thunderbolt and F-104 Starfighter. Test your skills in a flight simulator, and build and fly your own flying machine.
Sunday, October 8
See the Bison Walk—Brooklyn
Creamery Brook Bison Farm hosts a free bison walk at 10 a.m. See the bison in their fields, then see the handling facilities and sample some wild rice, barley, and bison soup. Wear comfortable shoes. Walk is about 1/2 mile. Free.
Scarecrow Festival—Trumbull
Make your own scarecrow then stick around for some games, crafts, fall activities, and more. Free.
Super Hero Adventure Day—Hartford
The Bushnell Park Carousel needs your super powers. Come in costume and help save the carousel. Unlimited rides, popcorn, ice cream, temporary tattoos, and more.
Taste of Fairfield—Fairfield
The culinary event of the year features restaurants, wineries, craft breweries, specialty markets and more bringing you their signature dishes and cocktails. There will be roving entertainment and all-ages events and activities. Proceeds benefit Operation Hope.
Bridgeport's 109th Annual Columbus Day Parade—Bridgeport
This day-long street festival runs from 11:30 am to 8 pm and features local favorites like Italian food and pastries, magic shows, family activities, and more. Parade begins at 1pm. Free.

Greater New Haven Columbus Day Parade—West Haven
More than 100 bands, Italian heritage organizations, school and community groups, and non-profit agencies are featured in Connecticut's largest Columbus Day parade. Free.
Monday, October 9
The Indestructible Spirit of Mexico City—Hamden
Celebrate Aztec history and get to know the people of this ancient empire through its art. Make masks, paper mosaics, and sculptures to pay homage to the predecessors of modern Mexico. Plus, 10% of the class fees will go to Mexican earthquake relief.
Explore the CT Science Center on Columbus Day—Hartford
More than 165 interactive exhibits are waiting to be explored, and what better day to do it than on a day we remember a famous explorer? The Butterfly Garden is now open, as is the traveling exhibit, Alien Worlds and Androids.
Awesome Autumn Family Fun and Tree ID Hike—Canton
Looking for a fun outdoor activity? Dop in at the Roaring Brook Nature Center between 10am and 4pm for a self-guided scavenger hunt. Special tree-ID hike begins at 2pm. Cider and cookies provided!
Tall Ships and Pirate Tales—Ridgfield
Set sail on a thrilling adventure with some quirky pirates marooned on a deserted island. Adventure stories meet science as kids learn about inertia, air pressure, and more. Free.
Photo courtesy of kaloidistwinsies via Instagram