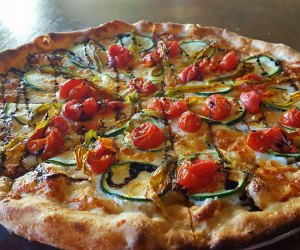 Restaurants Where Kids Eat Free in Connecticut
Family budgets get really tight sometimes, but mom still needs a break from meal planning. Wouldn't it be great to go to a favorite, kid-friendly restaurant and eat food someone else prepared...that's free? Here is a list of Connecticut restaurants that offer free kids meals at different times. Pair your free meal with an accompanying activity from our Free Things To Do Guide, and make an affordable family outing of it.
Feeling a little more splurge-y? Our list of restaurants where kids can play as they eat is another lifesaver for parents. Our Connecticut Restaurant Guide offers even more delicious ideas.

Kids eat free all day, everyday, at Bobby Vs. Photo courtesy of Bobby V's
Restaurants Where Kids Eat Free in the Hartford Area
Cugino's - Farmington
Kids eat free on all day on Wednesdays! Cugino's offers kids delicious Italian food including spaghetti and meatballs, pasta, grilled chicken, chicken tenders, or steak tips.
The Stone and Paddle - Manchester
American fare of every type at the Stone Paddle includes free kids meals all day long with an accompanying adult meal.
Bobby V's - Windsor Locks
Another place where kids eat free, all day, every day with the purchase of an adult meal. Choose from grilled cheese, chicken tenders, sliders, french bread pizza, and more. Includes a dessert!
Park and Oak Restaurant - West Hartford
Kids eat free on Wednesdays! Choose from spaghetti, pasta, crispy chicken tenders, cheeseburger, mac n' cheese, or grilled cheese. Fries or salad are included. One child per adult.
Dish n Dat Family Eatery - Canton
A fun family restaurant in a rock n roll theme. Kids eat free on Mondays. They are open till 9pm nightly.
Restaurants Where Kids Eat Free in the New Haven Area
Aunt Chilada's - Hamden
Every Sunday from 4 to 8pm, kids 10 and under eat free at this Mexican/Tex-Mex restaurant. Parents are asked to purchase at least an $8.95 entree. Tasty kid offerings include typical things like hamburgers and hot dogs, but also include Pizza Bites, cheese quesadilla, nachos, and grilled chicken breast.
The Cookhouse - Milford
Kids eat free from the menu every Monday (1 per dining adult). Kids can choose from a unique array of yummies including: baby back ribs, chicken wings, chicken tenders, pulled pork sandwich, BBQ chicken. Don't forget to add a milkshake or a smoothie!
Restaurants Where Kids Eat Free in the Fairfield Area
Pancho's and Gringo's - Brookfield
Authentic Mexican food for the whole family. Kids eat free on Tuesdays with the purchase of one adult meal. Kids can choose from Mexican favorites like enchiladas, burritos, and quesadillas, or macaroni and cheese. They also have natural fruit slushies on the menu.
American Pie Company - Sherman
Who wouldn't want to eat at this place with a name like that? Children can eat free every Tuesday and Wednesday from 4-8pm with each paid adult entree. Kids menu includes breakfast, lunch, or dinner. Try their Cow Poke Chili, kids cripsy chicken wrap-up, mini corn dogs or chicken parmesan.
Widow Brown's Cafe - Danbury
Come on down to Widow Browns on a Thursday night, and kids 10 and under eat free. Standard fare menu sure to make someone happy.
Restaurants Where Kids Eat Free in Eastern Connecticut
2 Wives Pizza - New London
They love kids! Family night is every Tuesday night. Spend $25 and get a free kids meal. Choose from mac n' cheese pizza, half panini, and cheese pizza. Kids meals come with a free drink and a "dip" into their cookie jar.

Kids eat free on Tuesday nights at Chick-Fil-A. Photo courtesy of Chick-Fil-A
Connecticut Chain Restaurants Where Kids Can Eat Free
Denny's - multiple locations
Kids Eat Free days vary by location. Two free kids meals per one adult entree. Valid for dine-in only. Kids can choose from pancakes, chicken tenders, mini corn dogs, chicken on a stick, and much more.
Chik-Fil-A - multiple locations
Kids can eat free with the purchase of an adult combo meal on Tuesdays starting at 5:30pm.
99 Restaurants - Enfield
Kids eat free on snow days with the purchase of an adult entree. Kids can choose from normal fare including a junior steak.
Chili's - multiple locations
Kids eat free if you are a Chili's rewards member. Chili's kids menu includes burger bites, chicken bites, cheese quesadilla, pizza, and to top it off, chocolate lava cake.
Applebee's - multiple locations
Become a member of Applebees Bookworm Reading Club and read 10 books, then get a free meal with the purchase of an adult meal. Choose from pizza, tenders, chicken alfredo, taco or cheeseburger.
Arooga's - Shelton
Kids 12 and under eat free with a adult meal purchase. They can choose from cheese pizza, wings, pb&j, chicken fingers, grilled chicken and more.