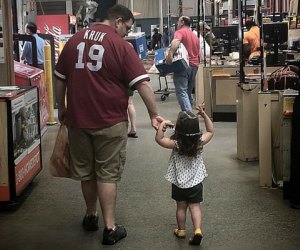 11 Things To Do With Dad in Connecticut on Father's Day
If you want to treat dad like the superhero that he is this Father's Day then you've come to the right place! There's a little something on this list that should make each and every father out there feel special. If you want to go on a family adventure in a canoe or on a hike, explore his culinary side with a cooking class, or cruise down a river taking in the sights, then we've got a little something for you. If your dad would enjoy a lazy day at the beach, then check out our 5 Great Ct Beaches for Toddlers. For more events specifically in the Hartford area check out this link.
However you decide to celebrate the day, one thing is for sure - Connecticut has plenty of ways to make dad feel loved.
Father's Day At EverWonder Children's Museum - Newtown
Celebrate Father's Day at EverWonder Children's Museum. Fathers will receive 1/2 off admission on Sunday, June 19th from 11:00 am to 5:00 pm. Young artists will have the opportunity to make a Father's Day gift for dad while exploring the museum. Kids will be making hand cards by tracing both hands onto paper and then cutting them out and using accordion paper to write a special message to dad.
31 Pecks Lane, Newtown, CT 06470

Family Canoe at Earthplace - Westport
Celebrate Father's Day with a family day out on the water as you paddle along the Saugatuck River and out into Long Island Sound. Canoes and life jackets will be provided.
10 Woodside Ave, Westport, CT 06880
Father's Day At Stepping Stones - Norwalk
Make Stepping Stones Museum for Children part of your Father's Day celebration with a fun filled family visit to the museum! Dads get in free all day. At 11:15 am there will be a "Fantastic Fathers" craft activity where kids can celebrate their fathers by creating quirky "Dad" glasses! Sunday, June 19th is also the last day to see the Rainforest Adventure exhibit.
Matthews Park, 303 West Avenue, Norwalk, CT 06850

Father's Day Cruise From Eagle Landing State Park - Haddam
Depart from Eagle Landing State Park in Haddam (across the river from the Goodspeed Opera House). On this special day, dads are half price. This 60 minute cruise is $10 kids, $16 adults, but, on Father's Day, Dad cruises for only $8 with the purchase of a full price adult or child ticket. Learn about the nature and history of the lower Connecticut River. Relax in the morning, then bring your family lunch on board. Or if you prefer, have a bite to eat before or after your cruise at one of the fine local restaurants in Haddam, East Haddam, Chester or Essex. Departs at 11:00am, 12:30pm and 2:00pm.
One Marine Park, Haddam, CT 06438
Father's Day BBQ Club Getaway - Kent
What better way to celebrate Dad then spending a day grillin' n chillin' at Club Getaway? Spend the afternoon racing Dad up the climbing wall, pushing him into the lake, or watching him free fall on Geronimo. With dozens of activities to choose from you're in for an unforgettable day, with an unforgettable guy!
South Kent Rd, Kent, CT 06785
Summer Solstice Father's Day Hike at Roaring Brook Nature Center - Canton
Put on those hiking shoes and welcome the first day of summer with a guided walk on the Quarry Trail. Learn about the land before it became Werner's Woods. Pre-registration is not required.
70 Gracey Road, Canton , CT 06019

Father's Day is Steak Day at The Silo - New Milford
Trying to up your cooking game? Then treat dad to a cooking class that features a dad favorite - steak! This Cooking Class With Chef Daniel Rosati features Grilled Clams "Casino Style" , Shredded Caesar Salad Boats , Classic Grilled Porterhouse Steak , Olive Oil Braised Summer Vegetables with Zesty Herb Green Sauce , and a Summer Berry Almond Crisp. Yum!
44 Upland Road New Milford, CT 06776-2199

IMAX Movie at the Maritime Aquarium - Norwalk
Make dad feel like a real life superhero by taking him to see Batman and Superman in the larger than life IMAX Movie Theater.
10 North Water Street, Norwalk, CT 06854

Passengers From the Past on the Essex Steam Train - Essex
Enjoy a bit of living history with dad on the Essex Steam Train. Let dad spend some quality time with "The Babe" on Father's Day Weekend. Part of the Passengers From the Past program, "the Babe" will be live, in person and bring many tales of the "Roaring Twenties" and his baseball exploits.
One Railroad Avenue, Essex, CT 06426
Father's Day Weekend at Brownstone Park - Portland
Bring dad out to Brownstone Park for the entire weekend on June 18 & 19 to celebrate Father's Day and the beginning of the summer season! Dads get a free upgrade to their Wakeboard Adventure Pass with the purchase of an Adventure Sports Pass.
161 Brownstone Avenue, Portland, CT 06480
Father's Day Trolley Special at the Shoreline Trolley Museum - East Haven
The Museum celebrates Father's Day by giving every dad free admission and a trolley ride with a paid child's ticket. Enjoy visiting their trains and locomotives too!
17 River Street, East Haven, CT 06512