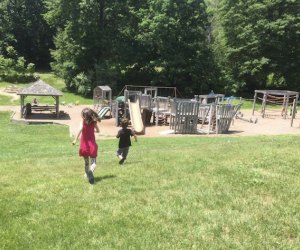 Young, Wild, and Free in New Haven County
Few words bring more joy to a parent's heart than the word FREE. Because let's face it, keeping kids entertained can be a pricey prospect. Give your wallet the day off once in a while and seek out some priceless family time free of charge. And don't worry, just because you don't have to fork over the green doesn't mean these are second best. I've rounded up some of New Haven County's first rate free activities guaranteed to delight everyone from the water babies to the space buffs and a whole lot in between. If you want to venture further afield, check out some free summer activities in Hartford County or visit some of the fairs, festivals, and carnivals in New Haven County, many of which offer free admission.
Osbornedale State Park - Derby, CT
Pack the kids in the car and head over to Osbornedale State Park for an outdoor adventure. You can hike the marked trails, have a picnic, or cast a line for some fishing fun. While you're there, visit the Kellogg Environmental Center or the Osborne Homestead Museum also on the property.

555 Roosevelt Drive, Derby, CT 06418 203-735-4311

Leitner Family Observatory and Planetarium - New Haven, CT
Have a space fanatic in the family? Then they will love the (mostly) free planetarium shows presented Tuesday nights at 7 pm and 8 pm. Entrance into the planetarium is on a first come basis and is free for kids age 13 and under. Everyone else pays $5. All ages welcome. Doors open 30 minutes before the show.

355 Prospect Street, New Haven, CT 06511 203-285-8840

Ansonia Nature & Recreation Center - Ansonia, CT
You are invited to come face to face with local animals at the free Creature Feature each Saturday at noon. Children are invited to pet the resident animals and ask questions about their care. Sundays offer guided hikes on the center's trails and a new playground is open for fun.

10 Deerfield Lane, Ansonia, CT 06401 203-736-1053

Peabody Museum of Natural History - New Haven, CT
Marvel at giant dinosaurs, tiny ant colonies, artifacts from ancient Egypt, plus so much more at the Yale Peabody Museum. Enjoy free admission to the museum Thursday afternoons from 2 pm to 5 pm, September to June.

170 Whitney Avenue, New Haven, CT 06511 203-432-5050
Silver Sands State Park - Milford, CT
Bring the family for a fun-filled day of picnicking, bird watching, shell collecting, and when the weather gets warmer, swimming. And who knows, maybe you'll dig up Captain Kidd's buried treasure which, legend has it, rests somewhere along the beach. Parking and beach access are free.

Sands Park Way, Milford, CT 06460 203-735-4311

Lakeshore Learning - Hamden, CT
Participate in free crafts for kids each Saturday from 11 am to 3 pm at Lakeshore Learning. Children age three an older are invited to participate.
2335 Dixwell Avenue, Hamden, CT 06514 203-287-0900

Barnes & Noble - North Haven, CT
The ubiquitous bookseller has a whole bunch of story events throughout the year. Some are regularly scheduled story and craft time while others are author visits and readings/book signings. Check the website for the store nearest you for a complete calendar.
470 Universal Drive, North Haven, CT 06473 203-234-1805
1375 Boston Post Road, Milford, CT 06460 203-301-0371

Brooksvale Park - Hamden, CT
This amazing little park is home to vegetable gardens, a barnyard with a cast of animal characters, and loads of hiking trails. Parking and entrance to park are free.

524 Brooksvale Avenue, Hamden, CT 06518 203-287-2669

The Coastal Center at Milford Point - Milford, CT
Climb the spiral staircase to get a bird's eye view of Long Island Sound. Learn about the area's delicate ecosystem and observe Osprey nests through the center's telescopes. Entrance to the center is free, but many educational programs require a fee. Hours: Tuesday - Saturday 10 am-4 pm, Sunday, 12 pm – 4 pm.

1 Milford Point Road, Milford, CT 06460 203-878-7440

Yale University Art Gallery - New Haven, CT
Enjoy free daily admission to the art gallery. On the second Sunday of each month from September through May, enjoy a family friendly Stories and Art program that incorporates art with hands-on activities. Closed Mondays.
1111 Chapel Street, New Haven, CT 06511 203-432-0600
Pardee Morris House - New Haven, CT
Step back in time within the walls of this 6,000 square foot farmhouse. The Pardee Morris House is only open seasonally so check the website for full details. Admission is free.
325 Lighthouse Road New Haven, CT 06512 203-562-4183
Geocaching - Various
If you haven't heard of this yet, it's time. This global scavenger hunt is not only a whole lot of fun and adventure, it's FREE! All it takes is a free membership at the geocache site and an app on your phone. From there you discover hidden treasure in your area and use GPS to get real close before the true hunt begins. Check out the website to learn all about it.
Marsh Botanical Gardens - New Haven
Open to the public with docent led tours at pre-schedule hours, the Yale-run Marsh Botanical Gardens are a refreshing way to spend a little time. Explore the great outdoors or visit one of the greenhouses where you'll find desert plants, carnivorous plants, and a tropical ecosystem. Check website for special events and visiting hours.
265 Mansfield Street, New Haven, CT 06511 203-432-6302
The Playground - Various
OK sure, maybe you've been to the playground a zillion times. But sometimes it is exactly what the littles need to get those wiggles out during the long days of summer. Make it an adventure, plan out a playground calendar and visit as many as you can in the county. It's all well and good to find all sorts of unusual things to keep little minds occupied, but sometimes what's really called for is good old fashioned playtime.
Originally published 7/20/13.
Photo Courtesy of CT Audubon.org