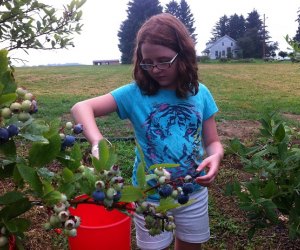 Blueberry Picking in Eastern Connecticut
Few things taste more like summer than fruit and vegetables fresh from the garden. But since we cannot all grow gardens - or large ones that accommodate a variety of produce - local farms are terrific destinations. Walking in the sunshine, enjoying the smell of grass, bobbing along on tractor rides: the whole experience of picking your own food on the farm is an essential activity of the warmer months and a great way to teach children the process used to grow healthy foods. Hailed as a super food, blueberries are delicious and so versatile, and these little fruits are for the pickin' in Eastern Connecticut! For more berry picking check out our Pick Your Own post.
Holmberg Orchards
An Eastern Connecticut institution, grab a tractor ride to the blueberries, and stop by the farm shop full of pies, wines, and cut flowers. Don't miss the growth chart by the exit and chart your children's growth year after year.
12 Orchard Drive, Route 12, Gales Ferry, 860-464-7107
Scott's Yankee Farmer
Among the huge selection of pick-your-own fruits and veggies are some of the sweetest blueberries around. After picking your blueberries, head to the farm stand, open year round, for other fresh, farm treats, including sweet frying peppers, cantaloupe, cabbage, and flowers.
436 Boston Post Road, East Lyme, 860-739-5209
Buell's Orchard
Take a drive to the quiet corner and pick your blueberries through Labor Day. Also available are peaches, strawberries, apples, and more. Check their website to find out what's ripening!
108 Crystal Pond Road, Eastford, 860-974-1150
Horse Listener's Orchard
After picking blueberries, take a walking tour of the orchard or ask about pony rides for the children.
317 Bebbington Road, Ashford, 860-429-5336
Originally written 7/13/13.