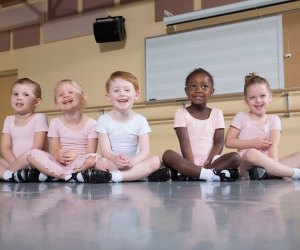 Shake a Tail Feather at These Dance Classes in the Hartford Area
We all know the adage that tells us to dance like there's nobody watching. One of the (many) amazing things about kids is their propensity to do just that. If you've got a tiny mover and shaker on your hands, why not harness that unabashed creativity and sign them up for some dance classes. And if they have siblings who'd rather do anything but dance, not to worry. We've got them covered, too in our Classes and Activities Guide.
Dance Expressions of CT
Offering a variety of classes for children ages 1.5 and up, littles ones can start with Mommy and Me classes, and progress to other creative movement classes, like ballet, tap, jazz, or acrobatics. Older children have the option of hip-hop, modern, lyrical, or Pointe.
101 A East Main Street, Plainville (860) 747-3512
Hartt School Community Division
Choose from toddler and pre-K ballet, or sign up for hip hop, jazz, and tap, depending on age. Classes for teens include ballet, jazz, and tap. Studios are also located in Simsbury.
200 Bloomfield Avenue, West Hartford (860) 768-4451
Dance City and the Arts
This is an official Angelina Ballerina Dance Academy. Your child will receive a quality dance education in a caring and fun environment, all based on the beloved Angelina Ballerina character. The Angelina Ballerina Dance Academy curriculum is designed by internationally renowned master teachers and child development experts.
37 West Center Street, Southington (860) 628-4433
Patricia's School of Dance
Choose from a range of options from Mommy and Me, beginner, preschool, and all the way up to an advanced professional class that includes ballet, tap, and jazz.
202 North Plains Industrial Road, Wallingford (203) 269-7678
Shamrock Dance Studio
If your little one wants to take dance classes but is not interested in ballet, tap, or jazz, why not try Irish Step Dancing? Shamrock Dance Studio offers beginner's classes for children ages 4-12.
75 East Street, Plainville (860) 410-1180
Photo credit: courtesy of the Hartt School Community Division
Originally published 06.03.2013