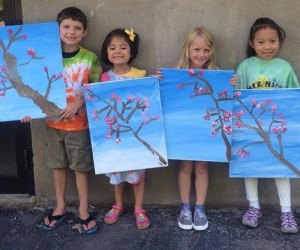 Get Creative With After School Art Classes in the Hartford Area
If you're looking for a fun extra-curricular activity for your budding artist, consider one of the many after school art class options in the Hartford area. The arts are essential in stimulating creativity and developing innovative thinkers whether it's through artistic expression of music or creating beautiful painted masterpieces. For more fun ideas, check out our After School Classes Guide.
Farmington Valley Arts Center
Choose from drawing and painting classes, to mixed media art and fashion illustration, to sewing lessons. Children ages 7 and up can stretch their imaginations here via many mediums.
25 Arts Center Lane, Avon 860-678-1867
The New Britain Museum of American Art
Creative opportunities abound at this museum, which offers a variety of programming for children of all ages. Choose between play dates with art (for ages 0-24), toddler time, and hands-on art classes for ages 6 to 18. Pre-registration is required for some classes. Check the website for the latest programming.
56 Lexington Street, New Britain 860-229-0257
Teach Art 2 Me
This great art center offers classes, workshops, and special programs taught by qualified instructors. There are various options available for all ages, toddler and up. Creative exploration is available in all mediums, such as painting, drawing, sculpting, kid's crafts, textiles, princess parties, arts and birthdays parties, and more. Check the website for more information and to take a look at the catalog.
2333 Main Street, Glastonbury 860-633-1696
CT Art School
This after-school art education program is a perfect spot for kids to use their imagination, express ideas, and think for themselves. Students range from 4-18 and classes are held weekly in both the afternoon and evenings. The website has a full calendar of classes ranging from basic drawing for youngsters to wine/pain classes and more details on registration.
1730 Ellington Road, South Windsor 860-432-3773
West Hartford Art League
A regional arts organization, it offers year round classes, monthly exhibitions, and events that make art accessible to the community.Classea are available in everything from pottery, painting, pastels, stained glass, and much more. They even offer scholarships for underserved youth that covers the entire class cost and materials. For more information on classes and on how to apply for the art class scholarship, check out their online catalog.
37 Buena Vista Road, West Hartford 860-231-8019
Charter Oak Cultural Center
The Youth Arts Institute here provides free classes for inner city children ages 6-18. Registration is required and space is very limited. It is a great place for kids to become involved in the arts in a variety of different programs. Please call 860-310-2580 for class descriptions and the current class schedule.

21 Charter Oak Avenue, Hartford 860-310-2580​
Originally published 10/9/2013.
Photo Credit: Photo Courtesy of Teach Art 2 Me