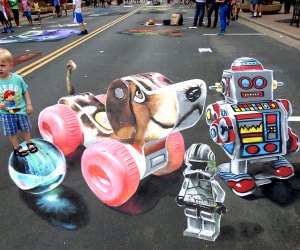 Weekend Fun for Chicago Kids: Tacos, Moon Landing, Art Fests, Disability Pride
Artists, astronauts, Disability Pride, and tacos: There's a lot to celebrate in Chicago this weekend. For the 50th anniversary of the historic Apollo 11 moon landing, the Adler Planetarium is hosting a Moon Bash packed with lunar-themed activities, as is the College of DuPage in Glen Ellyn. Meanwhile, on Saturday the Disability Pride Parade takes to the streets to honor the pride, power, and unity of people with disabilities, with an after-party at Daley Plaza.
Chicago is home to a vibrant artistic community, which shows its colors at three kid-friendly art fests this weekend: On Saturday, the Art Institute hosts its annual block party with performances and art workshops. Also on Saturday, Skokie hosts the eye-popping (and FREE) Chalk Howard Street festival, with chalk-based street artists creating a gallery of 2D and 3D works. And in Elmhurst, the YESFest presents a full weekend's worth of performances, showings, and screenings in support of Chicago artists.
If it's the weekend, that means there's a street fair happening somewhere, and this weekend brings some of our favorites: The humble/magnificent taco gets its due at this weekend's Tacos y Tamales Festival in Pilsen, while brats and beers rule at the Germanfest at Lombard, and Colombian music, arts, and food are center stage at Hermosa's Colombian Fest. Chinatown hosts its Summer Fair complete with a Dragon and Lion dance procession, and BenFest is just your basic good old-fashioned awesome Chicago street fair on the North Side.
Don't miss your chance to participate in the magic of the Chicago Water Lantern Festival in Humboldt Park, where hundreds of floating lanterns will light up the waters of the lagoon. Looking for more water-soaked summer fun? Our favorite free public pools, spraygrounds and splash parks, and water games you can play in the backyard will keep you and the kids good and drenched.
See our ever-expanding event calendar for more ideas. Happy weekend!