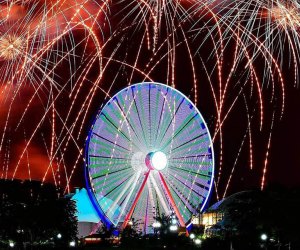 Weekend Fun for Chicago Kids: Family Fests, Campouts, Kids' Books, Slime
Summer fun in Chicago is officially on, and the good times show no sign of slowing down. For starters, this weekend brings the usual awesome onslaught of family-friendly street fairs, cultural celebrations, and art festivals. Celebrate summer Scandi-style at Andersonville's Midsommarfest, get your dirndl and wurst on at Forest Park's German Fest, rock out to performers from the School of Rock at the OK BBQ Block Party, or get the whole family moving at the Boing! Family Festival hosted by the Chicago Children's Theatre.
Need a break from the sunshine (or the rain, as the case may be)? Hit one of the many kid-friendly performances around town this weekend, from feats of agility and artistry at the Physical Theater Festival and the Pivot Arts Festival to crime-fighting feats of derring-do at PJ Masks Live! Or take in a view of the stars from your campsite at one of two family campouts held this weekend, one at the Lincoln Park Zoo and one at Naperville's Knoch Knoll Park.
Book-loving kids won't want to miss the chance to dress up as their favorite children's book characters and join the parade at the Printers' Row Lit Fest downtown on Saturday, and there's even more literary fun to be had at Drag Queen Story Hour at Women and Children First, in honor of Pride Month. But if you're feeling decidedly unliterary, there's also a giant SlimeFest going on.
For more summer fun for Chicago families, bookmark our list of summer festivals and fairs, check out our picks for the city's top water parks and playgrounds, and keep an eye on our busy event calendar.