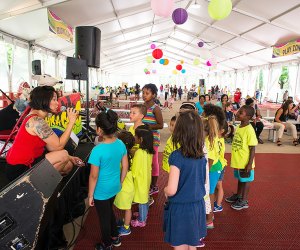 July 4 Weekend Fun for Chicago Kids: Fireworks, Festivals, Family Fun
Not sure what to do with the kids on July 4 this year? There are parades, festivals, and parties for patriots of all sizes on Thursday—including lots to do for littles who can't stay up late enough to see the fireworks. On Thursday afternoon, join the kids' parade in Hyde Park, hit the big town parades in Glen Ellyn, Hinsdale, Downers Grove, or Oak Park, or play games at the special festival for the Fourth at Lake Ellyn Park. At night, fireworks light up the skies over Lake Michigan and the suburbs—see our highlight reel below, and the full list in our guide to Chicago's best Fourth of July fireworks for families.
The holiday weekend fun doesn't stop when the fireworks fizzle out. This weekend's family-friendly fun includes West Fest on the West Side, the giant Rib Fest out in Naperville, and the glorious Eyes to the Skies Festival in Lisle, with hot air balloons launching every morning and evening.
Families can also catch a summer concert at the Brookfield Zoo, roll out a blanket for a free movie or concert under the stars, or see a special, abridged, even more kid-friendly version of The Wizard of Oz. And the Parks Department continues its summer-long celebration of its 85th anniversary with a party at one of the city's most beloved playgrounds, Indian Boundary Park, on Friday night.
There's tons more in our jam-packed event calendar. Happy Fourth of July!