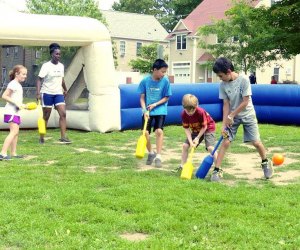 10 Live, In-Person Summer Camps for Chicago Kids in 2020
With Chicago cautiously re-opening in the wake of Coronavirus, summer 2020 looks a bit different from anything we've ever experienced. Fortunately, local businesses are showing great innovation and flexibility in providing summer camps and day camps that fit families' needs, while promising to keep kids entertained. The below organizations have put together thoughtful options for in-person summer camps that have taken into consideration state and local safety guidelines, including wearing masks, temperature checks, limited class sizes, outdoor check-ins and check-outs, and social distancing setups.
Most camps require participants to bring their own masks to camp each day. Please see each camp's individual website for complete details. If in-person camp isn't right for your family, don't worry! We've got you covered with our Giant List of Top Virtual Summer Camps. And you can also find our complete Chicago Summer Camp Guide here.
Please note that current summer camp information could change. Please click the links to the individual camps to verify that they are still operating as planned.