New Mom on the Block: Karen K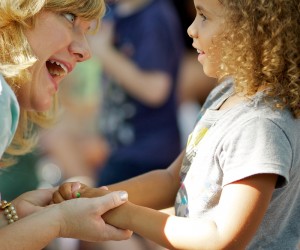 Last weekend, my daughter and I went to see Karen K and the Jitterbugs on stage at the Regent Theatre. After the show, we waited as Karen's adoring pint-sized fans came up one by one for a post-show hug, then we sat down with her for a chat about music and community. After spending minutes with Karen Kalafatas (that's what the K is short for), you can't help but like her unique blend of city savvy and southern charm, even if you are determined to disrelish her for being talented, witty, pretty, and great with kids.
Karen K and the Jitterbugs cut their kindie music chops in Brooklyn, NY, where Karen and her family moved from last June, but she is no stranger to Beantown. She and her husband have roots in this area – he grew up here and they both have family nearby. They actually met here years ago, while both were working with City Year. That passion for building community has stayed with Karen and is evident in her shows, her music and her classes.
Though Karen has been here for less than a year, she and her Boston band already have quite a following. The concert at the Regent Theatre was close to a full house, and a recent community concert in Belmont, sponsored by Belmont Savings Bank, drew a crowd of 450 kids and parents. There are Karen K and the Jitterbugs concerts scheduled all over town. Check the Mommy Poppins Boston calendar for upcoming shows.
Karen's lyrics and melodies are a lot like her effervescence and enthusiasm: highly contagious. Her sweet, silly, poignant and funny songs are very catchy, even for adults. Once a dad told Karen that he caught himself whistling one of her songs in a board meeting at work – the songs really are that catchy. During the concert, we heard several parents singing the lyrics to songs about having pancakes for dinner, swaddling a baby, and loving organic milk. Afterwards, my daughter insisted on listening to the CD in the car, and we both belted out the songs all the way home.
The Jitterbugs concerts are an inclusive and interactive experience. Karen encouraged kids to dance in the aisles, and soon there were little kids and parents out of their seats, twirling, whirling, shaking and singing. We even saw a new friendship blossoming between two toddlers in the aisle.
Karen brought her five-year-old daughter, Becca, up on stage to do a duet. They sang a beautiful tune Karen wrote for dads to sing to their children. It's actually called "Sing Me the Moon", but to Becca, it is (and probably will always be) "the Daddy song". There were also special guests from Becca's preschool, who did a great job performing "Cross the Street," a song about – you guessed it – crossing the street safely.
For the last song (a reprise of the first one, "I Wanna Be a Jitterbug"), Karen invited kids to join her on the stage. She seemed a little surprised when nearly all the children from the audience climbed up on the stage and crammed into the small open space around instruments. Then, along with Karen K and the Jitterbugs, the kids sang, wiggled, shook and jiggled while their parents beamed at them from the audience and tried to decide whether they should pull out their cameras or put a hand out to make sure no one fell off the stage (some did both – we parents are highly skilled multitaskers).
In addition writing, recording and performing, Karen also teaches retro-folky music classes to the under-five set (and their adults). Jitterbugs music classes are currently being offered in Arlington and Lexington, and will soon be branching out to Charlestown, Wakefield and other neighborhoods and towns across the Boston area.
If you're like me and you usually avoid these classes because you feel incredibly awkward singing songs about purple dinosaurs while trying to hold your squirmy toddler in your lap, you may want to give Jitterbugs a try. The songs Karen chooses are ones many of us grew up with, by artists like John Denver, Pete Seeger, Ella Jenkins, Elvis Pressley, Bob Dylan, and Ella Fitzgerald. There are also familiar tunes from Sesame Street, Free to Be You and Me, and Schoolhouse Rock. You will probably find yourself singing and dancing along without even trying. And when Junior sees your enthusiasm, he might decide that making music with the shaker in his hand would be more fun than using it to clobber his neighbor over the head.
To hear bits of songs by Karen K and the Jitterbugs, just go to their website – the sample tracks will start playing as soon as you open the page. While you're there, take a look at the slideshow of photos from concerts, classes and birthday parties, where everyone looks like they are having big fun. If your kids can't get enough of Karen K and the Jitterbugs either in concert or in class, there's an App for that! Mibblio is a children's musical book app that allows users to read, listen to music, and jam along to quality "mibblets". Check out the recently released mibblet featuring Karen K and the Jitterbugs and their song Henry Bear.