Kid-Friendly & Allergy-Friendly Dining in the Greater Boston Area: Burtons Grill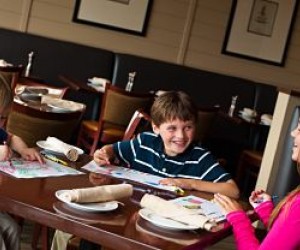 My family has so many food allergies and sensitivities, dining out has become more of a chore than the pleasant, relaxing experience I would like it to be. At different times in my life, going out to eat has been a celebration, an escape from the drudgery of the kitchen, a gastronomic adventure, or an opportunity to share a stress-free meal with friends and family. After visiting Burtons Grill in Burlington, I have hope that it can be those things for us once again.
My kids and I are gluten-intolerant and we have a variety of odd allergies. Sometimes we can find a restaurant that is sensitive to allergies but isn't kid-friendly. Often we have found restaurants that are kid-friendly, but are completely clueless when it comes to our food restrictions. Burtons Grill is both kid-friendly and allergy-friendly – now, that's something worth writing about.
We love the décor and atmosphere at Burtons. My daughter and I were especially impressed with the bathrooms – I told her it's one of the great things about going to a brand-new restaurant. (You may think we're a little strange for commenting on the bathrooms, but let's face it; when you've got kids, clean, roomy bathrooms become very important.) The whole place feels sophisticated, but not the least bit stuffy or pretentious. And despite the bar that can't be missed, since it's the first thing you see when you walk in, we felt welcome as a family with young children. There were several other families sitting in the big booths and we didn't hear a single child crying. I don't know whether that's because of the acoustics or if it was just because all the kids were so darn happy.
My husband and I enjoyed every morsel of our meals, and I was very satisfied with the options on the gluten-free menu (which you need to ask for when you arrive). But in my opinion, the best thing about Burtons is their kids' menu. They call it B Choosy, which is appropriate, because the kids get to choose from foods that are actually good for their bodies and satisfy even the pickiest of eaters.
On one side of the paper placemat menu, there is a drawing of a plate with a pie chart of the food groups, modeled after the United States Department of Agriculture's (USDA) new MyPlate program. On the other side, it gives kids choices from each of those food groups. They pick a protein, a grain, a fruit, a vegetable and a dairy item (I say go for the fro-yo – it is delish) and they can even decide how their food will be prepared. Now, here's the best part: kids meals are $6. Seriously. Your child can have salmon with rice, vegetables, mixed fruit and frozen yogurt for not much more than the cost of a Happy Meal.
As for being allergy-friendly, Burtons excelled. There were many good options on both the adults' and kids' menus. After we sat down, our server told us that the chef had been informed of our allergies. They were very responsive to our questions, and for an additional dollar, the kids got to have their burgers on gluten-free buns. They also brought gluten-free rolls out for us, with our own dipping sauces. This is all a part of their Food Allergy Commitment , which I recommend reading about before you go. You can also take a look at their lunch, dinner, gluten-free and vegetarian menus online.
Overall, the meals are a good value, but you should be aware that many of the adult entrees go up in price considerably at dinner time, and all day Sunday is considered dinnertime at Burtons. They do have a loyalty program (you get $25 off for every $300 you spend), and you can get some nice deals if you sign up for their eNewsletter.
We had a thoroughly enjoyable, satisfying and stress-free meal at Burtons. The food was excellent, the service was great, and we didn't have to worry about having food reactions. We were so stuffed when we left there, I didn't have to make dinner that night. Truly, I couldn't ask for more.
Details
Burtons Grill
Middlesex Commons Shopping Center, 43 Middlesex Turnpike, Burlington, MA
Contact: 781-221-2281 or burlington@burtonsgrill.com.
Hours: Mon-Thu: 11:30am-10pm; Fri & Sat: 11:30am-11pm; Sun
11:30am-9pm
Note: Although Burlington may seem like a bit of a hike, you can pair your dining experience with getting your shopping done. In Middlesex Commons Plaza, there is a Market Basket (with a Red Box outside), Old Navy, Nordstrom Rack, Jo-Ann Fabrics, DSW Shoes, and Dollar Tree. H Mart, an Asian-inspired supermarket, is right next door to the plaza. The Burlington Mall is just down the street. In addition to their Burlington restaurant, Burtons Grill has Massachusetts locations in Hingham, North Andover and Peabody.