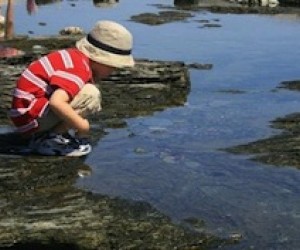 Great Day Trips from Boston: Mother's Day Weekend
Why not make Mother's Day a whole weekend celebration? Take a break from your routine and bring the kids along for one of these three day trips that that are good for little ones, but are really for Mom – because you totally deserve it! Or, if your weekend is already planned with fun family activities and splurge-worthy Mother's Day culinary outings, visit anytime for a mini getaway that feels worlds away.
Exeter, NH
Celebrate creativity and motherhood at Art on Union Street in Exeter, NH. On Friday and Saturday, May 9 and 10, experience local art in the form of photography, painting, pottery, and accessories. You just might find the perfect gift for Mom (If that means finding the perfect thing for yourself, even better!)
While you're there, spend some time meandering through downtown. On Water Street you'll find several lovely little eateries, an ice cream shop, and a chocolate store with cute and sweet confections. If your idea of a perfect day involves hanging out in a bookstore (mine does!), be sure to visit Water Street Books, an indie bookshop with great books and an incredible view of the water. The adjoining Time of Wonder Bookstore has a delightful selection of children's and YA books.
---
Manchester, NH
For a change pace, spend some time this weekend in Manchester. Start with a visit to the Currier Museum of Art for their Spring Art Fest, where you and the kids can create original works of art during family workshops (and then maybe even get into the Winter Garden Café for Mother's Day brunch). I would recommend visiting the museum even if the art festival weren't happening – it's a beautiful space and the museum is very accessible for families. When you've all had your fill of art, indulge in ice cream flavors like Charlie's Chocolate Factory or Raspberry Fudge Truffle at the legendary Puritan Back Room's ice cream window. Afterwards, take a walk, enjoy looking out over the water, and relax on a bench while the kids burn off all that sugar on the playground at Crystal Lake Park.
---
Newport, RI
Although it's just an hour and a half from Boston, Newport feels like it is worlds away. Enjoy your day escape to the fullest: Go fly a kite and take in the spectacular views at Brenton Point State Park. Then, even if you're not a huge tennis fan, you may want to visit the International Tennis Hall of Fame for the Victorian architecture. Your kids will get a kick out of the women's tennis garb from a bygone era. No visit to Newport would be complete without a stroll along the north end of Cliff Walk, where both the mansions of the gilded age and the Newport's shoreline will transport you to a different time and place. Read our Mommy Poppins Travel post for even more things to do in Newport.
---
Originally published May 2012; updated May 2013 and May 2014