Halloween Weekend Things To Do in Boston: Trick-or-Treat, Zoo Howl, Ghost Tour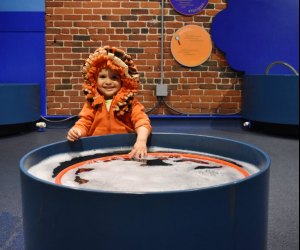 Looking for the best things to do in Boston Halloween weekend? Here are the top family-friendly events and activities to add to your list for this weekend.
Our list is creeping and crawling with spooky things to do in Boston this weekend, and there are Halloween activities with just the right amount of chills and thrills! Making the most of those amazing costumes, kids can take a walk on the wild side and trick-or-treat among the animals, win prizes, and experience mystery encounters at Zoo Howl hosted by Franklin Park Zoo. Or, they can see wild and wacky plants at the Boo-Tanical Garden at Boston Children's Museum. These Halloween events could also get downright ghoulish. Highlights include the ghostly outdoor adventure at a family-friendly graveyard, Ghosts and Graves of Lexington, and the Historically Spooky Halloween event at Plimoth Plantation where lanterns and pumpkin-lit paths illuminate the 17th-century English Village featuring a scary fireside story and more. Some of our picks feature Halloween games, like the Boston Public Market Spooky Stroll. Families download a treasure map and participate in a Halloween scavenger hunt along The Greenway, which is teeming with tricks and treats and a giant Pumpking & Pumpqueen in the market's outdoor pumpkin patch.
If you are looking for more, don't miss our Top Free Halloween Events and where to find the best neighborhoods to trick-or-treat in Boston. For fall-themed fun, see our list of 30 fall activities in Boston.
More Things To Do in Boston this Week with Kids: