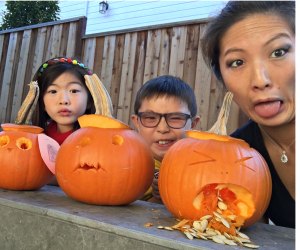 Things To Do in Boston This Weekend and Beyond: Pumpkin Parties, Trick or Treat
The weather is looking perfect for some outdoor fun this weekend—so we've rounded up the best ways to get outside and play! Put on your Halloween costume and trick or treat at a farm, be amazed by a folklore light display, join in a pumpkin carving party, and more! Read on, because we've rounded up even more in-person events for this week and the rest of October.
For more seasonal fun, see our top Halloween activities around Boston, pick out the perfect pumpkin at a local pumpkin patch, get lost in a corn maze, or visit and pet animals on the farm. Just remember to bring your face coverings—these Halloween-themed kids' masks are super fun—and practice social distancing when you're near others. As always, keep tabs on our Boston events calendar for daily updates on local happenings as well as virtual opportunities for family fun.