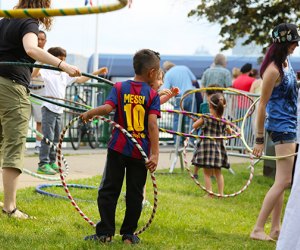 Weekend Fun for Boston Kids: River Festival, Oceans Day, and a Teddy Bear Picnic; June 3-4
Does the start of June have you in a festive mood? Bookend the weekend with a fair on the river on Saturday and a parade for Dorchester on Dot Day. Keep the party going with a genuine teddy bear picnic in the northwest 'burbs, then continue the animal fun by celebrating World Oceans Day at the aquarium (for free!).
If you want to see your little ones starstruck by their favorite characters, consider taking them to Edaville, where their favorite superheroes and princesses will be on hand for photo ops, or to Legoland, which hosts a cast of characters every Saturday in June (this week, Emmett and Wyldstyle from the Lego Movie will be posing for pictures). Wonder Woman fans can lasso some giveaways and join in some fun activities at the Prudential Center on Sunday.
Also on Mommy Poppins this week:
Need more family fun ideas? Check out our full events calendar.
ALL WEEKEND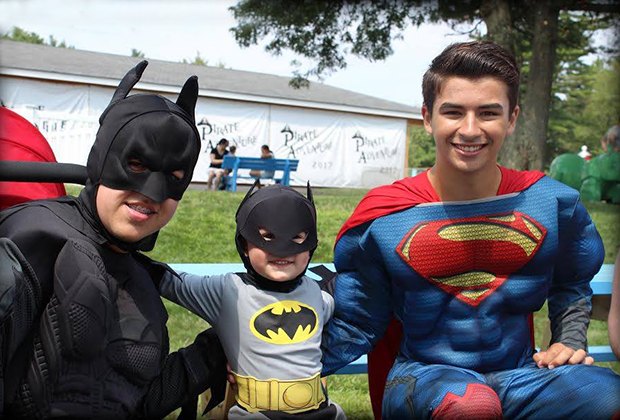 Photo courtesy of Edaville.
Superheroes and Princesses Weekend — Carver
Thomas and his friends aren't the only characters to go crazy for at Edaville Family Theme Park this weekend. Kids' favorite superheroes and princesses will be milling about the park for meet-and-greet and selfie opportunities with vistitors.
​Edward Speck and Josh Shack have joined forces again to guide the Theater in the Open Company through a Spring Panto, which includes a princess, evil queens, knights, rabbits, hatters, adventure, and puns.
Frannie: A Family Show - Boston
Bring the gang down to Improv Asylum for this family show, where they can join some of Boston's best improvisers and watch performers dance and sing while deciding the fate of little orphan Frannie.
Shakespeare comes alive in director Patrick Swanson's production, which celebrates the creative center of dreams and how the spirit world can interfere with mortal destinies.
SATURDAY, June 3
​Legoland Discovery Center Boston To Host Free Character Meet & Greets Every Weekend in June - Somerville
To kick off the summer, Legoland Discovery Center is hosting free meet & greet events with their popular Lego costume characters outside at Assembly Row every weekend in June. This Saturday, meet Emmet and Wyldstyle from The Lego Movie.

Cambridge River Festival - Cambridge
The celebration of the arts along the banks of the Charles River features jazz, folk, roots and world music performances, dance, art demonstrations, family art-making activities and over 100 specialty food purveyors and craftspeople.

Wonder Woman Day - Boston
Celebrate the new Wonder Woman movie with activities and giveaways.

Pride Day @ Faneuil Hall - Boston
Pride Day @ Faneuil Hall returns for the 17th consecutive year with free family-friendly entertainment including Zumba classes, music, dancing performances, and drag queens.

Roslindale Village Main Street Farmers Market Opening Day - Roslindale
This year's season brings the market to the heart of Roslindale Village, where vendors, performers, and visitors can enjoy the green space of Adams Park.

The Mommy Conference - Newton
The Mommy Conference is a boutique conference for toddler moms looking for education and information about raising early learners.
SUNDAY, June 4
Celebrate World Oceans Day - Boston
The day includes hands-on activities for kids, seafood cooking demonstrations, and lots to learn about ocean animals.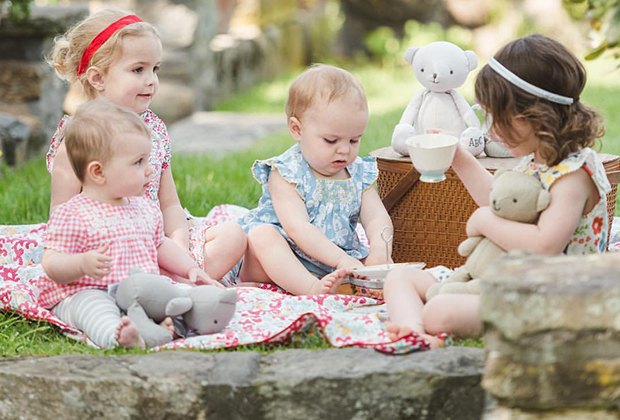 Photo courtesy of Andover Bear Company​.

Teddy Bear Picnic - North Andover
Families can meet at Stevens Coolidge Place for a stroll and picnic at the teddy bear garden.

Dorchester Day Parade - Dorchester
The Dorchester Day Parade takes place on the first Sunday in June and marks the anniversary of the founding of Dorchester.

Kick-Off-To-Summer Festival and Show with Vanessa and the Jumping Monkeys - Brookline
Calling all party animals to Brookline's Clinton Path Preschool to enjoy balloon animals, an outdoor magic show, bake sale, art activities, a silent auction, and a concert by Vanessa Trien and the Jumping Monkeys.

Painting at the Children's Museum in Easton - North Easton
The Museum is hosting a "Painting" Mini Maker Pop-up where children can explore the science of mixing different primary and secondary colors to create new and exciting paints.\
Top photo: River Festival. Photo courtesy of Cambridge Arts Council.