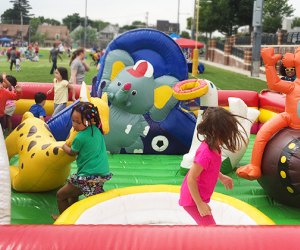 Weekend Fun for Boston Kids: Block Parties, Strawberries, and a Family Fun Day; June 24-25
All Weekend
Snow White: A Through the Looking Glass Panto - Newburyport
Edward Speck and Josh Shack have joined forces again to guide the Theater in the Open Company through a spring pantomime, which this year includes a princess, evil queens, knights, rabbits, hatters, adventure, and lots of funny puns.
Strawberry Festival: Lanni Orchards - Lunenberg​
Aside from berry picking, this festival also features hayrides, a bouncy house, games, crafts, and strawberry shortcake.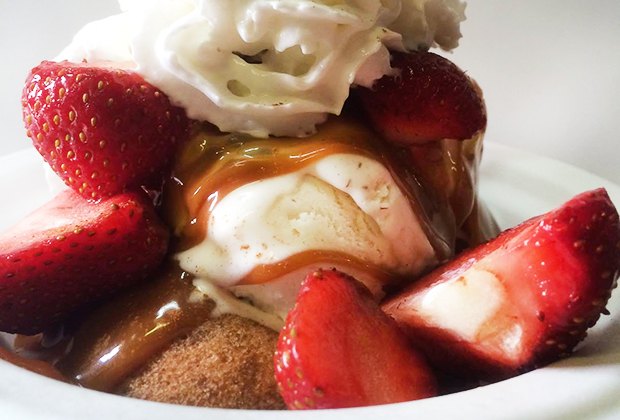 Indulge in The Cider Donut Sundae with fresh strawberries at Russell Orchards' Strawberry Festival. Photo courtesy of the orchard.
Strawberry Festival: Russell Orchards - Ipswich
The Strawberry Festival at Russell Orchards includes strawberry picking, live folk music, balloon entertainment, and face painting.
Big River: The Adventures of Huckleberry Finn - Sturbridge
With an award-winning score from Roger Miller, the king of country music, this classic tale provides a theatrical celebration of pure Americana that wins over families.
Wicked is the story of two magically inclined women, one blonde, and one green of skin—and their coming-of-age as the forces of good and "wicked."
Saturday
Enjoy a community barbecue, pony and train rides, activities for kids, face painting, music, and other family friendly fun.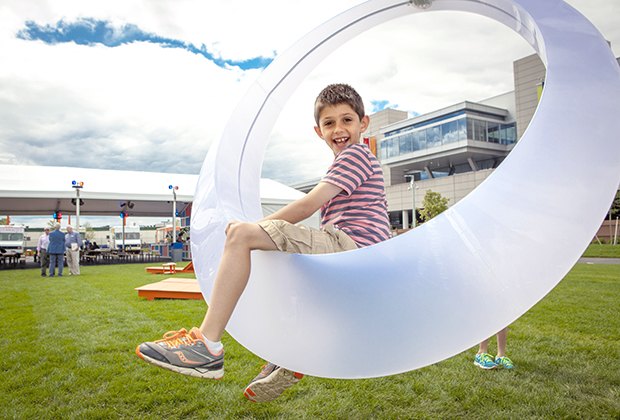 Celebrate world cultures at Wonders of the World on the Lawn on D. Photo courtesy of the venue.
Local cultural groups bring their traditions to The Lawn On D in celebration of the rich heritage of Boston.
Arlington comes alive with the fifth annual Summer Arts Block Party, a free event that celebrates the arts in the community with live music, storytelling, artisan and craft booths, food vendors, and special activities for children and families.
Design, build, and explore with one-of-a-kind structures.
SaturPLAY is a 6-month series of youth-led interventions to activate Mary Soo Hoo Park with a different theme each time. This week's theme is "Story Night."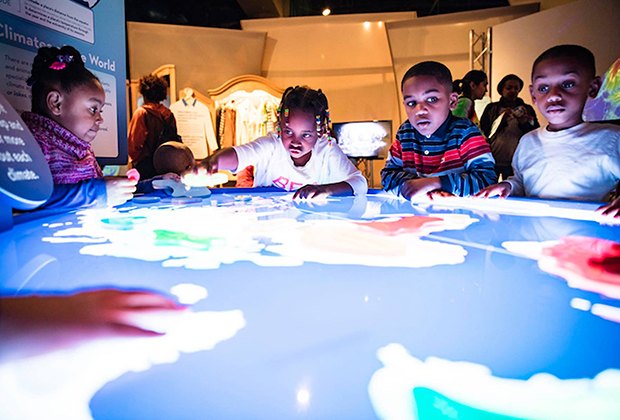 Learn about weather and climate at The Environment Science Discovery & Action Museum. Photo courtesy of the museum.
Come and explore the Weather and Climate exhibit at "e" Inc., and have fun with the hands-on activities.
Enjoy pick-your-own strawberries in fields near the farm stand (weather & crop conditions permitting); strawberry shortcake prepared in the farm stand kitchen; food available a la carte; pony rides and hayrides; and live entertainment.
Sunday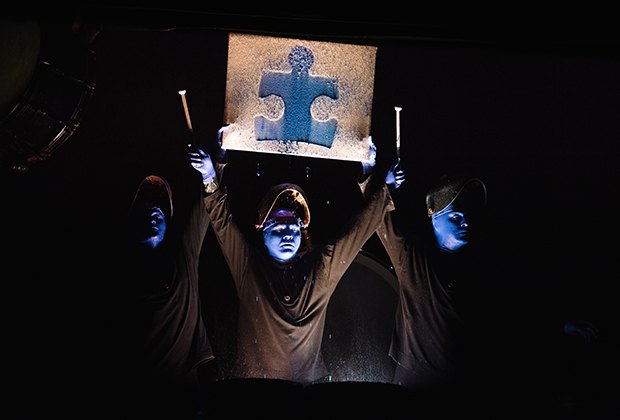 Blue Man Group. Photo courtesy of Blue Man Group.
Blue Man Group Boston Hosts Autism-Friendly Show - Boston
Blue Man Group is teaming up with Autism Speaks for the third consecutive year to host a lower sensory performance suitable for individuals and families affected by autism in Boston.
10th Annual British Car Days - Boston
Car lovers of all ages are invited to Faneuil Hall for this display of classic British cars.
Scituate Animal Shelter 25th Anniversary Party - Scituate​
Animal lovers of all ages are invited to celebrate the 25th anniversary of this beloved animal shelter with K9 and dog agility demos, a food truck, live music, a dj, great raffle prizes, face painting for kids, and a visit from comfort dog Obediah.
Fun with Butterflies and Dragonflies - Natick
Discover the world of dragonflies, damselflies and butterflies, and learn all about how to help local butterflies this summer.
2nd Annual Boston Historical Costumers' Picnic - Boston
Pack a picnic lunch, and enjoy the feeling of being in another time period for the afternoon.
Top photo: Enjoy Somerville's Family Fun Day with inflatables and more. Photo courtesy of the event.