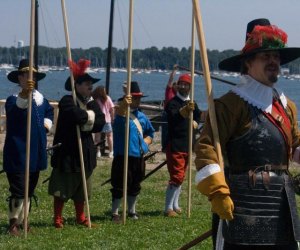 Weekend Fun for Boston Kids, August 6-7: Maritime Festival, Vintage Baseball, GospelFest
Like many young Bostonians, my kids are history buffs, and boy, are they in for a treat this weekend with everything from maritime history celebrations (pictured) to the opportunity to catch some vintage baseball on one of the Harbor Islands. If your kids prefer baseball in its current form, you won't want to miss the Red Sox Showcase, a wonderful way to experience Fenway for free outside the park.
Now that it's August, though, I definitely plan to make sure my family gets to enjoy free outdoor concerts and movies around town. Some of the best picks this weekend include GospelFest, a showing of The Good Dinosaur, and jazz at the fort. If your family prefers to rock it out, you might want to hit the family-friendly House of Blues Youth Rock Show indoors instead.
Also on Mommy Poppins Boston this week:
Enjoy your weekend and don't forget to check out the full Event Calendar!
ALL WEEKEND
Salem Maritime Festival - Salem
Salem celebrates its maritime history with a full weekend of family-friendly activities on the waterfront.
Annie, Jr. - Stoughton
South Shore Theatre Works welcomes theatre-goers young and old to Annie Jr., a musical production featuring talented local actors and actresses ages 9-18.
Boston Seafood Festival - Boston
The Boston Seafood Festival returns to the fish pier for a family-oriented and educational day of fun and fresh seafood.
Cultural Survival Bazaar - Jamaica Plain
This free-admission, family-friendly festival features art, crafts and other ethically made cultural products created by Native artists from around the world.
SATURDAY AUGUST 6
Concerts at Castle Island - South Boston
Free live music is coming to Castle Island. Families can come early and make a day of everything the site has to offer.
Teddy Bear Picnic - North Andover
Stuffed animal best friends are encouraged to attend this stroll and picnic at the teddy bear garden.
Rosalita's Puppet Show at Faneuil Hall - Boston
Families can come and enjoy tales of kings and princesses played out in a show great for all ages.
Sylvia Baxter Riverfront Movie Series - Somerville
The Good Dinosaur is playing for free along the Mystic River in front of Assembly Row at dusk.
The Red Sox Showcase - Somerville
LEGOLAND® Discovery Center Boston is hosting the Red Sox Showcase, featuring a batting cage, pitching stations, a steal 2nd challenge, and a virtual reality experience.
Vintage Baseball - Boston
Families can step back in time and watch a Civil War-era base ball game with original rules and uniforms played at historic Fort Warren.
SUNDAY AUGUST 7
House of Blues Youth Rock Show - Boston
This fun family event celebrates youth musicians in Boston. There are 8 individual musical acts ranging in genre and age.
GospelFest - Boston
The annual gospel event showcases both contemporary and traditional gospel and features local talent and national headliners.
Jazz at the Fort, Featuring Imagine Orchestra - Roxbury
Imagine Orchestra plays Jazz at the Fort in Highland Park as part of the ParkARTS Summer Concert Series.
---
Photo courtesy of National Park Service