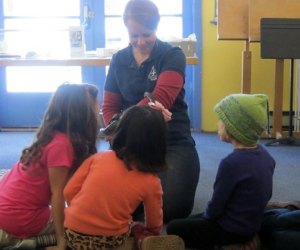 Weekend Fun for Boston Kids August 13-14: Comic Con, Wild Animals, Free Concerts
Cosplay fans unite! This is your weekend with Boston Comic Con in town, and along with it the opportunity to bring the kids along to meet some industry celebrities and attend their panels. It's also another great summer weekend for free outdoor concerts around Boston, including one with the philharmonic and another with some Latin jazz.
There are also fantastic opportunities this weekend to get out and take a closer look at our own surroundings. Some teens have been doing just that in the city, and their work is highlighted in a new exhibit. More nature-minded kids can learn about wild animals in the neighborhood (pictured). Finally, if you've ever wondered how you and your family can give back by volunteering, you might want to give a one-shot activity a try to see how it goes. As with all volunteering, every little bit helps.
Also on Mommy Poppins Boston this week:
Enjoy your weekend and don't forget to check out the full Event Calendar.
Nominate a local family-friendly business for a Mommy Poppins LOVE Award!
ALL WEEKEND
Boston Comic Con - Boston
Comic fans come to this family-friendly event to dress up, meet comic industry celebrities, attend panels, view films, and game with other fans.
Spartan Boston Super Weekend - Barre
This weekend contains events for adults and special events for kids on a Spartan course that consists of rolling farmland, muddy single and double track, fields, and swamps.
Reagle Music Theatre: Crazy for You - Waltham
The Gershwin musical comedy, Crazy For You, a high energy production set in the 1930s, is perfect for families with older kids.
SATURDAY AUGUST 13
Arlington Philharmonic Concert: Robbins Farm Park - Arlington
Families are welcome to join in on this free classical music concert with performers from the Arlington Philharmonic Orchestra.
Story Time and Musical Play at Garden in the Woods - Framingham
Children listen to a nature-themed story, sing songs related to topic of the day, and make nature-crafts.
Wild Animals in Your Neighborhood - Acton
Kids can enjoy a unique opportunity to see native animals up close with a trained naturalist from the Blue Hills Trailside Museum.
The Tailor's Craft - Boston
Clothing historian Henry Cooke takes on the role of an early Boston tailor at the Paul Revere House.
The Pirate, the Princess, and the Pea - Brookline
Kids can come along on a thrilling voyage chock full of sea monsters, shipwrecks, and mistaken pirate/princess identities.
In Transit: Voice & Vision Opening Reception - Dorchester
This opening reception celebrates In Transit: Voice & Vision, a mobile visual art exhibition by Boston high school students about the psychological and physical journeys of Bostonians.
SUNDAY AUGUST 14
Free Concert: Orlando Retana - Cambridge
Orlando is a drummer from Costa Rica, with his music focusing on Latin Jazz, Fusion and World Music.
Family Table Food Distribution - Waltham
Family volunteers can help set up the pantry, sort food donations, package orders for recipient families, and deliver to recipients.
MAKEMobile at deCordova - Lincoln
Take your imagination for a spin at the deCordova with activities that explore artistic and material processes through amusing prompts and challenges.
Civil War Walk with Dr. Charles - Boston
On Georges Island, families can meet Dr. Charles MacGill, a confederate political prisoner during the Civil War.
---
Photo courtesy of the Discovery Museums