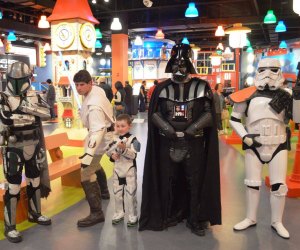 Weekend Fun for Boston Kids: 1980s Flashback and Free Art, Nov 12-13
When I was eleven years old, I fell in love with a band and have been a fan ever since. That band is U2 (who's with me?) and this Sunday the Family Folk Chorale is presenting an energized afternoon to celebrate 40 years of U2. The audience is even invited to sing along with the intergenerational 65-member group. Also in the spirit of amazing things that came out of the 80's, the Footlight Club is presenting Big: The Musical! based on the classic 1988 movie with shows on Saturday and Sunday. If you are looking for some fun, free events happening this weekend, the Guild of Boston Artists is holding a two-part series of art discovery classes for children starting on Saturday, and the deCordova Sculpture Park and Museum is having its free second Saturday morning for families.
​Also on Mommy Poppins this week:
Help us pick our Besties for a chance at terrific prizes, and don't forget to check out the full events calendar!
All Weekend
Big: The Musical! - Jamaica Plain
The Footlight Club presents Big: The Musical! based on the classic movie Big.
A Sailor's Life and Legacy - Charlestown
Families can celebrate and honor the nation's veterans at the USS Constitution Museum, learn about the daily struggles that crew members on board "Old Ironsides" faced during the War of 1812, and how their stories continue to inspire people today.
LEGO® Star Wars Days™ - Somerville
The weekend features fun-filled LEGO Star Wars™ build activities for all ages including a LEGO Star Wars™ character scavenger hunt in MINILAND, a brick by brick mural build, and a large scale LEGO® Yoda™ group build.
Saturday, Nov 12
Free Second Saturday Morning - Lincoln
Families can explore deCordova for free on the second Saturday of every month.
Free Art Discovery Class - Boston
The Guild of Boston Artists is holding a two-part series of art discovery classes for children where children "see" the art works in the gallery through the artist's eye.
Veterans Day Cruise to Georges Island - Boston
Honor our veterans and active military with a special cruise highlighting the military history of the Boston Harbor Islands National and State Park.
The Bear Went Under the Mountain with Chamber Music MetroWest - Westborough
At this educational, entertaining, and interactive concert, attendees are invited to ask questions and see the instruments up close after the concert.
Sunday, Nov 13
In the Name of Love: Family Folk Chorale Celebrates the Music of U2 - Arlington
The intergenerational 65-member Family Folk Chorale, under the direction of Cris Eastburn, is presenting an energized afternoon of uplifting songs celebrating 40 years of U2 as a band.
Magic by Bonaparté - Brookline
Bonaparté's award-winning Family Magic Concert features astounding magic, hilarious comedy, oodles of audience participation, and the dramatic appearance of his adorable furry and feathered friends, 'Whiskers' the Bunny and 'Snow' the beautiful, fluttering white dove.
Meet the Harvard Horntails Team - Cambridge
Celebrate the upcoming film Fantastic Beasts & Where to Find Them and revel in a holiday season bursting with the magic of J. K. Rowling's world by embarking on your very own search for magical creatures.
Fairy Houses Workshop - Arlington
Fairy book author Liza Gardner returns to Artbeat to lead this workshop and book signing.
---
Photo courtesy of LEGOLAND Discovery Center Boston