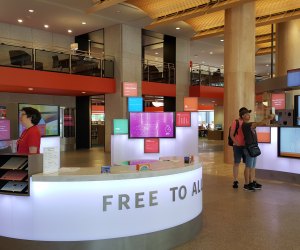 Weekday Picks for Boston Kids, July 25-29: Storymobile, Splash Dance, and Folk Fest
Without a doubt, one of my favorite things about summer is all the fantastic library programming. Topping this week's picks is a visit from the ReadBoston Storymobile at the main branch of the Boston Public Library, which recently reopened its newly-renovated space (pictured). If you haven't checked it out yet, you are in for a treat! But if you'd rather spend a summer day outdoors, let the librarians come to you, on the beach, no less, or hit the river instead for an amazing summer experience.
This week also boasts some great family events to create or observe the visual arts, along with tons of outdoor concerts popping up all week, including the first evening of the Lowell Folk Festival. Besides all these great picks, be sure to keep your eye on the full Event Calendar for other fun upcoming events.