Weekday Picks for Boston Kids: Eclipse Parties, Children's Fest, and a Dance Carnival; Aug 21-Aug 25
Not exactly rejoicing over school's looming start? This week of parties will keep you in a celebratory mood. No doubt you've caught wind of Monday's big cosmic event: Commemorate it with other humanoids at a solar eclipse party around town. Or, meet up with other families for a fete for kids in one of our city's great parks. If music and movement capture your child's imagination, don't miss the always-rollicking dance carnival capping a local orchestra's summer events season.
If you and yours are actually psyched for pencils and books and all that, the week concludes with two super events for story lovers. Some famous children's illustrators will be at a meet-and-greet in Watertown Thursday, and one of Disney's most beloved princesses will be reading aloud at a carousel near the beach.
Soak up your free days before they slip away! Our Events Calendar has lots more ideas to make the most out of this week and beyond.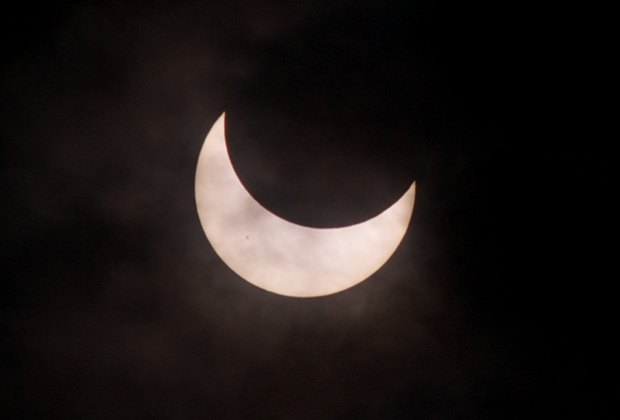 In a partial eclipse like the one we'll see on Monday, only some of the sun is covered by the moon. Photo by Hiroki ONO/CC BY 2.0
Monday, 8/21—Copley Square
This is must-see stuff: For the first time in nearly four decades, parts of North America will be treated to a total solar eclipse; in and around Boston, we'll see a partial eclipse much like the image above. A great way to watch safely and learn about the phenomenon is to gather at one of the many afternoon celebrations around town. At the Eclipse Viewing Party at the Central Library, organizers will be distributing viewing safety glasses, projecting live streams of the total eclipse, and hosting activity stations where kids can gain a deeper understanding of what's occurring and why.
See all Monday events
Tuesday, 8/22—Dorchester
Whereas some other city gatherings have small stations for kids, the Children's Summer Festival in Franklin Park is designed with little ones in mind. There will be performances, art projects, face painting, and loads of interactive science experiments.
See all Tuesday events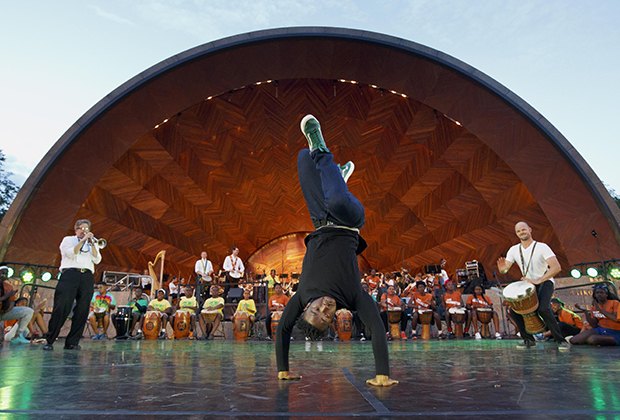 Landmark Orchestra's Dance Carnival features many exciting performances. Photo by Michael Dwyer
Wednesday, 8/23—Beacon Hill
If you have kids who can't sit still, the Landmark Orchestra Dance Carnival is a perfect event for them. Set up on the Hatch Shell lawn with blankets or chairs and a picnic dinner and watch dancers perform a variety of styles—from ballet to salsa to hip-hop—to orchestral music.
See all Wednesday events
Thursday, 8/24—Watertown
Children's illustrators Leslie Patricelli, Leslie Evans, and Jannie Ho will be reading from their books, presenting their artwork, and meeting and greeting young fans as part of the Forever Young: Picture Book Art Exhibition at the Mosesian Center for the Arts. There will be a juried exhibition of other picture book artists on view, too.
See all Thursday events
Friday 8/25—Hull
If you have a little princess lover and haven't hit Hull on a Friday yet this summer, don't miss your last chance: The summer's last Princess Storytime at Paragon Carousel—with the animated royal du jour, Beauty's Belle, hosting—will include stories and photo ops.
See all Friday events
There are always more activities on our Event Calendar and in our monthly GoList. And if you don't receive our newsletters full of suggestions for family fun, you really should sign up for our newsletter—it's free!
Don't forget to wear your certified solar eclipse safety glasses Monday! Top photo by Ken Lund/CC BY-SA 2.0​