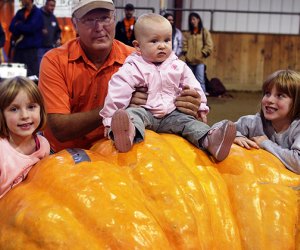 Weekday Picks for Boston Kids: Banned Books, Fun Physics, and Giant Pumpkins; Sept 25- 29
What would we do without our libraries? For one thing, we wouldn't necessarily know about all the interesting, commemorative months and weeks being celebrated around the country. This week kicks off with a nod to Hispanic Heritage Month with an event to open preschoolers' eyes (and ears) to Spanish music, when Berklee dynamo Naty Hernandez leads a singalong on Boylston. A day later, older kids can take a stand against censorship with a clever craft project for Banned Books Week in the North End.
You wouldn't know it by the balmy temps outside, but some outdoor programs are ending for the season, and a public arts' program on the Greenway closes with a showing of a Tim Burton classic. Physics takes the spotlight with a new program in the south 'burbs, while up north, the Topsfield Fair gets going with our favorite fall spectacle of all: gargantuan pumpkins.
For more interesting activities this week in Boston and beyond, check out our Events Calendar.
Monday, 9/25—Boston
It's Hispanic Heritage Month. Bring 2- to 4-year-olds to the Central Library for Singing in Spanish with Naty, where Berklee's Naty Hernandez will leads kids in songs and fingerplay inspired by her heritage.
11am; free
See all Monday events
Tuesday, 9/26—Boston
Do you know that books like Seuss's Hop on Pop, Roald Dahl's James and the Giant Peach, and more recently, Drama, a popular graphic novel by Raina Telgemeier, have been banned by schools and libraries? Unleash your little censorship warriors at the North End Library, where National Banned Book Week is being commemorated with an event where kids can decorate their own I Read Banned Books Tote Bags. Geared for kids ages 8 and up.
3:30pm; free
See all Tuesday events
Wednesday, 9/27—Boston
To close out its Playful Perspectives in Public Art series, the Rose Kennedy Greenway hosts a free outdoor movie screening of Tim Burton's Alice in Wonderland. The screening is near the Meredith James' theatrical artwork "Far from this setting in which I now find myself" so be sure to interact with this artwork one last time.
7pm; free
See all Wednesday events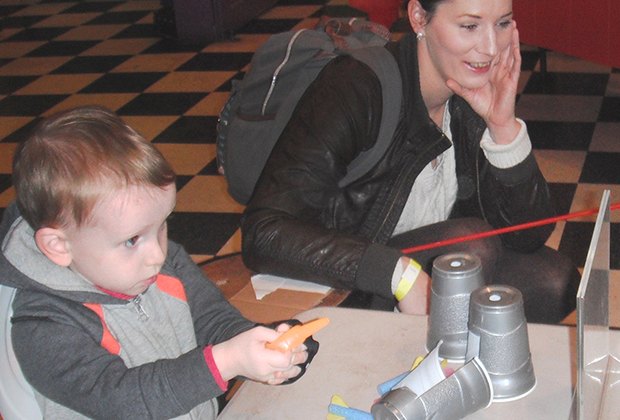 Preschoolers ponder the wonders light and motion in a new science program. Photo courtesy of the Children's Museum of Easton
Thursday, 9/28—Easton
The Children's Museum of Easton is launching a new program for curious, science-minded preschoolers. At Fantastic Fun Physics, expert STEM educators will guide 3- to 5-year-olds through various activities related to magnetism, motion, and light.
10-11am; free with regular museum admission
See all Thursday events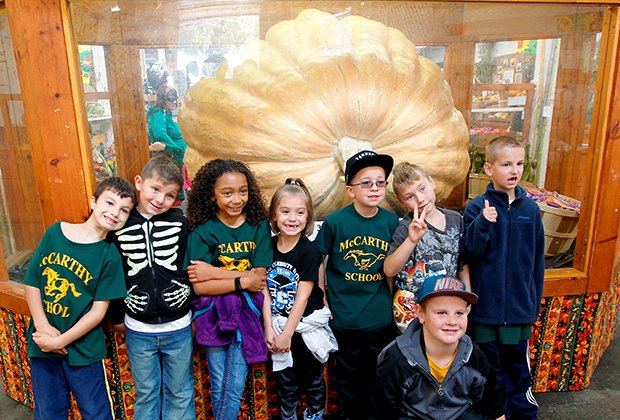 Kids love to pose with the gigantic pumpkins. Photo courtesy of Topsfield Fair
Friday 9/29—Topsfield
America's oldest agricultural fair, the Topsfield Fair, starts tonight, and our favorite event with it: Kids get to gawk at gargantuan gourds at the New England Giant Pumpkin Weigh-Off. Can anyone produce a pumpkin bigger than last year's 2,000-pound record-breaker?
4-10pm; $9-11 per weekday ticket
See all Friday events
Top photo courtesy of Topsfield Fair