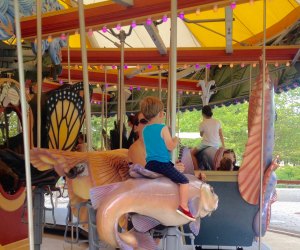 Weekday Picks for Boston Kids, August 1-5: Hip Hop, Free Carousel, Star Wars on the Beach
The coming week is a great one for trying something new with the kids, whether it's a different type of dance or a program about nature. I just learned that my local library offers free passes to try out canoes and kayaks, so my kids and I will definitely be strapping on some life vests and hitting the water, but I'm also thinking about taking the train to the beach with them later this week.
As always, though, I'm a sucker for free events, and it seems like there are even more fantastic opportunities on the calendar these days than usual. You really can't go wrong when choices include a puppet show, some virtual travel, and a popular movie on the beach. Finally, the venues for this week's Free Fun Fridays include one of my family's favorites, the Harvard Museum of Natural History, where the glass flowers have returned. Besides all these great picks, be sure to keep your eye on the full Event Calendar for other fun upcoming events.