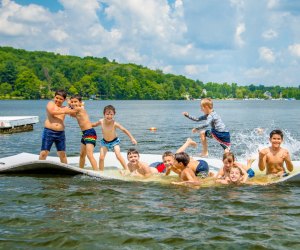 25 Sleepaway Camps in New England with Short Sessions for First-Timers
Going to sleepaway camp is a rite of passage for many kids in Boston, Connecticut, and the rest of New England. But the idea of being away from home for more than a few weeks can be a dealbreaker for many kids, especially if they're on the younger side or tend to have separation anxiety. Luckily, many overnight camps offer one- or two-week (or even shorter) sessions that are specially designed to introduce children to the independence and kid bonding of sleepaway without forcing them to "stick it out" for longer than they may be ready to handle.
Established on shorelines and lakefronts across six states, we've rounded up popular overnight summer camps with first-timer-focused starter sessions for children 6 to 12 years old. The only catch may be if you're not sure you can part with your kiddo for more than a night. (Trust me—you can!)
Look to our complete camp directory for more ideas on summer enrichment for kids in Boston and Connecticut.
Note that summer camp information for the 2020 season is changing daily. Please click the links to the individual camps below to see which ones are offering programs this year.
Two nights and up
From ropes courses to Scottish dancing, this Mass Audubon camp packs in additional creative activities along with nature exploration. Seven and eight-year-olds can start out with a "Wildwood Warblers" weekend camp, and nine- to 14-year-olds choose from one- or two-week sessions.
Two nights and up
Boys from first through third grades can get a taste of this sports-oriented boys' camp in the Berkshires during a "Discovery Weekend" in July. Camp Echo Bridge in Newton also offers a weekend camping trip in Winadu for boy and girl campers ages 10 and older that leaves and returns from Mason-Rice Elementary School.
Four nights and up
Campers ages eight to 13 can sign up for a five-day "Days A-Way" session that introduces kids to this popular beachside camp, which offers sailing, archery, creative arts, and more along the Cape Cod shoreline. A 10-days long "Campers A-Way" session is a slightly longer additional option for first timers. They're so confident your campers will love it they also offer an option for you to go on a waitlist to extend your kid's stay if they love it after the first few nights.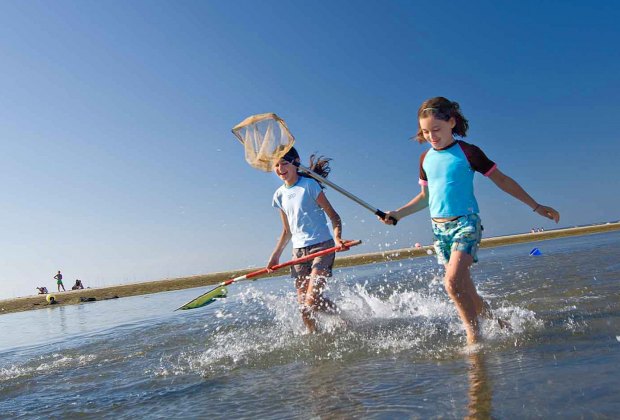 Photo courtesy of Cape Cod Sea Camp
Five nights and up
Starting at age 7, kids can try a one-week session at Burgess or Hayward, boys' and girls' camps that are situated across from each other on Spectacle Pond in Cape Cod. Camp is filled with water sports, ropes and climbing activities, lots of athletic options, and more.
6. Overland—Williamstown, MA (and multiple other locations across the U.S.)
Six nights and up
Overland's co-ed journeys take teens all over the globe but starting in fourth grade, campers can attend one-week introductory trips in New England, North Carolina, Washington, Yellowstone, or the Sierras. The experience is focused on developing kids' hiking, camping skills, and confidence as well as fostering friendships in the small group setting.
Five nights and up
Many kids spend the full summer in this long-established (since 1929) Berkshires camp, but first-time campers in first through fifth grades are welcome to attend a one-week "Mini Mak Rookie Camp," in mid-July.
14 nights and up
Two-week mini sessions are available to first-time campers starting in first through fifth grades at this Cape Cod camp, which focuses on "daily choice" of activities, from traditional sports to out-of-the-box options like Zombie Hunters and Ethical Dilemmas.
Two nights and up
Kids ages five to 10 are invited to experience Mini Camp at this Christian-values-based camp in the Litchfield Hills.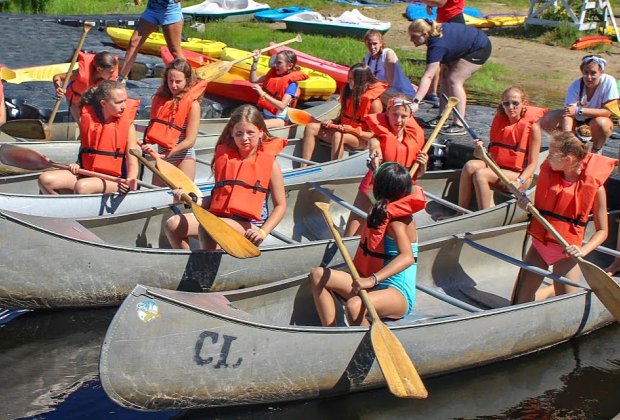 Photo courtesy of Camp Laurelwood
Three nights and up
"Taste of Laurelwood" (four days) and Rookie Camp (one week) at this day and overnight camp explores Jewish identity and values as well as nature appreciation, friendships, and more.
Six nights and up
Designed for campers ages 8 to 12 years, the one-week first session of this lakefront camp is the only co-ed offering; other weeks are girls- or boys-only.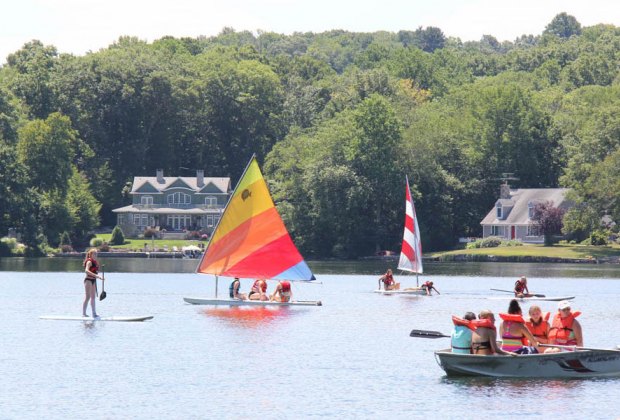 Campers as young as eight can attend a one-week co-ed session at Asto Wamah. Photo courtesy of the camp
Five nights
Young mariners ages 8 to 15 years old sleep overnight on a historic vessel by night and learn to sail and take care of the fully-rigged ship by day.
13. Camp Hazen (YMCA)–Chester, CT
Two nights and up
Second, third and fourth graders might want to try a one-week sampler camp, which allows them to try all of the activities traditional two-week programs offer. (Nice bonus: new camper parents receive a phone call by a counselor halfway into camp week with an update on how their children are doing.)
Six nights and up
First-time campers ages 7 to 14 can attend "Explorer Week" in August at Greenwood Trails, which has a customizable schedule featuring arts, aquatics, athletics, and adventure.
13 nights and up
Campers as young as age 6 can attend the starter two-week session at these long-established brother and sister camps in central Connecticut. Activities include sports, waterskiing, and ropes courses. They even have go karts!

One-week sessions in August are perfect for first-time Coniston campers. Photo courtesy of Mommy Poppins
Six nights and up
For one week in August, second through sixth graders can get a taste of Coniston, which offers two week sessions for the rest of the summer. This co-ed camp features separate girls and boys cabins across the lakefront property, where campers learn a variety of water sports along with a variety of athletics and arts options.
Six nights and up
Walt Whitman is typically a seven-week commitment, but first-timers can try Pioneer Camp, which offers all the camp's typical swimming, sports, and arts activities in a one-week trial period.
Seven nights and up
This popular boys' camp on Lake Winnipesaukee offers two one-week sessions along with their regular two-week programs. (Lake Nokomis, its sister camp also has two-week sessions).
13 nights and up
Campers as young as 6 are welcome to start out with a two-week session at Birch Hill, which emphasizes choice through 50 different activity offerings.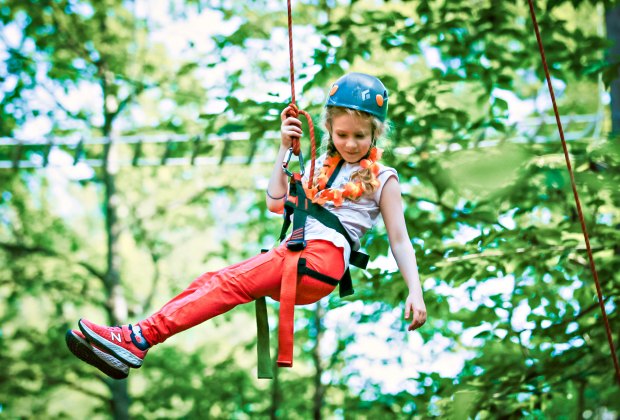 Ziplining is one of more than 50 activities offered at Camp Birch Hill.
Five nights and up
Craftsbury, Vermont is home to this small, nature-based camp, that starts with one-week sessions for children ages 8 to 13.
11 nights and up
Established in 1915, this camp focuses on developing confidence and strong bonds among elementary school girls. The camp offers a 12-day "Elfin" program for first through third graders.
Nine nights and up
There are 10-day "junior" sessions for second through fourth graders at this wilderness-focused camp for boys (Kieve) or girls (Wavus).
24. Camp Runoia—Belgrade Lakes, ME
Nine nights and up
At this 8,000-acre lakeside girls' camp, the Harmony Land program is tailored to 7- and 8-year-olds who want to try Runoia before committing to four-week or full-summer sessions.
Six nights and up
Seven to 12-year-olds are welcome to try a one-week session at this co-ed camp offering a full range of sporting and arts activities on Point Judith Salt Pond.
Note there are more beloved, affordable YMCA overnight camps that offer two-week sessions, so check out YMCA's nationwide camp finder for additional ideas.