Best Things To Do with NYC Kids: May GoList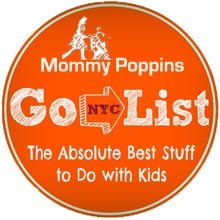 May is beloved for Mother's Day and Memorial Day weekend, which marks the unofficial start of summer as beaches and amusement parks open for the season. But you don't have to wait until the last weekend of the month to enjoy wonderful family outings. There are fairs and festivals everywhere you turn throughout May, and our roundup of the absolute best things to do this month includes FREE annual favorites like the Governors Island's family festival, Manhattan's Dance Parade and the World Science Festival's Ultimate Science Street Fair. Plus there are a few exceptional family theater shows and engaging new museum exhibits, as well as the exciting grand opening of the relocated Whitney Museum of American Art.
As always, if an event piques your interest, be sure to click through to our listing for all the details, including address and time. And please remember, in NYC really cool things to do with kids often sell out in advance or fill up really quickly, especially when they're free. So buy your tickets ASAP or arrive early whenever possible.
Now get your calendars ready! Here are the top 14 things to do with kids in New York City this May, eight of which are FREE.
Whitney Museum of American Art Grand Opening Block Party – Meatpacking District
Saturday, May 2
In honor of its brand-new, state-of-the-art home, the Whitney Museum of American Art is throwing a FREE art-filled bash both inside and outside the building. Don't worry that advance tickets to enter the museum on Saturday, May 2 are sold out (a few will be given out the day of but, let's face it, they're going to go fast). There will still be plenty of engaging activities for revelers of all ages on the street, including karaoke, map making, performance workshops and offbeat art projects, many led by cutting-edge contemporary artists. FREE
Morgan Library & Museum Spring Family Fair – Murray Hill
Sunday, May 3
The theme of this annual fete is inspired by the museum's current Lincoln Speaks: Words That Transformed a Nation exhibit. Families can learn all about the 16th POTUS and even meet him in person (or, rather, an actor portraying him). Collaborative quilt making, presidential period photos, and performances by the Ebony Hillbillies and the Wadleigh Secondary School for the Performing and Visual Arts' gospel choir are also on tap.
Kite Flight – Long Island City
Saturday, May 9
Socrates Sculpture Park is one of our favorite places in Long Island City. The outdoor art installation is FREE to visit year-round, and offers no-cost kids' art workshops every Saturday morning in late spring and throughout summer. As always, the series kicks off with the annual Kite Flight. Under the guidance of an experienced teaching artist, kids fashion paper kites out of recycled materials inspired by their lovely surroundings. Once it's finished, let your flier soar against the dramatic backdrop of the Manhattan skyline. FREE
Identification Day – Upper West Side
Saturday, May 9
Got any unidentified feathers, rocks, shells, bones or other natural artifacts sitting around your house? Bring them to the American Museum of Natural History and scientists will attempt to figure out what they are. Past identified items include a whale jawbone and a 5,000-year-old stone spear point! (There are some rules like no gemstones, or live or dead animals, so check the website to make sure your items qualify.) Staff will even make complimentary 3D scans of all identified objects (when possible) so kids can take home a special 3D-printed souvenir. While at the museum, be sure to explore the interactive installations Life at the Limits and Nature's Fury: The Science of Natural Disasters. Identification Day is free with suggested admission; exhibits cost extra
Lincoln Center Kids Spring Fling – Upper West Side
Saturday, May 9
We recently wrote an entire post dedicated to Lincoln Center's brand-new series of family programming. It's super-exciting that a grown-up, world-class arts institution is curating high-quality performances and activities just for kids (and their parents of course). To celebrate this new initiative, Lincoln Center is hosting a FREE fete throughout its grounds. A highlight is a sing-along with the Grammy-winning grandad of kindie rock, Dan Zanes. But there will also be an interactive storytime with Angelina Ballerina, dance lessons from Dancing Classrooms, and activities sponsored by the New York Philharmonic, the Film Society of Lincoln Center, the Children's Museum of Manhattan, the Little Orchestra Society and even a Mommy Poppins crafts table. FREE
Kings County Fair – Marine Park
Thursday, May 14-Monday, May 25
If you've been hankering to hit an old-fashioned country fair with a massive Ferris wheel, cool kiddie rides, carnival games, cotton candy and live entertainment, well, you don't have to leave the city. Brooklyn athletic complex Aviator Sports & Events Center once again hosts the Kings County Fair on its grounds. While there's enough fun to last many days, check out the pricing before you go. Some days are way cheaper than others, so plan wisely.
Dance Parade New York – Flatiron & the East Village
Saturday, May 16
This annual dance procession is on our list of the best NYC parades for kids. It kicks off around Madison Square Park and ends in the East Village. Along the route, 10,000 movers and shakers shimmy down Broadway in elaborate costumes doing more than 75 dances, including salsa, tango, waltz, African, Asian, the hula, break dancing and more. If you want to participate, you must register in advance and join a group. Otherwise, go and cheer them on, and hit the after-party in Tompkins Square Park for dance workshops and four stages of dance performances. FREE
Frida Kahlo: Art, Garden, Life Exhibit – the Bronx
Saturday, May 16-Sunday, November 1
Introduce your kids to the work of the celebrated Mexican artist, best known for her evocative and nature-filled self-portraits, at the New York Botanical Garden's new installation. In addition to displaying more than a dozen of her original paintings and works on paper, the exhibit includes a recreation of her garden and studio in Mexico City. After touring the exhibition, families can enjoy thematically related activities like live music and dance performances, textile and cooking demos, and drop-in arts activities in the Everett Children's Adventure Garden. Free with All-Garden Pass
The Big Family Quiz Thing – Chelsea
Sunday, May 17
Perhaps you've seen Noah Tarnow's grown-up trivia competition, the Big Quiz Thing, on NYC TV or at one of the many venues where he hosts live shows. Well on May 17, children can get in on the action with the third annual Big Family Quiz Thing at the Highline Ballroom. Created specifically for families, the competition features six fast and funny rounds of multimedia trivia that run the gamut from sports to pop culture to history. Last year's prizes were pretty sweet (including Broadway tickets!) but really it's not about winning, it's about how much fun you have playing the game.
Fleet Week New York – Citywide
Wednesday, May 20-Tuesday, May 26
Our country's brave Sailors, Marines and Coast Guardsmen cruise into town in honor of Memorial Day weekend. Feel free to salute the service-people, who you'll spy in uniform all over town, much to kids' delight. There are lots of special events going on throughout the five boroughs. However, highlights for families include the New York Parade of Ships sailing into town on New York Harbor on May 20, and the no-cost ship tours throughout the week at Piers 92 and 86 in Manhattan, and the Sullivans Pier on Staten Island. Expect super-long lines (that may be capped by mid-afternoon). Most events are FREE
Governors Island Family Festival – Governors Island
Sunday, May 24
As always, the activity-packed isle opens for the season on Memorial Day weekend. However this year, the big family festival takes place on Sunday, not Saturday as it has in the past. In addition to exploring the picturesque isle, kids can make puppets, try activities with the New York Aquarium, write tall tales with the Story Pirates, catch performances by the Central Park Zoo Wildlife Theater and the Arm-of-the-Sea Theater, enjoy carnival games and projects with the Children's Museum of the Arts. Note: The interactive sculpture garden and mini-golf course will not yet be open for the season. Also, remember, the ferry is FREE before noon but costs $2 round-trip for adults thereafter; children under age 13 ride at no cost. FREE except for cost of ferry
IDEAS CITY StreetFest – Lower East Side
Saturday, May 30
The New Museum's third biennial IDEAS CITY Festival, dedicated to innovative arts and culture in urban areas, culminates in this all ages street fair in and around Sara D. Roosevelt Park. This year's theme is the Invisible City, so expect to see things in NYC you've never noticed before. Outside the museum, massive blocks of recyclable EPS geofoam will transform the Bowery into a surreal street-scape; a scientist will lead a hands-on bacteria-printing workshop; old hot-air balloons will be reinvented as colorful, temporary structures for interactive workshops and performances. But the activity that kids will probably love most? Come Out & Play's "Sesame Street Boxheads," in which children with tablets control adults who are wearing headsets in a real-live video game. The goal: boss the grown-ups around so they can race Elmo and Cookie Monster to catch a cookie! We wrote an entire post about the inaugural fest in 2011 and can't wait to check it out again. Remember, this must-see event won't be back until 2017 so it's worth fitting into your schedule. FREE
Paper Planet – Midtown West
Saturday, May 30-Sunday, June 7
Don't expect to sit back and relax at this interactive installation presented by the New Victory Theater. Audiences of all ages head into an artist-made jungle full of cardboard trees and paper flowers. Families add their own creations to this immersive environment and even contribute to the soundscape by making noise when the mic comes along.
The Ultimate Science Street Fair – Greenwich Village
Sunday, May 31
Every year the World Science Festival culminates in this amazing family street fair in Washington Square Park, featuring tons of hands-on activities and experiments. In years past, my science-obsessed kid has made Goop, explored the BioBus, participated in a dinosaur Q&A with paleontologist Dr. Scott from the Dinosaur Train TV show, played crime scene investigator, learned about recycling, toured the Math Midway, met Sid the Science Kid and lots more. The details of this year's Ultimate Science Street Fair are still being worked out, however, we're sure most of our favorite exhibitors (the Central Park Zoo, the American Museum of Natural History, Mad Science, Carmelo the Science Fellow and the New York Hall of Science) will be back, along with awesome live performances by the likes of the Franklin Institute's Traveling Science Show. We'll update this post as new info comes in! FREE
Honorable Mentions
NYC always has so many amazing things going on, it's difficult to choose. So here are a few more cool events worth considering for your May calendar. Be sure to sign up for our FREE newsletters so you can get our weekend picks delivered to your inbox every Thursday morning.
Help spruce up your local green space at one of the many It's My Park Day volunteer opportunities throughout the month. FREE
Gaze at gorgeous blooms and enjoy spring activities at Randall's Island's Cherry Blossom Festival on Saturday, May 2. FREE
Scour the skies for our feathered friends, and meet live bats, butterflies and birds of prey at Central Park's annual On a Wing: Family Festival on Saturday, May 2. FREE
Snag a FREE comic book at participating shops on Saturday, May 2.
Watch canoes paddle through the Bronx as part of the Amazing Bronx River Flotilla on Saturday, May 2. FREE
Catch the classic movie musical On the Town followed by a performance by the cast of the Broadway revival at the landmarked United Palace Theatre on Sunday, May 3. FREE
Immerse yourself in all things Gaelic at the annual Irish Dance Festival in Riverside Park South on Sunday, May 3. FREE
Complete your geek week by wishing everyone a Happy Star Wars Day on Monday, May 4 (May the Fourth be with you... get it?).
Celebrate an old-fashioned Mother's Day at the New York Botanical Garden's annual weekend-long Garden Party on Saturday, May 9-Sunday, May 10.
Introduce the kids to classic Looney Tunes cartoons on a big screen while the New York Philharmonic plays the original music live at Lincoln Center on Thursday, May 14-Saturday, May 16.
Tour offbeat and opulent sacred sites throughout the five boroughs Saturday, May 16-Sunday, May 17. FREE
Central Park's pint-size amusement park, Victorian Gardens, opens for the season on Saturday, May 23.
Hit the sand and surf in NYC: Beaches open for the season on Saturday, May 23. FREE
Go cuckoo for choo-choos at the Queens Botanical Garden's annual World's Fair Train Show Friday, May 23-Monday, May 25.
Romp in the private Sunnyside Gardens Park when the green space opens to the public for its annual spring fair on Saturday, May 30.
Catch eclectic family flicks at the tenth annual kidsfilmfest in Williamsburg on Saturday, May 30.