Best Things to Do with NYC Kids: May Go List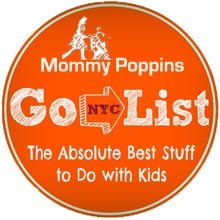 May is beloved for Memorial Day weekend, which marks the unofficial start of summer as beaches and amusement parks open for the season. But you don't have to wait until the last weekend of the month to enjoy wonderful family outings. There are fairs and festivals everywhere you turn throughout May, and our roundup of the absolute best things to do this month includes FREE annual favorites like the opening day family festival on Governors Island, the Dance Parade New York and Spring Kids Fest in Madison Square Park, as well as the World's Fair Anniversary Festival in Flushing Meadows Corona Park. Plus there's great family theater and kids' music on tap, like the high-tech interactive show Saltbush at the New Victory Theater and a concert by preschool rock queen Laurie Berkner that's sure to sell out.
As always, if an event piques your interest, be sure to click through to our listing for all the details, including address and time. And please remember, in NYC really cool things to do with kids often sell out in advance or fill up really quickly, especially when they're free. So buy your tickets ASAP or arrive early whenever possible.
Now get your calendars ready! Here are the top 14 things to do with kids in New York City this May, nine of which are FREE.
Marxfest – Citywide
Multiple locations, events and dates
Even preschoolers can appreciate the hilarious slapstick antics of the Marx Brothers (need proof? Just show your four-year-old the crowded cabin scene from A Night at the Opera). Their anarchic humor works on lots of levels, and as kids get older they start to appreciate Groucho's one-liners, Chico's puns and Harpo's silent mischief. The month-long Marxfest celebrates the siblings' cinema and stage triumphs in their hometown of NYC. Though none of the events are specifically aimed at children, many are kid-friendly (though not all so be sure to read the calendar listings carefully). Best bets for families including FREE screenings of some of their most famous films at libraries and museums, and for tweens and up, the Marx Brothers and the Algonquin Round Table Walking Tour in Midtown. New happenings are being added all the time so check the schedule for updates. Prices vary through many events are FREE
The Big Swim – Upper East Side
Saturday, May 3
Awesome athletic complex Asphalt Green (where 2012 bronze medalist Lia Neal trained) hosts this noncompetitive swim meet for children ages 6 to 12 in its Olympic-size pool. Kids of all skill levels (save for those currently on competitive swim teams) can experience the excitement of a race with starting blocks, officials and a timed finish. Every child goes home with a medal for participating and a T-shirt. Advance registration required by Thursday, May 1. While The Big Swim is FREE, the event is meant to raise awareness and money for Asphalt Green's Waterproofing program, which teaches inner city kids to swim at no cost, so donations are encouraged.
Kite Flight – Long Island City
Saturday, May 10
Socrates Sculpture Park is one of our favorite places in Long Island City. The outdoor art installation is FREE to visit year-round, and offers no-cost kids' art workshops every Saturday morning in late spring and throughout summer. The 2014 series kicks off with the annual Kite Flight. Under the guidance of teaching artist Miguel Luciano, kids fashion Caribbean-style paper kites out of recycled materials. Participants are encouraged to add text and illustrations that explore the themes of freedom and community. Once it's finished, let your flier soar against the backdrop of the Manhattan skyline. FREE
Identification Day – Upper West Side
Saturday, May 10
Got any unidentified feathers, rocks, shells, bones or other natural artifacts sitting around your house? Bring them to the American Museum of Natural History and scientists will attempt to figure out what they are. Past identified items include a whale jawbone and a 5,000-year-old stone spear point! (There are some rules like no gemstones, or live or dead animals, so check the website to make sure your items qualify.) New this year: Staff will make complimentary 3D scans of all identified objects and kids will even get to take home a special 3D-printed souvenir. While at the museum, be sure to explore the interactive installations The Power of Poison and Pterosaurs: Flight In the Age of Dinosaurs. Identification Day is free with suggested admission: $22 for adults, $12.50 for children ages 2-12
Kings County Fair – Marine Park
Thursday, May 15-Monday, May 26
If you've been hankering to hit an old-fashioned country fair with a massive Ferris wheel, cool kiddie rides, carnival games, cotton candy and corn dogs, and live entertainment, well, you don't have to leave the city. Brooklyn athletic complex Aviator Sports and Events Center once again hosts the Kings County Fair on its grounds. While there's enough fun to last many days, check out the pricing before you go. There's a $5 admission fee and rides cost extra. But on some days you can snag unlimited rides for $25, so plan wisely.
Laurie Berkner – Upper West Side
Saturday, May 17
If you've parented a preschooler at any point over the past 15 years, you probably know the words to at least a couple Laurie Berkner tunes by heart. (If not, ask your kids to sing "We Are the Dinosaurs," "Rocketship Run," "I'm Gonna Catch You" or one of her other hits and they'll school you.) The honey-voiced songstress teams up with her old band mate, Susie Lampert, at this concert celebrating the release of her latest album, Laurie Berkner Lullabies. $45
Spring Kids Fest – Flatiron
Saturday, May 17
Madison Square Park and Time Out Kids' annual seasonal fest always has an impressive lineup of entertainment, activities and attractions, and this year is no exception. Groove to the ukelele stylings of Mil's Trills; enjoy kooky, kid-inspired mini-musicals by the Story Pirates; get up close and personal with fearsome prehistoric creatures from Field Station: Dinosaurs and dance to multiple sets by tot rockers Songs for Seeds. Arts and crafts, face painting, no-cost treats and storytelling will also be on tap. My daughter and I have been to this fest many times and it's imperative you arrive right when it starts. Otherwise you'll have to wait on long lines for everything. Once it wraps up, grab lunch at one of our favorite kid-friendly restaurants near Madison Square Park. FREE
Dance Parade New York – Flatiron & the East Village
Saturday, May 17
Once you're done with Spring Kids Fest, walk a few blocks south to catch the start of this annual dance procession, which made our list of the best NYC parades for kids. The New York City Dance Parade kicks off around Madison Square Park and ends in the East Village. Along the route, 10,000 movers and shakers shimmy down Broadway in elaborate costumes doing more than 75 dances, including salsa, tango, waltz, African, Asian, the hula, break dancing and more, with tap-dance master/grand marshal Savion Glover helping to lead the way. If you want to participate, you must register in advance and join a group. Otherwise, go and cheer them on and hit the after-party in Tompkins Square Park for dance workshops and four stages of dance performances. FREE but the organizers are currently seeking donations through a crowd-funding campaign in order to cover expenses.
The Composer is Dead – Upper West Side
Saturday, May 17
A hybrid of classical concert and theater show, this Little Orchestra Society production at Lincoln Center's Avery Fisher Hall is based on the book-album of the same name, written by Lemony Snicket with music by Nathaniel Stookey. John Tartaglia (of Johnny and the Sprites fame) narrates this musical murder mystery in which everyone has a motive and an alibi. So who killed the composer? $17-$60
World's Fair Anniversary Festival – Corona
Sunday, May 18
Queens' attraction-filled Flushing Meadows Corona Park is marking two big events: the 75th and 50th anniversaries of the NYC World's Fair, which took place in the 897-acre green space in 1939 and 1964 respectively. Families can take tours of historic sites specially built for the Fairs (like the recently renovated Queens Museum) and check out period relics. Plus there will be puppet shows, face painting, meet and greets with Mr. Met, international eats, live music and dance performances, and the nearby carousel will be offering retro-priced .50 cent rides. And come nightfall there will be fireworks! FREE
Fleet Week New York – Citywide
Wednesday, May 21-Tuesday, May 27
After taking a year off from the annual festivities, our country's brave Sailors, Marines and Coast Guardsmen cruise into town in honor of Memorial Day weekend. Feel free to salute the servicemen, who you'll spy in uniform all over town, much to kids' delight. There are lots of special events going on throughout the five boroughs. However, highlights for families include the New York Parade of Ships sailing into town on New York Harbor on May 21, are the no-cost ship tours throughout the week at Pier 92 in Manhattan and the Sullivans Pier on Staten Island. Expect super-long lines (that may be capped by mid-afternoon). But if you have a sailing-obsessed kid, it's a pretty cool experience. Most events are FREE
Governors Island Opening Day Family Festival – Governors Island
Saturday, May 24
Governors Island opens on Memorial Day weekend and there are a lot of big changes this year. The isle is now open to the public seven days a week and there are 30 newly renovated acres of parkland to explore. The small downside to all of this: The ferry is no longer 100% free (it's $2 round-trip for adults on weekdays and weekend afternoons, free for children under 12 and free to all on weekend mornings). But I think it's a small price to pay for expanded access. The season kicks off with the annual opening day family fest. Enjoy performances by kids' bands Astrograss and The Maybelles, the Arm-of-the-Sea Theater, and retro tunes by Michael Arenella and his Dreamland Orchestra (the same folks who organize the Jazz Age Law Party on the isle). There will also be carnival games and bouncy castles, arts and crafts with the Children's Museum of the Arts, free bike helmet giveaways, compost lessons and a chicken tractor from Earth Matter, face painting with Better Than Jam, and tons of other great games and activities. FREE except for cost of ferry
It's My Park Day – Citywide
Weekends in May
A few years back, we wrote a post about this awesome volunteering initiative, which is organized by the Partnership for Parks twice a year. The spring It's My Park Day actually takes place over multiple May weekends and brings together thousands of caring New Yorkers looking to help spruce up their neighborhood green spaces. It's a great way to connect with nature and the perfect opportunity to teach kids about the importance of giving back to their community. After all, these are the parks they play in! There are volunteering events throughout the five boroughs. Chores include cleaning, weeding, raking, gardening and painting. Some opportunities are particularly family-friendly and offer fun like arts and crafts, live performances and athletic activities so be sure to read the descriptions carefully. Find the complete list on the Park's Department's website. FREE
Saltbush – Midtown West
Friday, May 30-Sunday, June 8
If you've ever wanted to be in the spotlight at the New Victory Theater, now's your chance. In this high-tech immersive production aimed at ages 5 and up, everyone is onstage—even the audience. A fascinating collaboration between Italy's Compagnia T.P.O. and Insite Arts from Australia, Saltbush features Aboriginal dancers performing on a "Children's Cheering Carpet," a sensory landscape that allows them to interact with colorful projections on the floor in time to traditional music. It looks absolutely stunning and there are even opportunities for kids to become part of the action, too. $25
Honorable Mentions
NYC always has so many amazing things going on, it's difficult to choose. So here are a few more cool events worth considering for your May calendar. Be sure to sign up for our FREE newsletters so you can get our weekend picks delivered to your inbox every Thursday morning.
Watch classic Pixar clips as the New York Philharmonic plays the famous movie themes at Avery Fisher Hall Thursday, May 1-Saturday, May 3.
Gaze at gorgeous blooms and enjoy spring activities at Randall's Island's Cherry Blossom Festival on Saturday, May 3. FREE
Snag a FREE comic book at participating shops on Saturday, May 3.
Complete your geek weekend by wishing everyone a Happy Star Wars Day on Sunday, May 4 (May the Fourth be with you... get it?).
Get girls psyched about science in Making Books Sing's world premiere musical Dear Albert Einstein, about an imaginary friendship between the theoretical physicist and a tween girl, which runs Saturday, May 3-Sunday, May 18.
Marvel at the athletic stars of HYPERish, a wordless dance spectacle inspired by a quote from The Catcher in the Rye playing at the New Victory Theater Friday, May 9-Sunday, 18.
Meet the writers and illustrators behind top children's comics (including my daughter's fave Archie!) at the eighth annual Kids Comic Con in the Bronx on Saturday, May 10. FREE
Enjoy hands-on building activities and learn about the history of the Brooklyn Navy Yard at the Brooklyn Boat Builders Bash on Saturday, May 10. FREE
Celebrate an old-fashioned Mother's Day at the New York Botanical Garden's annual weekend-long Garden Party featuring a vintage photographer and retro tunes by Michael Arenella & His Dreamland Orchestra on Saturday, May 10-Sunday, May 11.
Watch canoes paddle through the Bronx as part of the Amazing Bronx River Flotilla on Saturday, May 17. FREE
Central Park's pint-size amusement park Victorian Gardens opens for the season on Saturday, May 24.
Hit the sand and surf in NYC: Beaches open for the season on Saturday, May 24.
Watch or participate in avant-garde art at Theater for the New City's 19th annual Lower East Side Festival of the Arts outdoor culture day on Saturday, May 24.
Romp in the private Sunnyside Gardens Park when the green space opens to the public for its annual Memorial Day Fair on Saturday, May 24.
Catch eclectic family flicks at the tenth annual kidsfilmfest in Williamsburg on Saturday, May 31.
Take a spin around NYC's newest roller-skating rink in Brooklyn Bridge Park, which is tentatively slated to open in May.