NYC Kids Get Jedi Master Training at Saber Kids! Classes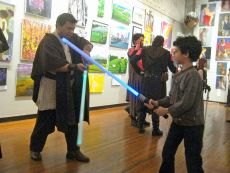 So your child wants to be a Jedi Master? My Star Wars-loving kids certainly do. In fact, one of my sons is so obsessed, last year he took a demo class with New York Jedi: The Light Saber Enthusiasts Collective, a group of cosplayers and martial artists who specialize in stage combat based on a mash-up of fencing, kendo and the world of Star Wars.
Since the New York Jedi have primarily worked only with adults, they made an exception for my son to take their Jedi training class, but apparently, my son wasn't the only underage aspiring Jedi in NYC. Demand for kids' classes was so great, New York Jedi is set to debut Saber Kids!, the first-ever five-week light saber stage combat training program aimed specifically at children ages 7 to 13. May the course be with you!
With a combined 30 years of experience teaching martial arts, dancing and acting, the Saber Kids! instructors promise to teach your budding Jedi Knight (or Sith Lord, no judgments) proper light saber technique as well as the performance skills necessary to truly get into character. Like a traditional martial arts course, participants learn self-confidence, mutual respect and get a great workout, but they also get the fun of a live action role-playing game.
Beginning July 23, kids attend two weekly sessions for five consecutive weeks on Tuesdays from 6 to 8pm and Saturdays from 10am to noon. Family and friends are invited to watch their freshly-minted Jedi Masters show off their new skills at the final lesson on Saturday, August 24.
Classes are capped at 20 students, and children ages 7-10 and 11-13 will be separated into skill-appropriate groups. The cost for the five weeks is $360 if you have your own preapproved light saber (hey, we do!), and $435 if you need Saber Kids! to provide one, but those need to be ordered ASAP. Classes will be held at Ripley-Grier Studios, at 520 Eighth Avenue between 36th and 37th Streets on the 16th floor. If you're interested, you can register online. Questions? Contact info@saberkids.com. There is no phone number but they're good about answering email.
Want more Star Wars-themed activities? Check out our previous posts about Star Wars Birthday Parties and everyday ways to get your Jedi on.