Places to Play in Ridgewood, Queens for Kids: Parks, Playgrounds, Play Spaces and Kids' Programs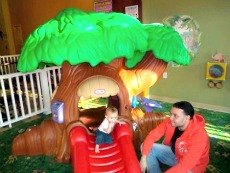 Our month-long focus on Ridgewood, Queens continues with a look at places to play in the area, both indoors and out. Despite having a suburban feel, with lots of neighborhood townhouses boasting their own backyards, Ridgewood is also home to an impressive number of urban parks and playgrounds, as well as some nice indoor play spots like kiddie gym Kids Fun House and the historic Vander Ende-Onderdonk House. Our roundup includes a attractions in nearby Glendale, too. Here are our top spots to play in and around Ridgewood, Queens.
Indoor Play
Kids Fun House
6273 Fresh Pond Road near Bleecker Street
This indoor play space has attractions for children of all ages up to 12. There's a separate toddler area for ages 6 months to 4 years, while older kids can romp in the multilevel maze, swoosh down the triple slide and even play a few arcade games. There are open play hours every day of the week, as well as classes for preschoolers and birthday party packages. As you can imagine, it's quite popular with locals—families even drive here from other parts of Queens!
Funtopia USA
6626 Metropolitan Avenue near Rentar Plaza
This one-stop fun spot is more Chuck E. Cheese's than cute local play space, but if you have tweens there's more to do here including laser tag, bumper cars and a video game arcade. The younger set gets a three-story indoor playground for kids under 60 inches, and a separate toddler area for anyone under 36 inches. There's no elevator so leave the stroller at home or let the tweens go up on their own.
A Sprinkle of Fun
79-05 Myrtle Avenue between 79th Street and 79th Place
Located in nearby Glendale, this paint-your-own-plaster spot offers drop-in hours every day except Monday, and has a buy-one-get-one-free deal on Tuesday afternoons. Birthday party packages and special events like kids guitar lessons and movie nights are also on tap.
Ridgewood YMCA
69-02 64th Street at Cataltpa Avenue
The local Y has myriad programs for people of all ages, including dance, swimming, martial arts and sports classes for preschoolers, kids and teens. There are also lots of family programs like open gym and swim time, and even a family sleepaway camp.
Ridgewood Queens Library
20-12 Madison Street between Forest and Fairview Avenues
Like all Queens Library branches, the Ridgewood outpost offers an array of programs and events for kids including storytime for babies and preschoolers, toddler play, and classes for school-age kids like crafternoons and computers.
Artistic Stitch Sports Complex
79-08 Cooper Avenue near 79th Place
Located in Glendale, this athletics complex offers a wide variety of sports activities like soccer, kickball, wiffleball, dodgeball, football, rock climbing and even high-tech 3D batting cages. Drop-in rates are available for most sports clinics and private lessons with discounts for buying multiple sessions at once. Work up an appetite? The Saverio's Stone Fire Bistro is onsite.
Vander Ende-Onderdonk House
1820 Flushing Avenue near Onderdonk Avenue
Families can tour this Dutch Colonial farmstead—the oldest stone house in all of New York City—on Saturday afternoons. Check the calendar for upcoming special events like the Strawberry Fest featuring vintage cars, music, games, arts and crafts, and incredible strawberry shortcake. Don't miss the lovely garden behind the house: There's a picnic area under shady trees and a huge grassy space where kids can run around. The historic house is a true gem sitting amidst all the warehouses on Flushing Avenue.
Outdoor Play
Highland Park
Jackie Robinson Parkway, Vermont Avenue and Highland Boulevard between Bulwer Place and Cypress Hills Street
Located on a plateau with stunning views of the surrounding neighborhoods (including nearby cemeteries), Highland Park straddles Queens and Brooklyn. It's home to the Ridgewood Reservior and 50-plus acres of forest, fields and wetlands. Other attractions include a children's farm gardens, barbecue areas, tennis courts, baseball fields, handball courts, basketball courts, fitness equipment and two playgrounds.
Joseph F. Mafera Park
65 Place between Shaler Avenue and the Rail Yards
Formerly called "Farmers Oval" in memory of the Glendale Farmers Baseball Club that played here from the 1900s to the 1950s, Mafera is now a 10-acre park with a roller hockey area, baseball, basketball and handball courts, plus a well used playground.
There are a number of other standard local parks and playgrounds in Ridgewood, including:
Evergreen Park at St. Felix Avenue between Seneca Avenue and 60 Place with two colorful jungle gyms, a large fenced-in asphalt area for games, benches, picnic tables and trees
Grover Cleveland Playground at Stanhope Street between Fairview Grandview Avenues with a playground, fitness equipment and handball courts
Starr Playground at Onderdonk Avenue between Starr Street and Willoughby Avenue with play equipment, benches, various ball courts and a stone turtle statue
Benninger Playground at Madison Street between 60 Place and Fresh Pond Road featuring a playground and ball courts
Rosemary's Playground at Woodbine Street and Madison Street between Woodward and Fairview Avenues with a play area for tots, shuffleboard and ball courts