Ridgewood Queens Family-Friendly Restaurants: 8 Places to Eat with Kids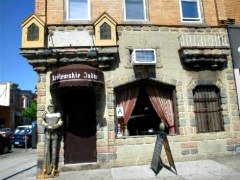 We finish up our month-long focus on Ridgewood, Queens with a look at the family-friendly restaurants in the neighborhood. While Ridgewood and the surrounding areas are best known for their old-school European spots like the German Gottscheer Hall, as the community has become more diverse in recent years, so has the cuisine. These days you'll find Asian and Italian restaurants next to old-time Bavarian places. And since the neighborhood is home to so many families, it's not surprising that many of the eateries welcome kids. Here are our top family-friendly restaurants in and around Ridgewood, Queens.
Zum Stammtisch
69-46 Myrtle Avenue near 70th Street
Step into this cozy place and you'll truly feel like you're in a village in old Bavaria. Serving traditional and authentic food since 1972, Zum Stammtisch has long been a meeting place for the Germans in the community. There are all kinds of wursts and schnitzels to choose from and lots of exotic daily specials. The Sauerbraten (marinated roasted beef that has a sour flavor with potato dumplings and red cabbage) has always been my favorite.There's even a kids' menu with German and American food choices. Want to bring some of the good eats home? Pick up a loin at the pork store next door.
Gottscheer Hall
657 Fairview Avenue between Linden Street and Gates Avenue
Since 1924 locals have flocked here for its Old World German atmosphere, bar food and beer. Named for an ethnic German minority in Slovenia, the restaurant serves classic dishes like three-cheese spaetzle, goulash and Slovenian sausage. There are flat-screen TVs that are almost always tuned to sports. Since the online calendar isn't kept up-to-date, be sure to call about upcoming special events like German music and dance parties just like in the days of old.
Krolewskie Jadlo
63-98 Palmetto Street at Fresh Pond Road
The old-fashioned Polish food here is good, the portions are generous and the prices are inexpensive. Specialties include perennial kid fave pierogies, potato pancakes topped with herb cream and smoked salmon, and white borscht served in a bread bowl.
Rosa's Pizza
62-65 Fresh Pond Road between Metropolitan Avenue and Bleecker Street
Rosa's has a few Queens locations and is quite well known to locals. Get a classic slice like the Grandma or try a specialty like the chicken Caesar or taco. Rosa's uses fresh ingredients and has plenty of options, plus it's steps from popular indoor play space Kids Fun House.
Bunker Vietnamese
46-63 Metropolitan Avenue near Woodward Avenue
Yes, there is street-style Vietnamese food in Ridgewood on this industrial strip of Metropolitan Avenue. (At least there's plenty of street parking.) And it's really worth the trip. Popular dishes include chicken pho and Ca Ri Ga (curry bobo chicken, lemongrass, carrots, potatoes with a side of roti). Vegetarian options and seafood are available, too.
Simply Fondue
71-19 80 Street near Grand Avenue
Located in the Shops at Atlas Park mall, this intimate fondue spot is decked out with fancy booths. Order dinner and dessert fondue. All the sauces, batters and dressings are made fresh daily. There is a huge selection of martinis as well. Kids will love dipping all the fun stuff in the pot. Be sure to ask about specials since they're not always listed.
Norma's
59-02 Catalpa Avenue at Forest Avenue
This quaint bakery/coffee shop serves up locally roasted coffee and homemade goodies freshly baked on the premises. Locals hang out here and take advantage of the free Wi-Fi. Wheat-free and vegan options are also available. Norma's also has a small lunch menu including soups and pannins. The outdoor seating is also a plus.
Rudy's Bakery & Cafe
905 Seneca Avenue between Myrtle and Catalpa Avenues
Rudy's the bakery has been around since 1934. Thirty odd years ago, it added a cafe with a full espresso bar and free Wi-Fi. Rudy's sells German pastries, gelato (the signature flavor is rainbow cookie), cupcakes and cake pops. Gluten-free and vegan desserts were also recently added.
Read all of our posts about things to do with kids in Ridgewood, Queens.