Opera for NYC Kids: Family-Friendly Opera Companies & Productions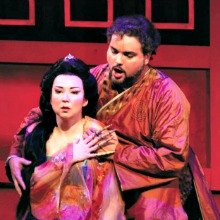 When my son was just in kindergarten, he came home from school asking if he could go to an opera. Although I was impressed that my five-year-old even knew what an opera was, I was hesitant to plunk down big bucks to take him to what I worried would feel like a long, boring concert sung in a language he didn't understand.
That's when I started looking around to see if there were any opera companies in New York City mounting productions specifically for children. And guess what? In a culture capitol like NYC, of course there are. At these special familly-friendly opera performances, the length is edited down to accommodate shorter attention spans, the libretto is translated into English, and puppets and audience interaction are added to keep kids interested and engaged. (Let's face it, those are nice perks for grown-ups, too.)
My now eight-year-old son did indeed see his first opera while still in kindergarten. Every year the Metropolitan Opera does a family production during the holidays and we saw Hansel and Gretel. My son was riveted—even from the nosebleed seats! In addition to the Met's holiday offering, which sells out months in advance, there are other smaller, less expensive New York City companies that produce opera for kids all year round.
The Metropolitan Opera – Upper West Side
The Metropolitan Opera House at Lincoln Center, 63rd Street and Columbus Avenues
My son and I go to the Met's family-friendly holiday opera every year. It's an incredible experience walking into Lincoln Center's grand opera house, especially when it's decked out for the season with beautiful decorations. This year, the Met's holiday offering is a special version of The Magic Flute. Director Julie Taymor (of Broadway's Lion King fame) incorporates fantastical costumes and puppets into the production, which is whittled down to just 100 minutes and is sung in English. It's played the Met before and always receives rave reviews from critics and, more importantly, kids. Warning: The Met's holiday productions always book up way in advance and tickets are already on sale so act quickly. Select dates Monday, December 16-Saturday, January 4, 2014. Visit the website for the complete schedule. $25-$175
Dicapo Opera Theater: Opera for Kids – Upper East Side
St. Jean Baptiste Church, 184 East 76th Street between Lexington and Third Avenues
Founded in the early '80s, this opera company mounts monthly weekend matinees for kids. These one-hour programs offer a gentle introduction to the genre in an intimate setting as Dicapo's general director shares opera basics and costumed vocalists perform famous scenes accompanied by piano. Afterward, there's a Q&A with the singers. Dicapo's new season kicks off this month and you can see the entire schedule on the website. While technically not part of its Opera for Kids series, Dicapo plans to present the holiday classic Amahl and the Night Visitors on Saturday, December 7 and Sunday, December 8. $20 for adults, $12 for children under age 13
Amore Opera Company: Opera-In-Brief – East Village
Connelly Theater, 220 East Fourth Street between Avenues A and B
This homegrown company rose from the ashes of the defunct Amato Opera in 2009. For its kid-friendly series, Amore chooses a handful of productions from its regular season and presents them in abridged 90-minute versions. Upcoming Opera-in-Brief performances include an English adaptation of The Magic Flute, Hansel and Gretel and The Mikado performed with an all-kid cast. Visit the website for the complete schedule. $20
New York Gilbert & Sullivan Players – Upper West Side
Symphony Space, 2537 Broadway at 95th Street
Technically, Gilbert and Sullivan wrote operettas, not operas, but their comic masterpieces are perfect family fare. Their satirical shows are filled with exotic locales, goofy characters and catchy songs. This season, the troupe is tackling two of the duo's most beloved shows: the rollicking Pirates of Penzance and the comedy of errors Patience. While kids are welcome at any performance, special family overtures before select matinees offer entertaining overviews of the shows. The company also hosts a Bring Your Grandparents performance of Pirates that includes a backstage tour. Visit the website for the complete schedule. $67-$87 for adults, $33-$44 for children under age 13
More Family Opera Ideas in NYC
While the company doesn't have anything currently scheduled, the community-based Village Light Opera Group often does family matinees.
Our new partner, the New Victory Theater, sometimes presents family operas. While there isn't a bona fide opera this season, Still Awake Still! was originally commissioned by the Sydney Opera House and is described as a cabaret-style comedy.
And if you really want to plan ahead, The Scarlet Ibis, a dark and moody opera for teens, is set to debut in 2015 and will have an open to the public developmental concert with singers but no costumes or props on February 4, 2014. Composed by Stefan Weisman with a libretto David Cote, it's based on the James Hurst's 1960 story of the same name.
Is your child an aspiring opera singer? The Metropolitan Opera has a Children's Chorus for ages 7 to 10. Entry is by audition only and it's 100% FREE. The New York Gilbert & Sullivan Players is running its inaugural youth workshop this fall, which will culminate in an all-kid production of The Pirates of Penzance. Auditions are in October and there is a significant "production fee." Finally, teens ages 14 and up can audition for nonprofit training organization Citywide Youth Opera.