Best NYC Kids Birthday Parties: Blow Your Child's Mind With One of These Amazing Birthday Party Ideas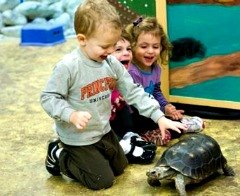 It seems like every business in NYC offers birthday parties where little boys and girls can choose from a mind-boggling variety of themes and activities, from princesses to pools to pottery and a whole bunch of other options that don't even begin with the letter "p." There's certainly no shortage of great birthday party ideas, especially for preschoolers or young school-age kids. And, let's face it, most little kids will be happy just playing with their friends and some toys at the park or at home. But if you're the type who likes to go big, there are some super over-the-top party ideas that will certainly make your child's birthday a magical, memorable, only-in-NYC experience for kids (and parents).

We've come up with five over-the-top party packages in Manhattan where young kids can enjoy unique activities that are worth the splurge. You can find even more party inspiration to suit every budget in our Party Guide.
Best sugar rush: Chocolate Works on the Upper West Side
641 Amsterdam Avenue at 91st Street
A party at this awesome interactive candy shop lets preschoolers make sweets and eat them, too. During the two-hour drop-off party package, guests mold and decorate their own chocolate creations on the shop's centerpiece: a 30-foot conveyor belt. They also get to dip a cookie or pretzel in the chocolate fountain and eat it on the spot. Packages include paper goods, invitations, and pizza and beverages for the kids. There are cute mostly edible add-ons, too, like make-your-own sundaes. Email natalie@chocolateworksnyc.com for details.
Best for wannabe celebrities: Red Carpet Kids on the Upper East Side
231 East 62nd Street between Second and Third Avenues
For an authentic VIP experience, indulge in this immersive Hollywood-style party, where the birthday child and their pals get to enjoy a premier that's all about them. Walk the red carpet and pose for photos, hang out in a retro lounge, shoot a short flick and make an entrance into the on-site movie theater to watch the just-made masterpiece. Along the way, the budding stars are attended to by actors who cater to their every whim. In other words, let them boss other adults around for a change. Call 646-678-4563.
Best for animal lovers: Art Farm in the City on the Upper East Side
419 East 91st Street between First and York Avenues
We've been raving about the programs at this indoor farm and play space for years. For urban kids, the chance to celebrate a birthday with cute and (for the most part) cuddly creatures is a dream come true. The Art Farm offers a variety of party packages that all come with face time with the animals. Get up close and personal with chickens. rabbits, ducks, or more exotic lizards and snakes. All packages last two hours and include a pair of coordinators, food and beverages, invitations and activities. Call 212-410-3260 or email christina@theartfarms.org .
Best age-appropriate adrenaline rush: the Central Park Carousel
Mid-park at 64th Street
Even if your kids have already taken a spin or ten on this NYC landmark, nothing beats going on rides over and over and over (preschoolers, they love repetition). Sure, you could just pay for all your guests to go. But if you book a party package, the carousel gives your group a nice shady spot outside the gates with tables and benches, and hands children and adults rolls of tickets to go around as many times as they want. No more whining about "just one more ride!" Call 212-439-6900 ext. 12. If you live in (or are willing to go to) Queens, you can do a similar party at the recently opened Fantasy Forest at the Flushing Meadows Carousel, where your preschooler can enjoy four mild rides along with the historic merry-go-round.
Best dance party: Deb's Family Disco in Midtown West
135 West 41st Street between Broadway and Sixth Avenue
Grab those boas and hit the floor at this all-ages disco. While the party isn't private (which is actually a good thing—how lame would a dance party with only a dozen or so kids be?), you get your own tables and party planner, a live DJ who takes requests, pizza and beverages, and "sparkle artists" to make the guests glitter. This one's as much fun for adults as kids—when's the last time you went to a club? Call 212-586-7425.
Find out about other great birthday bash ideas in our Party Guide..