Best NYC Kids' Parties: 10 Great Parks & Playgrounds for Children's Birthday Parties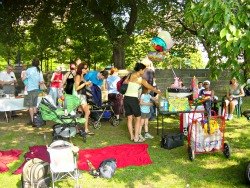 There are lots of ways to splurge on kids' birthday parties in NYC. But just because you can spend thousands of dollars celebrating your child's big day doesn't mean you have to. During warm months, New York City's plentiful parks and playgrounds bloom with colorful balloons as DIYers throw their own outdoor birthday bashes. Granted, this type of party requires more work than booking one of those all-inclusive packages, but you get to control most of the details, including the cost (though sadly not the weather).
While you can just set up in your local playground (assuming you have less than 20 people, otherwise permits are technically required), not all green spaces are created equal. Certain parks have special perks that can make hosting an outdoor party easier or more fun, like picnic tables, lots of space to run around, nearby play equipment and even rides. Here are our top 10 parks for throwing a kids' birthday party in NYC.
Remember: If you have your heart set on a specific spot, be sure to try to reserve it through the NYC Parks Department. Often arriving early to stake out your space is enough. However, if someone else reserves that same place, you may be forced to move.
Flushing Meadows Corona Park – Corona
This 898-acre Queens green space features two barbecue areas, a beautiful lake surrounded by lawns for picnicking and a bunch of kid attractions, including multiple playgrounds and the brand-new mini-amusement park Fantasy Forest at the Flushing Meadows Carousel. Unlike Central Park's Victorian Gardens, Fantasy Forest offers free admission so you can just walk in and treat the kids to a few rides. There is a picnic table area and plenty of benches around the merry-go-round, plus a bathroom nearby. A permit is required for 20 or more people. Rather not do any work? Fantasy Forest also offers an all-inclusive party package.
Socrates Sculpture Park – Long Island City
We've raved about this outdoor museum many times. I know a few families who have hosted kids' birthday parties here, including an eight-year-old who asks to celebrate her big day at Socrates every year. It's a well-maintained green space with rotating art installations, plenty of grass to roam, a nice shady area under trees where you can put down your blanket, and since it's on the waterfront, there's even a tiny beach area known as Hallets Cove. On summer weekends, you'll find a few vendors and a farmers' market, and on Saturdays from May to September there are free art workshops. All you need to do is call ahead to let them know a group is coming. Warning: You'll only find Porta Potties here, no bathrooms.
Gantry Plaza State Park – Long Island City
Located along the East River with glorious views of midtown Manhattan, this 12-acre gem boasts a fishing pier, a state-of-the-art playground, two big grassy areas perfect for picnics and lots of benches along the water. There is a picnic permit processing fee for gatherings of all sizes. Find additional info on the website. Gantry has a single big bathroom and the nearby Foodcellar & Co. Market has one, too.
Brooklyn Bridge Park — Dumbo & Brooklyn Heights
One of NYC's most stunning green spaces, Brooklyn Bridge Park is still a work in progress though much of it is already open to the public. Ever since it debuted in 2010, the attraction-filled Pier 6 Playground has been a family magnet and the restored Jane's Carousel is a favorite. There are multiple piers and grassy areas for parties, and while there are playgrounds, too, they're not open to group gatherings. A permit is required for 20 or more people. You can reserve the picnic tables near the carousel for a fee, but all other tables and the grilling areas are available on a first-come, first-served basis. There are also bathrooms at most of the piers that are currently open to the public.
J.J. Byrne Playground in Washington Park – Park Slope
The adjacent Old Stone House allows families to reserve the North Garden along Third Street and the Cafe Table area in this amazing renovated park. The Colonial-themed playground has lots of cool attractions, including a beautiful water play area, separate sections for toddlers and older kids, and the ever-important bathroom. There is a huge tree with benches around it, and if your party is less than 20 people all you need to do is arrive early to claim it. The Old Stone House also has an indoor party room you can rent.
Prospect Park – Brooklyn
I've been to several kids' parties in this lush 585-acre park, and there are two spots I particularly recommend. The barbecue area, which has grills and picnic tables under huge trees near grassy fields, and the small green patch next to the carousel. There's more space to run around by the grills, but the spot by the merry-go-round is more contained, plus you can treat the kids to a spin or two. If you have 20 or more people, you need to obtain a permit. Not a DIYer? The Carousel, Lefferts Historic House and the Tennis Center all offer a birthday party packages. There are also multiple year-round restrooms in the park, plus Porta Potties in summer.
Van Cortlandt Park – the Bronx
NYC's fourth largest park is a natural gem. As you wander its nature trails and forested areas, you'll forget you're in NYC! There are two barbecue areas: Shandler, which is near two renovated softball fields, bathrooms, benches and picnic tables. The second barbecue section is near the pool. Gatherings of 20 or more people require a permit and there are restrooms throughout the park.
Riverbank State Park – Harlem
Inspired by Japanese urban rooftop green spaces, this 28-acre multi-level park is located 69 feet above the Hudson River. It's got a slew of attractions, including playgrounds, indoor and outdoor pools, a skating rink, the one-of-a-kind Totally Kid Carousel and incredible views of the George Washington Bridge and New Jersey. There are plenty of shady areas to lay down your blanket and, best of all, a ton of picnic tables. A permit is required for gatherings of 15 people or more, and picnic tables are often reserved in advance during the summer. Off-season, they're first-come, first-served with a limit of three tables per family. There is no grilling here so take-out or picnic lunch it is. Bathrooms are located on the premises.
Rockefeller A. Nelson Park – Battery Park City
Located along the waterfront, this park features a true destination playground for all ages including water areas, a sand table and an awesome circular bicycle ride under a gazebo. Outside the playground you'll find gardens and wide lawns, a pond with fish and the Parkhouse, which lends games, toys and sports equipment for free to families every day from May through October. There's also a bathroom nearby. Picnic in the grass and let the kids run amok in the playground. All groups of 20 people or more require a permit.
Governors Island
Okay, so this isn't technically a park but it's a super-cool place to host a party. Since permits for private events aren't currently being accepted, it's best for small or low-key events. (That said, a friend of mine held her 40th birthday here and no one batted an eyelash at her crowd.) There are lots of free attractions for kids, from the no-cost ferry ride to free games of mini golf to an Interactive Sculpture Garden to the Children's Museum of the Arts' art outpost. Or you can just picnic and play games on the grass. This summer there's even a festival of vintage French carousels and carnival rides. Only downside to doing a party here? There are no water fountains, so bring lots of beverages or hit one of the food vendors. Also, most of the facilities are Porta Potties. If you must use a flush toilet, there is a real bathroom in the building right by the Manhattan ferry landing.
What about Central Park you ask? Well, we figured it was kind of a no-brainer. However, there is a semi-secret spot in the middle of the park that's perfect for parties: the Arthur Ross Pinetum Playground. It's a bit of a misnomer since there are only swings (with no fence). But there are also picnic tables and open space to roam, and the whole area is covered by trees, so there's plenty of shade. It's an ideal spot and is fairly close to a bathroom, too. Want to reserve it? Contact the Parks Department.
Find more kids' birthday inspiration in our Party Guide.