Breaking: Spots Available at NYC Parks Experience Summer Camps, Possibly New York's Most Affordable Day Camp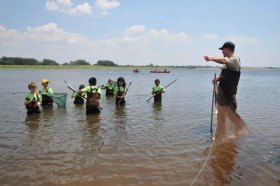 With so many great summer day camps in NYC, finding a good one isn't an issue, but it's hard to find a camp that's as great a deal as NYC Parks Experience Summer Day Camp at just $500 for the entire summer. Usually parents have to enter a lottery to get a place at these coveted camps, but the Parks Department has given Mommy Poppins the inside scoop that there are some select spots still available.
Run by the New York City Parks Department, this seven-week program has multiple locations throughout the five boroughs. Campers enjoy outdoor adventures like hiking in local parks, a variety of sports including swimming, as well as educational activities like field trips to museums and other cultural destinations.
You can no longer apply through the Parks' Department website. The only way to snag one of these spots is with the information in this post. So read on to find out about NYC Parks Experience Summer Day Camp locations with availability, and how you can register your child.
Or check out other hot deals on cool summer camps where kids can engage in a wide range of activities, from chess to pottery to language immersion to circus.
NYC Parks Experience Summer Day Camp is open to children ages 6 to 13 and runs Monday through Friday July 8 through August 23 from 9am to 5pm. The cost is $500 for the whole summer, which must be paid in full at the time of registration. Extended 8am to 6pm hours are also available for an additional $75 fee at some locations.
Although the Parks Department held a lottery for spots back in March, select locations still have availability. You can no longer apply through the website. Instead, you need to reach out to the appropriate borough coordinator.
As of this writing, NYC Parks Experience Summer Day Camp locations with availability include:
Manhattan
Alfred E. Smith Summer Camp, 80 Catherine Street near Cherry Street on the Lower East Side
Brooklyn
Herbert Von King Summer Camp, 670 Lafayette Avenue between Tompkins and Marcy Avenues in Bedford-Stuyvesant
McCarren Summer Camp, 776 Lorimer Street between Driggs Avenue and Bayard Street in Williamsburg/Greenpoint
St. John's Summer Camp, 1251 Prospect Place between Schenectady and Troy Avenues in Crown Heights
The Bronx
Hunts Point Summer Camp, 765 Manida Street between Lafayette and Spofford Avenues in Hunts Point
St. James Summer Camp, 2530 Jerome Avenue between West 190th and West 192nd in Fordham Heights
St. Mary's Summer Camp, 450 St. Ann's Avenue between 145th and 146th Streets in Mott Haven
Staten Island
Jennifer's Summer Camp, Jules Drive, Elson Court and Regis Drive
How to Register
Call the appropriate borough coordinator ASAP since we expect the remaining spots to fill up quickly:
Manhattan: 212-408-0243
Brooklyn: 718-965-8918
Bronx: 718-430-1847
Staten Island: 718-667-3545 ext. 313
For more into about great summer programs, including a list of camps with availability, check out our Camp Guide.
Photo by Daniel Avila, NYC Parks