Free & Fun Things to Do this Weekend for NYC Kids: Ragamuffin Parade, Chile Pepper Festival, Early Halloween Fun October 5-6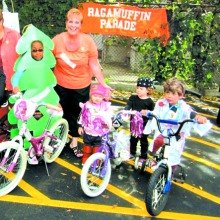 It may feel like summer but we know it's fall thanks to a slew of autumn- and Halloween-themed fests like the annual Oktoberfest Pumpkin Patch and Crafts Fair in Sunnyside Gardens Park, the Brooklyn Botanic Garden's spicy Chile Pepper Festival, Bay Ridge's costumed-filled Ragamuffin Parade and opening weekend of the Bronx Zoo's Boo at the Zoo.
It's a fabulous weekend for cool kids' culture, too. Our new partner, the New Victory Theater, kicks off its season with a low-tech adaptation of Peter Pan, the Story Pirates crack kids up at Symphony Space and the BRIC Arts celebrates the grand opening of its new Fort Greene home with an art-filled block party.
These are just a few of the great things going on this weekend. All of our best bets are below. You can find additional options in our Event Calendar and our Fall Fun Guide. And if you like to plan ahead, check out our brand-new October NYC Go List, which highlights the absolute best things to do with kids all month long.
All Weekend
Peter Pan – Midtown West
Head to the New Victory Theater for this imaginative adaptation of J.M. Barrie's iconic fairy tale by Australia's Belvoir Theater. No green tights or aerial stunts here; this version focuses on the wonders of make believe instead of special effects as the Darlings venture to Neverland without leaving their bedroom. Bonus: If you attend the Saturday evening performance, you can enjoy TXT Marks the Spot, a free high-tech scavenger hunt throughout the theater inspired by the show. $14-$38
Empire Drive-In Opening Weekend – Corona
Explore this massive multimedia installation located in the parking lot of the New York Hall of Science. The exhibit reimagines the old-school drive-in experience with an artsy twist: Instead of pulling up in your own vehicle, grab a seat in one of the 60 junked cars and trucks, and watch a movie on a 40-foot screen. While the screenings this weekend are better for adults, it's worth checking the schedule for future family films, and you can still check out the cars. Exhibit is free with admission: $11 for adults, $8 for children ages 2-17
Harold and the Purple Crayon – Greenwich Village
Dubbed "a dance adventure," this wordless version of Crockett Johnson's classic children's book is the brainchild of Hubbard Street Dance Chicago. Harold's imaginative artwork comes to life through movement, giant shadow projections and exuberant audience participation at the Skirball Center. $22-$34
Hansel & Gretel's Halloween Adventure – Upper West Side
Get into the spirit of the season with the Swedish Cottage Marionette Theatre's Halloween show, which puts a kooky NYC twist on the classic fairy tale. This version picks up after the siblings have offed the witch, with their pet swan flying them home where they have crazy dreams filled with mermaids, monsters, pirates and vampires, set against the backdrop of Central Park. $10 for adults, $7 for children under age 13
Boo at the Zoo: Dragons & Dinosaurs – the Bronx
Hit the Bronx Zoo for the opening weekend of its annual Halloween festivities. Go on a Dinosaur Safari, explore the brand-new Komodo Dragon exhibit, groove to Gigi and the Lend Me A Hand Band, catch animal-themed puppet shows by Noel MacNeal from Sesame Street, march in a costume parade led by special guests Annie and Daddy Warbucks from the Broadway musical, and enjoy the hay maze, crafts and trick-or-treating. Boo at the Zoo is wildly popular so expect crowds. All activities are free with Total Experience Tickets: In advance: $30.56 for adults, $20.56 for children ages 3-12; at the door: $33.95 and $23.95 respectively
 
Saturday, October 5
Ragamuffin Parade – Bay Ridge
More early Halloween fun! Since 1967, Brooklyn families have been proudly putting on their outfits and marching down Third Avenue alongside bands, cheerleaders and makeshift floats. All kids who participate snag a toy, and bicycles are given to the children with the most creative costumes. Consent forms are required. Read our event listing to find out where to get them. FREE
Chile Pepper Festival – Crown Heights
Head to the beautiful Brooklyn Botanic Garden for this fiery fest. Kids can pot chile pepper plants to take home, catch sizzling performances like pepper juggling and fire breathing, and sample tons of spicy chocolate. There will also be nonstop live music on two stages, a farm stand where you can shop for locally grown peppers and lots of tasty grub to sample. $20 for adults, $15 for students, free for children under age 12
Story Pirates – Upper West Side
We've been raving about this comedy troupe that turns kids' stories into mini musicals almost since our site began. In addition to doing some of their greatest hits, there will be new bits and even some on-the-spot stories inspired by audience suggestions. $20 for adults, $15 for children
BRIC House Grand Opening – Fort Greene
Celebrate the grand opening of nonprofit BRIC Arts' new 40,000-square-foot complex with an art-filled block party featuring pan-Caribbean steel drum group the Natural Expression Rhythm Band, stilt dancing troupe the Brooklyn Jumbies, Afro-funk brass band Underground Horns and interactive performance art by Aisha Cousins. Plus complimentary mac and cheese for all! FREE
¡Fiesta! Celebrating Hispanic and Latin American Culture – Upper East Side
Mark National Hispanic Heritage Month at the Metropolitan Museum's culture fest. Enjoy live music by the Mariachi Flor de Toloache band, a variety of art workshops, bilingual storytime and interactive poetry workshops with the Nuyorican Poets Cafe. Free with suggested admission: $25 for adults, free for children under 12
Oktoberfest Pumpkin Patch and Crafts Fair – Sunnyside
The lovely Sunnyside Gardens Park (which is usually members only) opens its doors to the public with a pumpkin patch and decorating for the kids, German food, live music and a marketplace featuring handcrafted items. Free admission but there are fees for certain activities
First Saturdays for Families: Chris Burden: Building with a Boat – Lower East Side
Check out the New Museum's brand-new retrospective Chris Burden: Extreme Measures, featuring some of the artist's most famous sculptures and installations like "Ghost Ship," "The Big Wheel" and "A Tale of Two Cities." After an educator-led tour, families will create their own fleet of boats fashioned out of everyday materials. FREE
Sunday, October 6
Blessing of the Animals – Morningside Heights
A celebration for animal lovers of all faiths. Bring your four- (or two- or no-) legged friends to the Cathedral Church St. John the Divine in honor of St. Francis Day. Watch a procession of exotic animals, including alpacas, tortoises, bees and a camel, head into the church and then hit the grounds to get your pets blessed. There will also be a fair with dancing, face painting, a petting zoo, food and other activities. Note: Advance passes for the 11am service are sold out but a few will be distributed that morning on a first-come first-served basis starting at 9:15am. Honestly, it's more fun to hang outside and watch the animal parade. FREE
Upper Broadway Harvest Festival – Upper West Side
At this 25th annual street fair you'll find a slew of vendors selling crafts, antiques, jewelry, woodwork, vintage clothing, collectibles and memorabilia, a children's zone between 104th and 105th Streets with a bouncy house and activities, and continuous live entertainment on the main stage at 97th Street. FREE
Chagall Family Day – Upper East Side
Check out the Jewish Museum's new Marc Chagall exhibit and enjoy a host of hands-on activities like puppet making, a collaborative dream mural, water color painting and a performance by tot rockers the Pop Ups. Free with admission: $15 for adults, free for children under 19
Outside NYC
My family and I love to go pumpkin picking at this time of year. We've got roundups of pumpkin-picking places less than an hour from NYC and even a handful of pumpkin patches right here in the city. Check out our Apple and Pumpkin Picking Guide for more options.
Up in Historic Hudson Valley, it's opening weekend for the legendary Great Jack O' Lantern Blaze, an amazing display of elaborately carved pumpkins at Van Cortlandt Manor in Croton-on-Hudson. My family and I go every year. It's incredible!
This is also the first weekend to explore Rise of The Jack O' Lanterns at Long Island's Old Westbury Gardens featuring more than 5,000 hand-carved pumpkins.
The New Jersey Botanical Garden in Ringwood hosts its annual Harvest Fest with hayrides, face painting, pumpkin painting, music and yummy eats.
Connecticut's Mystic Aquarium celebrates its 40th anniversary with special animal training and treat sessions, live entertainment, a bounce house obstacle course and a 40-foot river of cupcakes!
Don't forget: We have additional activity options in our Event Calendar.
Tags: