Best Things to Do with NYC Kids: September Go List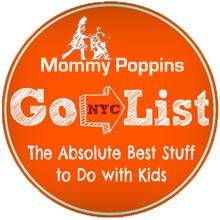 Just because school is starting doesn't mean all outdoor summer fun needs to stop. September actually brings many of our favorite annual alfresco festivals for families including the Medieval Festival in Fort Tryon Park, the interactive Dumbo Arts Festival, Brooklyn's biggest street fair Atlantic Antic and the inspiring Maker Faire at the New York Hall of Science.
There are also some brand-new events debuting this September that sound particularly cool. Celebrate the 200th anniversary of Madison Square Park at a historic fair, get a behind-the-scenes peek at film and TV production at Kaufman Astoria Studio's one-day-only New York On Location fest and take a look back at 45 years of Sesame Street at Lincoln Center's New York Public Library for the Performing Arts.
As always, if an event piques your interest, be sure to click through to our listing for all the details, including address and time. And keep in mind: In NYC, really cool things to do with kids often get booked up quickly. So buy your tickets ASAP or, in the case of FREE events, arrive as early as possible to try to beat the crowds.
Now get your calendars ready! Here are the top 18 (!!!) things to do with kids in New York City this September, ten of which are 100% FREE.
Mettawee River Theatre Company: The Dancing Fox – Morningside Heights
Friday, September 5-Sunday, September 14
Every fall, the wonderful Mettawee River Theatre Company mounts a folksy puppet show on the grounds of the Cathedral Church of St. John the Divine. Beautiful and full of symbolism, and presented at dusk in an enchanting setting, these productions aren't aimed at children although they're all-ages friendly. Still, they're best for kids who are attentive and patient, and don't need constant action. This year's show, The Dancing Fox, is subtitled "Wisdom Tales of the Middle East" and is a compilation of Jewish and Arabian folklore. Stories of sly foxes, slow fish, angry snakes and a wide variety of humans are performed with beautiful handmade masks, puppets, giant figures and actors, complemented by live music. My nine-year-old daughter and I have been going to see Mettawee's work since she was in preschool and we've been consistently awed by the troupe's artistry. $14 for adults, $7 for children
Mad. Sq. 200: Historic Fair – Flatiron
Saturday, September 6
Mark Madison Square Park's bicentennial at this alfresco celebration featuring 19th- and 20th-century pastimes and entertainment. Try classic lawn games like badminton, croquet, hopscotch, marbles and jumping rope. Check out retro curios like Victrolas, nickelodeons and animatronic gadgets from Denny Daniel's Museum of Interesting Things, an old double-decker bus from the New York Transit Museum and vintage fashions courtesy of Leading Lady Costumes. Plus, enjoy the amazing antics of the Bindlestiff Family Cirkus, Kid Ace's magic tricks, old-fashioned dances by the Commonwealth Vintage Dancers and classical music. We wish the park threw a birthday party like this every year! FREE
Circus Amok: At the Crossroads – Citywide
Saturday, September 6-Sunday, September 28
Jennifer Miller—a real-life bearded lady, knife juggler and emcee—founded this one-of-a-kind performance troupe back in the late '80s, and she and her cohorts are still going strong touring public parks throughout NYC. While Circus Amok alfresco productions feature acrobats, stilt walkers, clowns, jugglers, puppets and other fun acts, they're overtly political, too. In honor of the upcoming UN Climate Summit, the theme of this year's (as yet untitled) show is climate change, but also expect references to hot-button current events like Ferguson, Missouri, plus lots of audience interaction. A great way to introduce kids to the power of political performance. FREE
West Side County Fair – Upper West Side
Sunday, September 7
Granted, this old-fashioned shindig is modest when compared to the Great New York State Fair or the other biggies. But it's the closest you'll get to a county fair in the middle of Manhattan! Perfect for preschoolers, this 12th annual fest includes many of the usual attractions, including small carnival rides, live sideshow performers, a reptile show, an interactive environmental area and a smattering of country vendors. I went many times with my daughter when she was younger and I know from experience that it gets crowded fast, so arrive early to avoid lines. Afterward, grab a bite at the Pier I Cafe or head a few blocks north to romp in Elephant Playground. FREE
Feast of San Gennaro – Little Italy
Thursday, September 11-Sunday, September 21
When I was in my twenties, I lived on Mott Street just a block away from this legendary 11-day fest. At night it got so loud and rowdy, I'd end up fleeing to my mom's apartment on the Upper West Side just so I could sleep! But don't worry: During daytime hours the Feast of San Gennaro is much more kid-friendly though still mobbed. This 88th annual event is officially a religious celebration with masses, processions and other liturgical events, however, the food and the carnival atmosphere are the main draws for families. Thirty-five of Little Italy's restaurants dish out amazing sausage sandwiches, fried Oreos, Italian pastries and more right on the street. Plus there are live music performances, eating competitions, games and rides, including a Ferris wheel. Free admission but there are fees for certain activities.
Somebody Come and Play: 45 Years of Sesame Street Helping Kids Grow Smarter, Stronger, and Kinder – Upper West Side
Opens Thursday, September 18
Even though my nine-year-old outgrew Elmo long ago, I still plan to take her to this Sesame Street retrospective at the New York Public Library for the Performing Arts. A collaboration between the branch and Sesame Workshop, this installation is sure to please fans young and old (even parents like me who grew up with the series). Scripts, storyboards, designs, animation cels, photographs, blueprints, vintage branded merchandise and an architectural set model will all be on display, along with a handful of Muppet stars, including Oscar and every preschooler's favorite red monster. There will also be highlight reels, behind-the-scenes footage and iconic celebrity appearances, plus a children's activity area with Sesame Street books, apps and art projects. The exhibit stays on view through January 2015, and there will be special, as-yet-to-be-determined programming on weekends. We'll update this post once the details are finalized. FREE
Maker Faire New York – Corona
Saturday, September 20-Sunday, September 21
As you can probably tell from how often we write about it, Maker Faire is a true Mommy Poppins favorite. Founded in California, Maker Faire debuted in NYC in 2010 and my family and I have attended ever since (and we will again this year). The grounds of the New York Hall of Science explode with all kinds of inventions and creations, everything from knitting to robotics, circus to interactive sculptures, computers to crafts. The Young Makers area is particularly inspiring for kids, with local students showing off their cutting-edge projects. And of course everyone is always awed by the life-size working replica of the Mouse Trap board game. Check out our highlight reel from the debut fest, and then be sure to buy tickets for this year's edition. While there is a wide range of ticket prices, the best deal by far is the Sunday Family Pass, which snags you five tickets for $100, just $20 per person. The deal is only available online and you must enter the grounds on Sunday between 10am and 1pm (though you can stay until closing).
Queens County Fair – Glen Oaks
Saturday, September 20-Sunday, September 21
A much bigger to-do than the aforementioned West Side County Fair, this old-fashioned affair takes place on the grounds of the Queens County Farm Museum, NYC's only historic working farm. Enjoy blue ribbon competitions in livestock, produce, home crafts, arts and crafts, and more; pie-eating and corn-husking contests; pig races, hayrides, a petting zoo and a midway with carnival rides. It's all the fun of country farm life without having to leave the city. For an additional fee, you can also get lost in the Amazing Maize Maze, which my daughter and I love. $9 for adults, $5 for children under 13, additional fees for rides and other attractions
New York On Location – Astoria
Sunday, September 21
Lights, camera, access! Lots of popular TV shows are filmed at Queens' Kaufman Astoria Studios (including Sesame Street) but it's never been open to the public... until now. For one day only, families can explore the new gated back lot and go inside more than 20 trailers and trucks—all straight from productions currently shooting in NYC—to chat with TV and movie pros. Check out star dressing rooms; tech, prop, hair and makeup, wardrobe and special effects trucks; and other cool behind-the-scenes locales. Plus, stunt experts will demo high falls, street fighting and stunt driving. Once you tire of the spotlight, head to the adjacent Museum of the Moving Image, which is offering complimentary admission so you can check out its exhibits, including Behind the Screen and What's Up, Doc? The Animation Art of Chuck Jones. FREE
Brooklyn Book Festival – Brooklyn Heights
Sunday, September 21
While this annual celebration of Brooklyn-based authors is usually thought of as an adult affair, there are plenty of events and activities aimed at children. Although the website has not been updated yet, we emailed with the organizers and this year's lineup is truly spectacular. In the BKBF Children's Area in Columbus Park, there will be a slew of award-winning author readings and signings including Brian Floca (Locomotive), Sophie Blackall (The Baby Tree) and John Parra (Green is a Chile Pepper), plus fun illustrator draw-offs and appearances by costumed characters like the elusive Waldo. Meanwhile, the nearby Youth Stage aimed at tweens and teens, features star-studded author panels (Newbery Medal winner Rebecca Stead, the hilarious Jon Scieszka, the legendary R.L. Stine), and compelling topics like gender identity and first love. There will also be lots of vendors selling books at a discount and some cool bookend events at various NYC venues during the days leading up to the fest. FREE
Morningside Lights – Morningside Heights
Workshops: Saturday, September 20-Friday, September 26; Procession: Saturday, September 27
A weeklong series of no-cost collaborative art sessions that climax in an illuminated procession in Morningside Park, Morningside Lights is the brainchild of Alex Kahn and Sophia Michahelles of Processional Arts Workshop, the group behind those incredible giant puppets at the annual Halloween Parade. At the inaugural event in 2012, my daughter and I had a blast helping to craft massive lanterns out of wire, papier-mâché, cheesecloth and tissue paper. Then we and all of the other artists got to show off our illuminated creations during a music-filled parade through the park and the surrounding neighborhood. Last year, we just watched the procession, but really, getting your hands arty is the way to go. The theme of this year's Morningside Lights is Odysseus on the A Train with designs inspired by the work of late African-American artist Romare Bearden and his 1977 collage series A Black Odyssey. Signing up online in advance for both the workshops at the Miller Theatre at Columbia University and the parade is a must! (Some sessions are already at capacity.) One important word of warning: Since the lanterns are worked on throughout the week, you may start one that ends up being finished by others, or complete one that was originated by another family or group. So when you show up for the parade, don't be surprised if someone else is holding "your" creation. Always keep in mind that it's a community collaboration! FREE
Dumbo Arts Festival – Dumbo
Friday, September 26-Sunday, September 28
This massive, multiday festival takes over the funky neighborhood with visual arts, live performances and interactive activities for all ages. You can sort the schedule by family or check out this downloadable family guide BrooklynBridgeparents.com put together. But, having been many times with my daughter, I can attest that usually everything is appropriate for all ages (and anything not for children's eyes will be hidden in a gallery with a warning at the door). So there's no need to just stick to the designated family projects. Taking a quick look at the schedule, I'm particularly intrigued by Dear Deer, an interactive station where you help a deer write poems; Foam City, a hands-on outdoor cityscape featuring a variety of shapes; roaming artists wearing funky homemade backpacks; Degrees of Freedom, a kind of 3D maze; and Digital Being, an interactive sculpture comprised of electronic waste (I saw this at Maker Faire last year and it's awesome). If you want to plan your visit in advance, you can find the complete list of projects on the website as well as a map. But in my experience, it's more fun to go with no info whatsoever and just wander the streets of Dumbo to see what kinds of offbeat art you stumble across. Once you've had your fill, nearby Brooklyn Bridge Park offers many other amusements. FREE
The Old Man and the Old Moon – Midtown West
Friday, September 26-Monday, October 13
Full disclosure: I gave this show a rave review for Time Out New York when it played Off Broadway in 2012. The brainchild of the endlessly inventive PigPen Theatre Co—a troupe of recent college grads who are equally adept at acting, singing, storytelling, puppeteering and banjo playing—this neo-folk tale chronicles the adventures of an old man who leaves his job tending the moon to follow his estranged wife. Since I last saw it, the show has been restaged and streamlined to a tight 90 minutes. I can't wait to experience it again and I'm thrilled my daughter is now old enough to appreciate PigPen—the company's shows are deliberately paced, and full of nuanced and quiet moments, so heed the age recommendation of 7 and up. $15-$38
Ragamuffin Parade – Bay Ridge
Saturday, September 27
Get into the Halloween spirit a little early at this charming costume parade, which made our list of NYC's top annual processions for kids. Since 1967, Brooklyn families have been proudly putting on their outfits and marching down Third Avenue in Bay Ridge alongside bands, cheerleaders and makeshift floats. All kids who participate snag a toy, and bicycles are given to the children with the most creative costumes. If you live in the neighborhood, consent forms allowing kids to march are distributed in local schools and day cares. You can also pick one up at community businesses like the Kaleidoscope Toy Store and the Art Room, or you can download one on the organizer's site. FREE
Chile Pepper Festival – Crown Heights
Saturday, September 27
The Brooklyn Botanic Garden's festival features plenty of fiery fun for families. Hit the pop-up gardening station to pot chile plants to take home, sample a wide variety of spicy sauces and chocolates, and enjoy live music and performances in the BBG's Cherry Esplanade throughout the day. $20 for adults, $15 for students, free for children under age 12
Jeff Koons Family Day – Upper East Side
Whether you consider the controversial Koons a groundbreaking genius or a talentless hack, it really doesn't matter. The fact is, kids love his whimsical works, especially his sculptures based on inflatable toys like "Balloon Dog (Yellow)" and "Balloon Rabbit (Red)." The best time to check out the Whitney's Koons retrospective (the final exhibit in the museum's Upper East Side building before it moves downtown) is during one of its family days. My daughter and I went to one in July and enjoyed the special hands-on activities, including sketching, an art scavenger hunt and a photo booth with Koons-style props. Plus families are let in at 9am, two hours before doors open to the general public. Warning: The third floor has some of his pornographic work so steer clear of the "Made in Heaven" gallery. We liked the fourth floor the best, especially the Hulk organ. Koons' work definitely inspires interesting conversations about what constitutes art. Plus, we heard a rumor that the artist himself may show up! Free with admission: $20 for adults, free for children under age 19
Medieval Festival – Washington Heights
Sunday, September 28
Get ready to party like it's 1399! This annual fest in Fort Tryon Park is one of my family's favorites, despite the huge crowds. Watch knights joust and other pageantry of the era, enjoy live strolling musicians, dramatic minstrels and juggling jesters, and browse old-school wares. Make sure you dress up! Velvet and corsets should be mandatory (my daughter and I always put on our best period garb). If you can't make it to the annual New York Renaissance Faire in Sterling Forest, this is the next best thing. You'll see some of the same booths and performers, plus it's FREE.
Atlantic Antic – Boerum Hill
Sunday, September 28
The biggest street fair in Brooklyn boasts several stages of live music (R&B, jazz, rock, country, kids' bands, you name it) and literally hundreds of vendors. There's a whole block dedicated to kids' activities like pony rides, inflatables, face painting and balloon sculptures. Grown-ups will appreciate the eclectic selection of international eats, like grilled sardines, pulled pork, baklava and carnival favorites. Bonus: In conjunction with the fest, the nearby New York Transit Museum always holds its annual Bus Festival, where you can check out all kinds of retro rides. This one gets insanely crowded so go early! Free admission but there are fees for certain activities. 
Honorable Mentions
NYC always has so many incredible things going on, it's difficult to choose. So here are 10 more cool events (mostly FREE) that are worth considering for your September calendar. Be sure to sign up for our FREE newsletters so you can get our weekend picks delivered to your inbox every Thursday morning.
Go apple picking (September is peak season) at one of the tri-state area's pick-your-own farms.
Celebrate the Chinese harvest season at the annual Autumn Moon Cultural Festival and Children's Lantern Parade in Chinatown on Saturday, September 6. FREE
Introduce the kids to classic flicks at Film Forum Jr., which kicks off its new season with Raiders of the Lost Ark on Sunday, September 7.
Get a sweet taste of fall at the annual New York City Honey Festival in Rockaway Beach on Saturday, September 13. FREE
Go fly a kite at the annual Brooklyn Kite Festival in Brooklyn Bridge Park on Saturday, September 13. FREE
Get a sneak peek at the wonderful educational programming and entertainment the 92nd Street Y has to offer at its annual StreetFest on Sunday, September 14. FREE
Check out the Children's Museum of the Arts' brand-new exhibit Drawn to Language, which opens on Thursday, September 18.
Get into the Halloween spirit by hitting the New York Botanical Garden's Haunted Pumpkin Garden, which opens for the season on Saturday, September 20.
Visit many of NYC's top museums at no cost courtesy of Smithsonian Magazine Museum Day on Saturday, September 27. FREE
Make one last visit to Governors Island before it closes for the season on Sunday, September 28.