Best Things To Do with NYC Kids: September GoList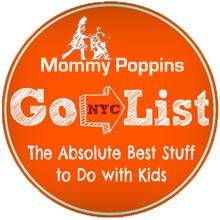 Get your calendars ready! Here are the top 16 things to do with kids in New York City this September, half of which are FREE.
School may be starting, but outdoor NYC fun doesn't need to end. September actually brings with it many of our favorite annual alfresco festivals for families including Brooklyn's biggest street fair, Atlantic Antic, New York Hall of Science's inspiring Maker Faire, the loopy NYC Unicycle Festival on Governors Island and Historic Richmond Town's old-fashioned County Fair.
There are also some brand-new events this September that sound particularly cool like the opening of the Staten Island Museum's new Snug Harbor home and the Children's Museum of Manhattan's new interactive NYC-themed installation. Plus the veteran Brooklyn Book Festival debuts its first-ever dedicated Children's Day.
As always, if an event piques your interest, be sure to click through to our listing for all the details, including address, time and pricing. Please keep in mind that the really cool (and free!) kid stuff in NYC books up quickly, so buy your tickets ASAP, or, in the case of FREE events, arrive as early as possible to try to beat the crowds.
RELATED: Back-to-School Tips and Meal Ideas
West Indian American Day Junior Carnival Parade – Crown Heights
Saturday, September 5
The five-day West Indian American Day Carnival culminates in one of NYC's largest parades on Labor Day, and while it's a colorful affair, it's also crowded and noisy. The Junior Carnival Parade the Saturday before is a better bet for families. Kids of Caribbean descent don elaborate garb as they march through Crown Heights and onto the grounds of the Brooklyn Museum for a costume contest and carnival. The parade is FREE, but there's a $2 fee to enter the museum grounds.
NYC Unicycle Festival – Governors Island
Saturday, September 5-6
Head to Governors Island to give one-wheeling a try. Or stay on two feet and watch pros play unicycle basketball, hockey and other games, and participate in races, competitions and exhibitions. While on the island, check out all the other attractions like the elaborate playgrounds and treehouse. FREE
Richmond County Fair – Staten Island
Saturday, September 5-7
Step back in time at this old-fashioned carnival at Historic Richmond Town, NYC's only living history museum. The three-day fest has been a Labor Day weekend tradition for decades and features fun for all ages including bands playing live country, rock 'n' roll, and acoustic music; pig races; pie-, hot-dog eating and hula-hooping contests; three-legged races, a water balloon toss and rides. The best part? All attractions are free with admission.
Great North River Tugboat Race & Competition – Midtown West
Sunday, September 6
Watch 15 tugboats race from Pier I in Riverside Park South down to Pier 84 in Hudson River Park where there will be line tossing, nose-to-nose and spinach-eating contests, and other nautical-themed fun. The race takes place in the Hudson River and can be viewed at no cost between West 44th and West 70th Streets on the waterfront, though Pier 84 is where most of the action is. For an up-close view, families can buy tickets for the Circle Line spectator boat that follows the tugs. FREE from the shore
West Side County Fair – Upper West Side
Sunday, September 6
The closest you'll get to a county fair in the middle of Manhattan! Perfect for preschoolers, this annual favorite features small carnival rides and games, live music, sideshow performers, a reptile show and a smattering of country vendors. It gets crowded fast, so arrive early to try to avoid lines. Note that for the first time, a wristband is needed to access rides and games. Afterward, grab a bite at the Pier I Cafe or head a few blocks north to romp in Elephant Playground. FREE
Feast of San Gennaro – Little Italy
Thursday, September 10-Sunday, September 20
Yes, this 89th annual fest has a reputation for being rowdy. But don't worry, during daytime hours the Feast of San Gennaro is much more kid-friendly though still mobbed. While it's officially a religious celebration with masses, processions and other liturgical events, the food and carnival atmosphere are the main draws for families. A slew of Little Italy's restaurants dish out amazing sausage sandwiches, fried Oreos and Italian pastries right from the street. Plus there are live music performances, eating competitions and games and rides including a Ferris wheel. Free admission but there are fees for activities.
Out of the Past: Celebrating 40 Years of the Mettawee Journey – Morningside Heights
Friday, September 11-Sunday, September 13
The stalwart Mettawee River Theatre Company performs scenes and songs from some of its greatest hits on the grounds of the Cathedral Church of St. John the Divine. Beautiful and full of symbolism, and presented at dusk in an enchanting setting, these excerpts feature colorful characters from folklore, Greek tragedy and Bertolt Brecht brought to life through masks, oversize puppets, music and dancing. Though Mettawee's productions aren't aimed at children, I've been bringing my 10-year-old for years, and she's always mesmerized.
Brooklyn Book Festival Children's Day – Brooklyn Heights
Saturday, September 19
For the 10th anniversary of this weeklong lit celebration, the organizers are doing something new to write home about: a dedicated Children's Day on Saturday before Sunday's main event. Held in MetroTech Commons and aimed at kids ages 2 to 11, Children's Day features readings by big names in little-kid lit (Kevin Henkes, Kitten's First Full Moon, Jon Scieszka,The Stinky Cheese Man and Other Fairly Stupid Tales), plus puppet shows, live music, costumed characters, illustrator draw-offs and lots of children's books for sale. Got teens or can't make it on Saturday? Then try hitting the Youth Stage at Sunday's main event, which will host young adult readings and author Q&As throughout the day. Be sure to also check out the fest's satellite Bookend Events at locations throughout the five boroughs as several are kid-friendly. FREE

The Amazing Maize Maze is a highlight of the Queens County Farm Museum's annual Queens County Fair.
Queens County Fair – Glen Oaks
Saturday, September 19-Sunday, September 20
This old-fashioned affair takes place on the grounds of the Queens County Farm Museum, NYC's only historic working farm. Enjoy blue ribbon competitions in livestock, produce, home crafts, arts and crafts, and more; pie-eating and corn-husking contests; pig races, hayrides, a petting zoo and a midway with tons of carnival rides. It's all the fun of country farm life without having to leave the city. This is also the weekend the farm opens its Amazing Maize Maze, the city's only corn maze.
Staten Island Museum Grand Opening at the Snug Harbor Cultural Center – Staten Island
Saturday, September 19-Sunday, September 20
After decades of development and $27 million, the Staten Island Museum finally moves into its new Snug Harbor home. The historic 19th-century building has been renovated in state-of-art-art 21st-century style (it's LEED certified!) and boasts 10,000 square feet of space, dwarfing its old St. George gallery. In honor of the grand opening, the museum is hosting a FREE two-day celebration. On Saturday, enjoy lawn games, live music, kids' crafts, food vendors, and science and history activities. On Sunday, there will be classical concerts, gallery tours and nature walks throughout Snug Harbor's gorgeous grounds. FREE
RELATED: NYC Family Day Trips for Fall
Morningside Lights – Morningside Heights
Workshops: Saturday, September 19-Friday, September 25; Procession: Saturday, September 26
A weeklong series of no-cost collaborative art sessions that climax in an illuminated procession in Morningside Park, Morningside Lights is the brainchild of Alex Kahn and Sophia Michahelles of Processional Arts Workshop, the group behind those incredible giant puppets at the annual Halloween Parade. My daughter and I have participated in every edition since its 2012 debut, and we've always had a blast helping to craft massive lanterns out of wire, papier-mâché, cheesecloth and tissue paper, and then showing off our light-up creations during a music-filled parade. Not artsy? You can just watch the procession from the sidelines. Signing up online in advance for both the workshops at the Miller Theatre at Columbia University and the parade is a must! Read our post about Morningside Lights for more info and important tips for participating with kids. FREE
NYC & Me: A Little Bite of the Big Apple – Upper West Side
Friday, September 25-January 2016
Our city's littlest New Yorkers can get a taste of all the Big Apple has to offer at the Children's Museum of Manhattan's new interactive installation. In the 3,000-square-foot immersive gallery, toddlers to school-age kids can drive taxis and police cars, build mini skyscrapers, make public art, show off their talents on the street, manage a food cart, read iconic Gotham-set stories, run for local government and even try a NYC-themed obstacle course. Be sure to check the museum's calendar for special programming sponsored by major NYC cultural institutions like Lincoln Center, the Metropolitan Museum of Art, El Museo del Barrio and the 92nd Street Y.
Chile Pepper Festival – Crown Heights
Saturday, September 26
The Brooklyn Botanic Garden's festival features plenty of fiery fun for families. Kids can pot their own chile plants to take home, sample a wide variety of spicy sauces and chocolates and enjoy live music and hot performances like fire breathing and sword swallowing on the main stage in the BBG's Cherry Esplanade throughout the day.
Little Red Lighthouse Festival – Washington Heights
Saturday, September 26
Explore the interior of Manhattan's only remaining lighthouse, made famous in Hildegarde H. Swift's 1942 children's book The Little Red Lighthouse and the Great Gray Bridge. Take note: Tickets for the tours are distributed starting at noon but the line for them begins forming hours before, so plan ahead! Can't stand waiting around? The fest also features fishing clinics, live performances (including excerpts from the upcoming Little Red Lighthouse Opera), food vendors, themed art activities and, of course, readings of Swift's classic. Worried about how hard it is to get there? The Parks Department is running a FREE shuttle throughout the fest to and from the 168th Street and St. Nicholas Avenue subway station. FREE

Tinkerers and inventors go gaga for the annual Maker Faire at the New York Hall of Science.
Maker Faire New York – Corona
Saturday, September 26-Sunday, September 27
As you can probably tell from how often we write about it, Maker Faire is a true Mommy Poppins favorite. Founded in California, Maker Faire debuted in NYC in 2010 and my family and I have attended ever since (and we will again this year). The grounds of the New York Hall of Science explode with all kinds of inventions and creations, everything from knitting to robotics, circus to interactive sculptures, computers to crafts. The Young Makers area is particularly inspiring for kids, with local students showing off their cutting-edge projects. The crowd is always awed by the life-size working replica of the Mouse Trap board game. Check out our highlight reel from the debut fest, and then be sure to buy tickets for this year's edition. While there are a wide range of ticket prices, the best bargain is the Sunday Family Pass, which snags you five tickets for $125, just $25 per person. The deal is only available online and you must enter the grounds on Sunday between 10am and 1pm (though you can stay until closing).
Atlantic Antic – Boerum Hill
Sunday, September 27
The biggest street fair in Brooklyn boasts 16 (!) stages of live music (R&B, jazz, rock, country, kids' bands, you name it) and literally hundreds of vendors. There's a whole block dedicated to kids' activities like pony rides, face painting and balloon sculptures. Grown-ups will appreciate the eclectic selection of international eats, like pulled pork, baklava and carnival favorites. Bonus: At the same time, the nearby New York Transit Museum holds its annual Bus Festival, where you can check out all kinds of retro rides. This one gets insanely crowded so go early! Free admission but there are fees for activities. 
Honorable Mentions
NYC always has so many incredible things going on, it's difficult to choose. So here are a few more cool events (mostly FREE) that are worth considering for your September calendar. Be sure to sign up for our FREE newsletters so you can get our weekend picks delivered to your inbox every Thursday morning and weekday picks by Sunday evening.
Go apple picking (September is peak season) at one of the tri-state area's pick-your-own farms.
Celebrate the Chinese harvest season at the annual Mid-Autumn Moon Festival in Chinatown on Saturday, September 5. FREE
Introduce the kids to classic flicks at Film Forum Jr., which kicks off its new season with On the Town on Sunday, September 6.
Go for one last dip at one of NYC's FREE outdoor public pools, which close on Labor Day, or beaches, most of which are staying open past Labor Day through Sunday, September 13 for the first time in decades!
Get a sweet taste of fall at the annual New York City Honey Festival on Rockaway Beach on Saturday, September 12. FREE
Go fly a kite at the annual Brooklyn Kite Festival in Brooklyn Bridge Park on Saturday, September 19. FREE
Help build a mini city out of cardboard boxes, fabric, markers, string, tape and other easy-to-use materials at Play:Ground Adventure on Governors Island on Saturday, September 19 and Sunday, September 20. FREE
Get a sneak peek at the wonderful educational programming and entertainment the 92nd Street Y has to offer at its annual Street Festival on Sunday, September 20. FREE
Visit many of NYC's top museums at no cost courtesy of Smithsonian Magazine Museum Day on Saturday, September 26. FREE
Make one last visit to Governors Island before it closes for the season on Sunday, September 27.