Best Things To Do with NYC Kids: August GoList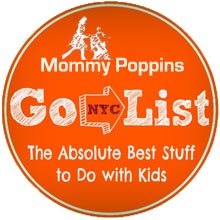 While many New Yorkers like to skip town in August, there are plenty of must-do summer activities left if you plan on sticking around for an NYC staycation with us.
Our top family event picks for August include annual favorites like Manhattan's car-free Summer Streets, the incredible Sand Sculpting Contest in Coney Island and the colorful Hong Kong Dragon Boat Festival in Queens' Flushing Meadows Corona Park. Plus, there are some brand-new experiences on tap, like a fresh slate of FringeJR theater and the long-awaited opening of the Battery's SeaGlass Carousel.
As always, if an event piques your interest, be sure to click through to our listing for all the details, including address and time. Please keep in mind that the really cool (and free!) kid stuff in NYC books up quickly, so buy your tickets ASAP, or, in the case of FREE events, arrive as early as possible to try to beat the crowds.
RELATED: Family-Friendly Travel Ideas from NYC
Now get your calendars ready! Here are the top 11 things to do with kids in New York City this August, seven of which are FREE.
Connected Worlds at the New York Hall of Science – Corona
New permanent exhibit
This interactive video installation has been wowing visitors since its summer debut. Part of the $25 million renovation of the Great Hall, Connected Worlds invites visitors to play in six distinct, virtual ecosystems (jungle, desert, wetlands, mountain valley, reservoir and plains) projected on the walls. Kids love watching how their movements impact each digital environment, i.e. watering plants makes them grow and so on. This exhibition is definitely better seen than described. Be warned: You'll have trouble tearing your kids away!
Summer Streets – Manhattan
Saturdays, August 1, 8 and 15
For three consecutive Saturdays, New York families are encouraged to cycle, scooter or stroll a car-free, seven-mile route that takes you all the way from the Upper East Side down to the Brooklyn Bridge. As in years past, there are special activities along the way at interactive rest stops, like cycling lessons, bike-tune ups, giveaways, live entertainment, public art and a 165-foot-long zip line. But we're particularly excited about the debut of the Slide the City Water Slide, a 270-foot-long water slide at the beach-themed Foley Square rest stop. Advance reservations are a must and there are lots of rules, so you have to plan for this one. Warning: Many of the special activities tend to get mobbed, especially later in the day, so go as early as possible to avoid the crowds. Read our Summer Streets post for important tips about going with kids. FREE
SummerStage Family Day – Staten Island
Sunday, August 2
SummerStage's first-ever Staten Island Family Day takes over Cloves Lake Park with a lineup of awesome music and dance performances. The fun kicks off with a high-energy, interactive Baby Loves Disco dance party, followed by live music from funk/soul kindie duo Sugar Free Allstars and folksy singer (and former NYC Urban Park Ranger!) Hopalong Andrew. The day wraps up with a set by the talented local kids of the Uptown Dance Academy. FREE
All American Drive-In – Staten Island
Monday, August 3-Saturday, August 8
For six nights, NYC's only living history museum, Historic Richmond Town, is hosting a retro drive-in theater experience. Patrons drive up, grab a parking spot, hit the concessions for snacks and settle in for a flick, just like back in the day. The only notable difference is the audio is broadcast from the car radio instead of outdoor speakers. Enjoy a trio of '80s classics: Ferris Bueller's Day Off, Raiders of the Lost Ark and Back to the Future preceded by contemporary shorts. Admission is charged per carload, so it's a good deal. No car? No problem! Walkers are welcome to sit in the picnic area. Buying tickets at least two days in advance is a must! No day-of sales.
Hong Kong Dragon Boat Festival – Corona
Saturday, August 8-Sunday, August 9
Watch more than 200 boat teams compete on the lake at Flushing Meadows Corona Park in colorful custom-made vessels outfitted with dragon heads and tails. Families can soak up Chinese culture between races at the massive outdoor marketplace featuring ethnic eats (including kid-pleasers such as dumplings and bubble tea), live contemporary and traditional music, lion and dragon dances, crafts, martial arts displays and kite flying. Once you've had your fill, explore the wonderful Queens park, which boasts a carousel, the Queens Zoo, the New York Hall of Science and mini-amusement park Fantasy Forest. FREE
SummerStage Family Day – Lower East Side
Sunday, August 9
Get ready to sing along to Michael Jackson's greatest hits with Invincible, a tribute to the late pop icon featuring live performers and multimedia effects, at the final Summerstage Family Day of the season in the East River Park Amphitheater. "Beat It," "Billie Jean" and "Thriller" are on the lineup, and you can learn a few of his signature moves in a preshow dance workshop. Also on the bill: Marika Hughes & Bottom Heavy, a soul and blues outfit fronted by a cello-playing singer. FREE
FringeJR – East Village
Friday, August 14-Sunday, August 30
Every August, the massive New York International Fringe Festival takes over multiple downtown Manhattan venues with cutting-edge live performances—most of which are not good for kids. However, this year there are six FringeJR productions at the 14th Street Y created just for families. Two shows present quirky takes on the fairy tale Rapunzel: the old-school musical Commedia Rapunzel and Rapunzel in the Wild West in which she's a hair lasso-swinging cowgirl. Meanwhile, the Open Hydrant Theater Company presents a double bill of adventure-filled ghost stories: Haunted Holliot Hildorf Hotel and Shadow's Unicycle, both starring local kids. There's also the percussion show Ideas, Not Theories, the drama Pedro Pan, the real-life story of a young Cuban boy who leaves his country in the 1960s for the US, and Solina, a puppet show about a little girl who goes searching for the missing sun .
Coney Island Sand Sculpting Contest – Coney Island
Saturday, August 15
Grab your buckets and shovels and hit Coney Island beach for its annual sand sculpting contest and festival. All are eligible to compete, kids and adults, amateurs and pros, and there are prizes in multiple categories. Not feeling creative? Gawk at the amazing entries and check out live entertainment on the boardwalk, including face painting, clowns and live music. Afterward, hit Coney Island's other attractions, including amusement parks, the New York Aquarium and the historic B&B Carousell. Preregistration to compete is booked up but entrants can sign up on-site first come, first served. FREE
SeaGlass Carousel – Battery Park
Opens Thursday, August 20
After years of development, the Battery's highly anticipated and much delayed SeaGlass Carousel finally opens to the public, and it's no ordinary merry-go-round. The giant ride features 30 tall (some up to 13-feet!), iridescent fish in an enormous, chambered pavilion reminiscent of a nautilus shell. Riders step into (not on) the fish, and instead of going round and round, you bob and glide throughout the space for a trippy, virtual underwater experience. Unsurprisingly, this one-of-a-kind ride comes with a higher than usual price tag: $5 per ride, but we expect there will still be long waits.
239th Anniversary of the Battle of Brooklyn – Brooklyn
Saturday, August 22-Sunday, August 30
Get a real-life history lesson and learn about NYC's important role in the country's fight for freedom by checking out this week-long celebration of the largest battle of the Revolutionary War. While not all activities are kid-friendly, best bets for families include the annual commemoration at Green-Wood Cemetery on Sunday, August 30, featuring historical reenactments, live period music, old-school games and a soldier-filled parade to the top of Battle Hill. You can also experience the Colonial Days on Saturday, August 29 in Ridgewood, Queens at the Vander Ende-Onderdonk House with a reading of the Declaration of Independence, a historical scavenger hunt and other 18th Century fun. Both event are FREE, but Green-Wood Cemetery requires advance registration.
RELATED: 2015 Summer Fun Guide for NYC Kids
Arthur Ashe Kids Day – Flushing
Saturday, August 29
Kick off the US Open at the Billie Jean King National Tennis Center with a day of fun and games. Get active at free tennis clinics and an obstacle course; watch big-name pros practice; enjoy face painting, juggling workshops, hair beading and braiding, storytelling and a no-cost concert by young up-and-comers. (Note: There is a different ticketed concert at 1pm featuring better known performers, like country star Sweet Suspense, that costs extra and usually sells out in advance.) All tennis and sports activities are FREE.
Honorable Mentions
NYC always has so many incredible things going on, it's difficult to choose. So here are eight more mostly FREE events that are worth considering for your August calendar. Be sure to sign up for our FREE newsletters so you can get our weekend picks delivered to your inbox every Thursday morning.
Celebrate peace and harmony by watching lanterns set afloat on the East River in Brooklyn Bridge Park's Hindu Lamp Ceremony on Saturday, August 1. FREE
Explore Fresh Kills Park during an activity-packed Discovery Day on Sunday, August 2. FREE
Hop on a 1940s-era subway bound for Pelham Bay Park and Orchard Beach courtesy of the New York Transit Museum's Nostalgia Ride on Saturday, August 8.
Get hep at Central Park's annual no-cost Great Jazz on the Great Hill concert on Saturday, August 8. FREE
Dance and clap along with the kooky Dirty Sock Funtime Band at the final Brooklyn Bridge Park Pier Kids concert of the season on Sunday, August 9. FREE
Create your own kite and let it soar at FlyNYC in Riverside Park South on Saturday, August 15. FREE
Take the A train uptown for the various Harlem Week festivities, including the Children's Festival on Saturday, August 15-Sunday, August 16. FREE
Watch the 1980s classic Back to the Future at Bryant Park's final film screening of the season on Monday, August 24. FREE