Free & Fun Things to Do this Weekend with NYC Kids: Spring Festivals, Earth Day, Family Theater April 20-21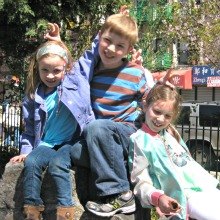 It's a great weekend for family theater, music and outdoor festivals. Lots of notable kids' shows debut this weekend, including two picks from our April NYC Go List: Wanda's Monster the Musical featuring songs by Laurie Berkner and TADA! Youth Theater's Adventures from Ezra Jack Keats, along with the kickoff of the second annual New York Children's Theater Festival.
There are also a slew of FREE Earth Day-themed festivals, like the art-filled St. George Day Festival on Staten Island, plus celebrations in Harlem's Marcus Garvey Park, Brooklyn Bridge Park and Union Square.
On a somber note, our thoughts and hearts are still with our friends, family and colleagues in Boston as they recover from Monday's attack. Sunday is Family Day at NYC's 9/11 Memorial and we suspect the organizers will do something special to honor the victims and survivors of the Boston Marathon bombings.
All of our best bets for the weekend are below. Remember, you can find additional ideas in our Event Calendar and our Spring Fun Guide.
All Weekend
Earth Day Celebrations – Citywide
Festivals honoring Mother Earth this weekend include:
Grand Central Terminal's Earth Day festival with educational displays and activities inside the station through Monday; FREE
An eco-fair at Union Square on Sunday featuring live music, green goods and educational activities; FREE
Harlem's Global Earth Day fete in Marcus Garvey Park on Sunday with recycling art projects, energy saving demos, entertainment and gardening projects; FREE
Brooklyn Bridge Park's fest with ScrapKins art projects and live music from Between the Lions' Aaron Nigel Smith on Sunday; FREE
Fun at Flushing Town Hall like beekeeping demos and eco-jewelry making on Sunday; FREE
Or help spruce up a local park. Saturday is Central Park's Family Volunteer Day and a special tree planting day in Highland Park; FREE
Browse our Event Calendar for even more Earth Day fun.
Wanda's Monster the Musical – Midtown West
We're excited to see Making Books Sing's new page-to-stage adaptation of Eileen Spinelli's picture book about a feisty five-year-old whose grandma turns the tables on the old monster-in-the-closet legend. Preschool rock goddess Laurie Berkner wrote the songs, which include her hit "Monster Boogie" as well as brand-new tunes. $20 for adults, $15 for children under 12
Adventures from Ezra Jack Keats – Flatiron
Another one of our favorite family theater companies, TADA!, is debuting a kid-lit-based musical. Adventures from Ezra Jack Keats brings the hidden saxophone player from Apt. 3 and the adventures of Maggie and the Pirate to life through song and dance, and the entire cast is made up of local children ages 8 to 18. $20 for adults, $8 for children
New York Children's Theater Festival: The Tale of Jamie Freel: A Faerie Story – Upper West Side
This second annual fest kicks off this weekend at the Marjorie S. Deane Little Theater with an adaptation of an old Irish folktale about a young hero whose thirst for adventure uncovers a magical world. Additional activities include a magic performance and a drama workshop. $18-$25
Le Grand C – Midtown West
The New Victory's latest show features 17 acrobats performing incredible stunts—tossing, tumbling and building human towers. No big hardware or sequined outfits here; all they've got are their athletic bodies and awesome skills, and it's all set to traditional French music. $14-$38
Children's Carnival – Glen Oaks
Hit the final weekend of the Queens County Farm Museum's annual bash. Enjoy old-time fun, including a midway, a magic show and lots of kiddie rides. $11
Catch and Release Fishing – Harlem
It's fishing season in Central Park's Harlem Meer. Grab bait and a pole at the Dana Discovery Center and remember to throw back any fish you catch. FREE
 
Saturday, April 20
St. George Day 2013 – St. George
This annual community festival features art workshops, a huge variety of music and dance performances, storytelling, an Earth Day Zone and an entire area devoted to kids with arts and crafts, a fanciful puppet show that recounts the St. George dragon-slaying legend and a puppet parade. FREE
Tribeca Drive-in: Lil Bub & Friendz – Tribeca
Part of the annual Tribeca Film Festival, this doc about the Internet's most famous cat is good for all ages and will be screened outside in the World Financial Center Plaza. Arrive early to snag seats and for prescreening activities. FREE
Circle Line Kids' Cruise – Midtown West
The Circle Line kicks off a brand-new season of its family-friendly sightseeing tours. In addition to a round-trip boat ride to the Statue of Liberty, enjoy a concert by the Anna Banana Band, a balloon twister and a magic show. $28 for adults, $20 for children ages 3-12.
Super Sabado: Around the Block from El Museo – East Harlem
This edition of the museum's monthly family fest extends beyond the building to the streets of the neighborhood. Art for Change and La Casa Azúl bookstore will have art-making activities, while P.S. 72 hosts a musical storytime with the Caribbean Cultural Center African Diaspora Institute and a Little Club Heads dance party. FREE
Off the Map – Lower East Side
Created specifically for preschoolers, this show at University Settlement features a subway train who's gone off the rails. While most folks want to see him get back on track, one young passenger looks forward to taking a new uncharted route. Told with puppets, projections and people, Off the Map is a lovely first-time theater experience. $15 for adults, $5 for children
Spring Fling: A Colonial Celebration to Welcome Springtime – East Flatbush
Celebrate the season Colonial style with period dancing, storytelling and games. Learn how colonists spruced up their home for spring, sample Dutch treats and tour the Wyckoff Farmhouse Museum, the oldest home in New York City. $5 for adults, $3 for children
Big Screen Bash – Fort Greene
Teens can head to BAM for a one-day fest featuring films made for and by teens. Highlights include Q&As with the young filmmakers, a screening of the 1983 graffiti documentary Style Wars and a free dance party. In advance: $10; at the door: $15
Aaron Nigel Smith – Upper West Side
If this singer/songwriter sounds familiar that's probably because you've seen him on PBS Kids' Between the Lions. Smith's cheery disposition really comes through in concert as he plays multicultural rock-reggae originals as well as covers by two famous Bobs: Dylan and Marley at Symphony Space. $20 for adults, $13 for children
Cherry Blossom Festival – East Harlem
The activity-packed Randall's Island is hosting its first-ever Sakura Hanami celebration. In addition to checking out the isle's collection of cherry blossoms, families can enjoy demos and tastings of cherry blossom tea, spring-themed arts and crafts, and other fun. FREE
Family Films: Early Disney Shorts – Midtown West
Catch a trio of silent Disney shorts—Goldie Locks and the Three Bears, Puss in Boots and Jack the Giant Killer—all directed by Walt Disney himself in 1922. Afterward, stay and enjoy the museum at no additional cost. FREE but tickets are distributed on a first-come, first-served basis beginning at 10am.
Sunday, April 21
National 9/11 Memorial Family Day – Financial District
Today marks the anniversary of September 11 being officially recognized as a National Day of Service and Remembrance. To honor the occasion, the 9/11 Memorial is holding a number of activities including Family Day, with a kids' zone, swing dancing, hula hooping, live music, origami making and other crafts, along with a chance to learn about the memorial and volunteerism. FREE
Cambodian New Year Family Day – Upper East Side
Choul Chhnam Thmei marks the end of the harvest season when Cambodians gather together to celebrate the fruits of their labor. Learn about Cambodian culture and traditions with music and dance performances, arts and crafts, and New Year's games. FREE
Shine & the Moonbeams – Staten Island
Groove to this awesome R&B family band at the Snug Harbor Cultural Center. Although this concert is aimed at preschoolers, music lovers of all ages should enjoy the group's funky and funny tunes. FREE
Kids Club Thirteen Presents: Curious George at the Brooklyn Children's Museum – Crown Heights
Are you a member of Kids Club Thirteen? It certainly has its privileges, including free admission to 13 family events throughout the year, like today's offering at the Brooklyn Children's Museum, where kids can catch new episodes of Curious George and meet the star of the show. Read our post about Kids Club Thirteen for details on member benefits and how to join. Free for Kids Club Thirteen members.
Outside of NYC
Have you been to the brand-new Legoland Discovery Center in Westchester yet? My son and I had an awesome time but there are some important visiting tips to know before you go.
Hunterdon County Park in Flemington, New Jersey marksEarth Day with wild animal shows, carnival games and canoe rides.
Or celebrate Earth Day at Long Island's Quogue Wildlife Refuge with guided nature walks, live animal presentations, crafts for children, environmental exhibitors, and kayaking and canoeing on Old Ice Pond.
Don't forget: There's more fun to be found in our Event Calendar.
Tags: