Free & Fun Things to Do this Weekend for NYC Kids: West Side County Fair, Honey Fest, Pop Ups Concert September 7-8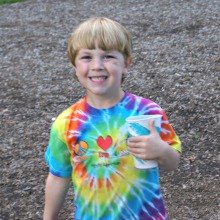 It's the final countdown! NYC public school students are headed back to school on Monday so this truly is the last weekend of summer break. Both days are jam-packed with FREE annual events we look forward to every year like the West Side County Fair in Riverside Park South, Arthur Avenue's Ferragosto in the Bronx and the NYC Honey Fest on Rockaway Beach. Plus there are mutlicultural celebrations in honor of the Jewish New Year and the Chinese Mid-Autumn Moon Festival.
As we head into fall, there's a whole new crop of seasonal fun like apple picking near NYC and our big back-to-school giveaway, which continues through September 15. Enter to win a slew of incredible prizes like Schwinn kids' bikes, a Disney Junior package, a $50 Target gift card, $250 to spend at Sears Optical and more. Each prize has a separate entry form, so start clicking!
All of our best bets for the weekend are below. You can find additional options in our Event Calendar. And if you're looking to plan out your entire month, check out the latest edition of our NYC Go List, which highlights the absolute best things to do with kids throughout September. With annual favorites coming up like Maker Faire at the New York Hall of Science, the Medieval Festival in Fort Tryon Park and the Dumbo Arts Festival, it's truly a banner month, so make sure you have your calendar handy.
All Weekend
Mettawee River Theatre Company: Taliesin – Morningside Heights
One of our September NYC Go List picks, this wonderful troupe is mounting a puppet production adapted from the epic medieval Welsh manuscript the Book of Taliesin on the grounds of the Cathedral Church of St. John the Divine. The tale of a young boy who magically learns how to see beyond everyday life is told through giant figures, masks and live period music. $12 for adults, $6 for children
20at20 – Manhattan
If you've been meaning to see Peter and the Starcatcher, The Berenstain Bears LIVE, Fancy Nancy the Musical, Gazillion Bubble Show or another kid-friendly Off-Broadway show, now's the time to go. Through Sunday, September 22, select productions are selling $20 tickets 20 minutes before showtime. The fine print: Tickets are mostly cash only and if the performance sells out in advance, you're out of luck. But we're guessing most family shows won't have that problem. $20
Pop Up Playhouse: Alice in Wonderland – Midtown West
Follow the Abingdon Theatre Company down the rabbit hole of this new stage adaptation of Lewis Carroll's topsy-turvy classic. FREE
Joanie Leeds and the Nightlights – the Bronx
It's your last weekend to go way back in time at the Bronx Zoo's prehistoric Dinosaur Safari ride, which closes on Sunday. Bonus: To commemorate its final weekend, kids' pop princess Joanie Leeds will be playing live sets in Grizzly Corner several times each day. Both activities are free with Total Experience Tickets: $33.95 for adults, $23.95 for children ages 3-12 
Saturday, September 7
New York City Honey Fest 2013 – Rockaway
Head to Queens' Rockaway Beach for this sweet annual fest featuring beekeeping and honey extraction demos, and tastings from local honey makers and food purveyors. Kids can also work on a giant, collaborative, bee-themed mural. FREE
Front/Row Cinema: Up – South Street Seaport
Catch Pixar's beloved animated film Up at the Seaport's final alfresco screening of the season. The perfect ending to a day spent romping in the nearby Imagination Playground. FREE
BAMkids: Pee Wee's Big Adventure – Fort Greene
Introduce your kids to Paul Reubens' hilarious man-boy alter ago at BAM's screening of the '80s cult classic Pee-wee's Big Adventure. $9 for adults, $7 for children under 13
Brooklyn Bike Jumble – Park Slope
In need of a new tire, pump, kids' seat or bike? Then this flea is the place to go. Buy brand-new or new-to-you cycling items. Free admission but bring cash to shop.
Brooke Jackman Foundation Read-a-thon: A Celebration of Literacy and Hope – Tribeca
The nonprofit organization commemorates September 11 by promoting literacy and endorsing peace. Head to the Tribeca Barnes & Noble for readings by celebrated children's author Stephanie Calmenson, appearances by cast members from Broadway's Spider-Man: Turn Off the Dark, a chat with FDNY Commissioner Salvatore Cassano and some of his fellow brave September 11 brothers, and the debut of ABC What Help Means to Me, a book featuring 26 stories penned by students in the Brooke Jackman Foundation's literacy program. FREE
Sunday, September 8
West Side County Fair – Upper West Side
Can't make it to a county fair outside of NYC? Then check out this Upper West Side favorite, which is the closest thing Manhattan has to one. Most of the activities are best for young children including square dancing, carnival games and rides, sideshow performers and a petting zoo. There's also the Green Acre environmental corner with hands-on eco-activities. FREE
Ferragosto – the Bronx
Head to NYC's other Little Italy in the Belmont section of the Bronx for a taste of old-world culture with commedia dell'arte-style street performers, lots of live music (including tunes from Sopranos star Dominic Chianese), and special surprise guests. There will also be kids' activities, shopping and the delicious food Arthur Avenue is famous for. FREE
Autumn Moon Cultural Festival and Children Lantern Parade – Chinatown
There are a number of Chinese Mid-Autumn Moon fests throughout the city this month, but today's shindig, hosted by the Better Chinatown Society, sounds like one of the best. Families can enjoy cultural performances, arts and crafts, food vendors, and a children's lantern exhibit and parade in honor of the Chinese harvest season. FREE
Alley Pond Adventure Course Free Public Sundays – Douglaston
Head to Alley Pond to try its challenging adventure course featuring a zip line, a rock climbing wall, a trust fall station, swings, nets and other obstacles. FREE
Adoptapalooza – Union Square
Is your family looking to add a new four-legged member? Then head to this annual animal adoption fair in Union Square Park, where you'll find more than 300 cats, dogs and other pets looking for loving homes. There will also be book signings, training and agility demos, advice about pet health care, training and grooming, and kids activities. FREE
Film Forum Jr.: The 3 Worlds of Gulliver – Greenwich Village
Hit the indie film house as it kicks off a new season of classic family flicks with The 3 Worlds of Gulliver, a '60s adaptation of Jonathan Swift's satire featuring legendary special effects. $7
The Pop Ups – Battery Park City
Ring in the Jewish New Year with an interactive concert by the Grammy nominated kid rockers at the Museum of Jewish Heritage. Crafts and other fun activities round out the celebration. $10 for adults, $7 for children under 11
Outside of NYC
Apple picking season has arrived! Check out our Pick-Your-Own Guide to find family-friendly orchards that are less than an hour away from NYC by car.
Celebrate the new season at Harbes Farm's Fall Harvest Festival in Mattituck, Long Island. Festivities include hayrides, live music, scarecrow relay races and pumpkin bowling.
Airplane-loving kids should dig Open Cockpit Day at Teterboro, NJ's Aviation Hall of Fame & Museum where they can explore airplanes, helicopters and a firetruck.
Head to the Yonkers waterfront for the 21st Annual Riverfest featuring live music, arts and crafts, classic car displays, a petting zoo, face painting, mini golf and street jugglers.
Don't forget: You can find even more NYC events in our jam-packed Event Calendar.
Tags: