Free & Fun Things to Do this Weekend with NYC Kids: IDEAS CITY StreetFest, Spring Festivals, Free Comics, Cool Concerts May 4-5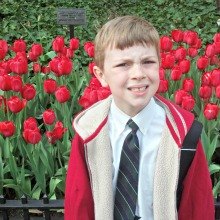 Are you ready for some free fun? Because there's plenty of it this weekend. Spring festival season kicks into high gear with the return of the New Museum's biennial IDEAS CITY StreetFest, Hippo Playground's annual spring fair, a slew of school fairs and the NYC Irish Dance Festival, which kicks off this season of Summer on the Hudson.
Lots of our top event picks for the month of May take place this weekend as well, like the Super Sonic Kindie Music Festival, citywide volunteering initiative It's My Park Day and the New York Road Runners' no-cost Youth Jamboree. Plus there are free concerts by Gustafer Yellowgold and Sugar Free Allstars, the annual Cinco de Mayo Mexican Parade and free comic books will be given away in all five boroughs.
These are just a few of the great things going on this weekend. All of our best bets are below. You can find additional options in our Event Calendar and our Spring Fun Guide. And if you're looking to plan out your entire month, check out the new edition of our NYC Go List, which highlights the absolute best things to do with kids throughout May.
All Weekend
Fragile – Midtown West
My son and I were mesmerized by this wordless puppet show at the New Victory Theater, about a tiny traveler making his way home on a road that's full of twists, turns and loops. The charming production features a simple set, an adorable star and easy-to-follow story—perfect for preschoolers. $20
Bronx Heroes Comic Book Convention – Fordham
This con is pretty small and focuses on indie titles, so you won't find Spidey or Batman here. However, if you've got a tween who loves comics, it's worth checking out, especially since admission is free. In addition to vendors, there will be panel discussions, pro signings and live entertainment. FREE
Gutai: Splendid Playground – Upper East Side
It's your last weekend to see this awesome Guggenheim retrospective of Gutai, an avant-garde Japanese art collective from the '50s and '60s. Even though it's not specifically aimed at kids, Mommy Poppins founder Anna took her nine-year-old and he just loved it. If you go, be sure to snap a photo so you can enter to win our Guggenheim giveaway. Free with admission: $22 for adults, free for children under age 13
Sheep Shearing Weekend – Corona
Watch the sheep get their annual haircut at the Queens Zoo and make animal-themed crafts. Free with admission: $8 for adults, $5 for children ages 3-12
In the Garden – Fort Greene
In this multimedia theater experience at BAM developed specifically for preschoolers, a A couple walking through a garden comes across a piece of cloth, which sparks a visual feast of shadow play, projections and wordless wonder. The entire performance is one hour long, and that includes a post-show Q&A, so it's great for short attention spans. $7
Spellbound Theatre's Wink – Park Slope
Eugene Field's kids' poem Wynken, Blynken and Nod comes alive through shadow puppets, physical theater and projections. $15 for adults, $10 for children 
 
Saturday, May 4
IDEAS CITY StreetFest – Lower East Side
The New Museum's second biennial IDEAS CITY Festival culminates in this all ages street fair in and around Sara D. Roosevelt Park. Thought-provoking games, communal arts and crafts like a giant plastic bag mandala, a portable kids' library, live music with instruments made of recycled materials, performances by Rosie's Theater Kids, a subway-themed puppet show, a parkour showcase and a collaborative mural of the New York City skyline are just some of the offbeat fun on tap. FREE
The Gustafer Yellowgold Show – East Village
Singer, songwriter, artist and dad, Morgan Taylor, and his little yellow animated alter ego hit the Ottendorfer Library for a rare no-cost performance. We've been raving about his shows for years: They're equal parts concert and cartoon, as Gustafer's animated adventures are accompanied by groovy, Beatles-like tunes. Seating is first come, first served so arrive early! FREE
It's My Park Day – Citywide
Thousands of volunteers help spruce up their neighborhood green spaces as part of this awesome initiative. It's a great way to connect with nature and the perfect opportunity to teach kids about the importance of giving back to their community. After all, these are the parks they play in! There are It's My Park Day volunteering events throughout the five boroughs and you can find the complete list on the Park Department's website. FREE
VW Dome 2: 7th Annual Earth Day Rockaway – Rockaway
Celebrate Earth Day (albeit a little late) at the VW Dome 2, the geodesic dome erected by MoMA PS1 and Volkswagen to serve as a temporary community space in the Sandy-ravaged Rockaway neighborhood. Fun includes a mock dolphin rescue, live music, raptor demos, composting workshops, face painting, arts and crafts, kids' bike helmet giveaways and an FDNY safety obstacle course. FREE
Free Comic Book Day – Citywide
The first Saturday in May is Free Comic Book Day and many NYC comic shops will be giving away preselected issues. Visit the event's official website for a list of participating shops. FREE
Spring Fair – Morningside Heights
The Columbia Greenhouse Nursery School throws its carnival for the preschool set with a petting zoo and pony rides, face painting, carnival games and craft projects. There will also be a rummage sale with gently-used kids' gear. Free admission but there are fees for certain activities.
Calhoun Carnival – Upper West Side
Enjoy carnival rides, bouncy houses, games, arts and crafts, and other kiddie fun at this annual fundraiser for the Calhoun School. Free admission but there are fees for certain activities.
Touch-a-Truck – Park Slope
Explore all sorts of big vehicles like dump trucks, garbage trucks, ambulances and tow trucks at this annual favorite. New this year: mini cars, construction trucks and a puppet show. All proceeds support public elementary school P.S 295. $5, free for children under six months
Bard Family Day: A Journey Through Burma – Upper West Side
Learn about Burmese history and culture at the Bard Graduate Center's Family Day held in conjunction with the exhibit Confluences: An American Expedition to Northern Burma, 1935. Take a kid-friendly tour and enjoy a traditional Burmese music performance, a shadow puppet play, and arts and crafts. Advance registration suggested. $20 per family
Carousel for All Children Opening Day – Staten Island
Go for a spin in Staten Island's Greenbelt as the Carousel for All Children opens for the season in Willowbrook Park. Rides: $1.50
Sugar Free Allstars – Prospect Heights
This offbeat organ/drum duo from Oklahoma City play a no-cost concert at the main branch of the Brooklyn Public Library. The Allstars' songs are hard to label and run the gamut from funk, soul and gospel, to rock and pop, and their shows are always super-interactive, so kids can get in on the music, too. FREE
Meet the Artist Saturday: The Brooklyn Manila Project – Upper West Side
A true cultural mash up: Grammy-nominated classical duo, cellist Dave Eggar and percussionist Chuck Palmer, spent years working with Filipino tribal musicians. Now they bring their innovative multimedia collaboration featuring music, dance, martial arts and video to the David Rubenstein Atrium at Lincoln Center. FREE
Sunday, May 5
Remember, today is the annual Five Boro Bike Tour, so many streets throughout NYC will be closed. Make sure you leave extra time to get where you're going.
Super Sonic Kindie Music Festival – Gowanus
This second annual music fest features three great NYC-based acts: Grammy-nominated duo The Pop Ups, bilingual band Moona Luna and the sing-along-friendly Karen K & the Jitterbugs. There will also be interactive music workshops with the Brooklyn Conservatory of Music and clarinetist Oran Etkin's Timbalooloo, face painting, healthy snacks and goody bags. $15 for adults, $12 for children
NYRR Youth Jamboree – East Harlem
I plan to bring my eight-year-old to the New York Road Runners' no-cost track and field event. Kids are grouped by grade and gender and get to run, jump and throw in Icahn Stadium on Randall's Island. All participants snag ribbons and T-shirts. No experience is necessary. FREE
Suzi Shelton Band – Tribeca
92YTribeca's Bring Your Own Kid concert series goes out with a bang. The popular Brooklyn-based kids' crooner and her band hit the stage to play tunes from their album Tomboy in a Princess Dress and shoot a music video for their new single "Firetruck." Bonus: The first 100 kids to arrive will score free fireman hats. $15
David Grover Sings the Standards – Upper West Side
The legendary folk singer will serenade families with American classics as well as kids' tunes at the New-York Historical Society. Free with admission: $15 for adults, $5 for children ages 5 -13.
Hippo Playground Spring Fair – Upper West Side
The popular Riverside Park play spot throws its annual benefit with a bouncy castle, pony rides, a petting zoo, a maze, face painting, games and other fun. Free admission but there are fees for activities.
Irish Arts Center NYC Irish Dance Festival – Upper West Side
Stroll a mile south in Riverside Park to catch this annual Irish fest featuring traditional music and dance performances, dance workshops for all skill levels, a singers' circle and Gaelic language classes. FREE
Cinco de Mayo Mexican Parade – Upper West Side
This annual procession features festive floats, mariachi bands and Hispanic community organizations. FREE
Outside NYC
Visit Princeton, New Jersey's Terhune Orchards for its annual Kite Day where you can let fliers soar in a 10-acre pasture.
Or head north to Fairfield County, Connecticut for the 78th annual Dogwood Festival celebrating the beauty of spring with tons of entertainment for all ages.
Don't forget: There's even more fun to be found in our Event Calendar.
Tags: