Free & Fun Things to Do this Weekend for NYC Kids: Fete Paradiso, Come Out & Play Festival Family Day, Bastille Day July 13-14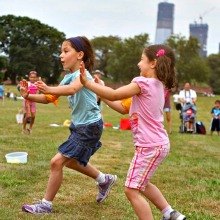 If it pours, some of our outdoor picks may be canceled or postponed. In the event of rain, check the organizers' official websites before heading out. This weekend is jam-packed with awesome things to do, including a bunch of our top event picks for the entire month. Head to Governors Island for a double dose of family fun: the opening weekend of vintage French carnival Fête Paradiso and the FREE Come Out & Play Family Field Day. Celebrate la France at the annual Bastille Day Festival on the Upper East Side or learn some new moves at Lincoln Center's FREE Midsummer Night Swing Kids Dance in Damrosch Park.
It's also a great weekend for kids' culture with the debut of two cool family musicals: TADA! Youth Theater's Sleepover and a return engagement of Wanda's Monster with songs by Laurie Berkner. Plus the Intrepid's Space Shuttle Pavilion is back in business for the first time since Hurricane Sandy.
All of our best bets for the weekend are below. You can find additional options in our Event Calendar and our Summer Fun Guide, including our favorite FREE public pools, beaches and water playgrounds.
All Weekend
Fête Paradiso – Governors Island
Head to Governors Island for this festival of vintage French carousels and carnival attractions from the late 19th and early 20th centuries. The main draw really isn't the rides; it's the Old World atmosphere. There will be a Music-Hall Ball Guzzler, a carnival game featuring life-size caricatures of Josephine Baker, Maurice Chevalier, Charlie Chaplin and other period stars; a bumper car pavilion repurposed as a beer garden and a children's carousel that will function as a live performance space. Free admission but rides are $3 each
Sleepover – Chelsea
Get ready for a fun-filled Sleepover, the latest original musical by TADA! Youth Theater starring talented local children ages 8 to 18. Expect songs about pajamas, pillows, snacks, friendships and cute pizza delivery boys. As always with TADA!, the show will be under an hour and easy to follow, so it's perfect for young theatergoers. Plus, kids always get a kick out of seeing their peers onstage. $20-$25 for adults, $8-$15 for children $20-$25 for adults, $8-$15 for children
Wanda's Monster: A Family Musical – Union Square
Making Books Sing's hit musical about a feisty five-year-old whose grandma turns the tables on the old monster-in-the-closet legend reopens at the Vineyard Theater. Based on Eileen Spinelli's charming picture book and featuring catchy songs by kiddie rock goddess Laurie Berkner, it's a wonderful show for the preschool set. $39
The Feast of Our Lady of Mount Carmel – Williamsburg
A kind of mini-San Gennaro, this century-old Catholic fest features live music, carnival rides and great eats, along with traditional processions of flower-strewn towers. Activities change daily so be sure to check the schedule before you go. Free admission but there are fees for certain activities.
All Star FanFest – Midtown West
In celebration of Major League Baseball's All-Star Game, which takes place at Citi Field next Tuesday, fans can head to the Jacob Javits Center for interactive sports fun all weekend. Kids can hone their pitching, hitting and catching skills, score autographs with baseball legends like Rollie Fingers and Doc Gooden, and much more. $35 for adults, $30 for children 2-12; multiday packages and special discounts are also available.
 
Saturday, July 13
Come Out & Play Family Day – Governors Island
While most of the street games in the Come Out & Play festival are aimed at adults, kids are welcome at Family Day on Governors Island. There will be several interconnecting games, all with a time-travel theme, like trying not to break a strand of pasta in the Spaghetti Stand-off, water balloon battles and the intriguingly named Pirates, Ghosts, Ninjas, Oh My!! Best suited for children ages 6 to 11 and their adult companions. FREE
Midsummer Night Swing: Kids Dance – Upper West Side
Put on your dancing shoes and let Rodney Lopez from Dancing Classrooms teach your little movers and shakers the basics of swing, meringue, tango and more in Lincoln Center's Damrosch Park. FREE
Brazilian Family Dance – Battery Park City
More dancing fun: Head to Battery Park City's waterfront esplanade for an interactive dance party and concert with Brazilian teaching artist Liliana Araújo and her band. As they belt out Brazilian songs, families can learn traditional moves. FREE
Space Shuttle Pavilion Reopening – Midtown West
Closed since Hurricane Sandy, the Intrepid's Space Shuttle Pavilion has finally reopened after necessary renovations. Aspiring astronauts can once again marvel at the Enterprise, which will be permanently on view on the aircraft carrier's flight deck. Sadly, you can only admire the spacecraft from the outside so no playing captain in the cockpit. Free with admission: $31 for adults, $24 for children ages 7-17, $17 for children ages 3-6 but you can save $2 by buying tickets online. Note: The Intrepid is closed this Sunday, July 14.
The Brooklyn Hip-Hop Festival's Family Day – Brooklyn Heights
Calling all future MCs! This year's fest is dedicated to the late great Adam Yauch of Beastie Boys fame. The details of the fest's family day are vague, but last year kids enjoyed stepping, African and Brazilian dance workshops, writing songs, DJing, and hip-hop-themed arts and crafts. $20
Nostalgia Ride: Orchard Beach by Rail and Bus – Midtown East & the Bronx
Travel to the beach in old-school style courtesy of the New York Transit Museum. Hop a WWI-era IRT subway car at Grand Central Terminal bound for Pelham Bay Park, and then grab a bus to Orchard Beach. The park boasts a 13-mile coastline, a historic house, nature trails, playgrounds and more. $50 for adults, $25 for children
Hester Street Family Day – Lower East Side
Hit the Hester Street Fair to browse local wares and then take a play break in the family area featuring art and movement projects, and two concerts by popular kids' crooner Miss Nina. FREE
Raritan Bay Festival – Staten Island
Celebrate the borough's waterfront at this family festival, complete with fishing demos, beach cleanup, kayaking on the bay, live tunes and more. FREE
Kids Club Thirteen: Bronx Zoo Dinosaur Safari – the Bronx
Are you a member of Kids Club Thirteen? It certainly has its privileges, including free admission to 13 tri-state area events throughout the year. Today, members can head to the Bronx Zoo to take a trip back in time at Dinosaur Safari and stick around for dino-themed crafts. Read our post about Kids Club Thirteen for details on member benefits and how to join. Free for Kids Club Thirteen members.
Sunday, July 14
Bastille Day on East 60th Street – Upper East Side
Vive la France! Celebrate French Independence Day at this outdoor cultural fete sponsored by the French Institute/Alliance Française. Attractions include French cuisine, wine and beer, live music and can-can dancers, a Citroën car show, an artisan market, and a Kids' Corner with face painting and art projects.
New York Philharmonic Concerts in the Parks – Staten Island
What's in a name? The famed orchestra plays a no-cost indoor matinee today at the College of Staten Island as part of its series of free citywide summer concerts. The indoor part is a bummer but the music should be glorious. Arrive early since tickets are given out first-come, first-served. FREE
The Penguin Young Readers Series: Edward Hemingway – Crown Heights
Hear Ernest Hemingway's youngest grandson Edward read from his children's books Tiny Pie and Bad Apple: A Tale of Friendship at the Brooklyn Children's Museum. Free with admission: $9
Outside NYC
Head to the Morris Museum in Morristown, New Jersey for the wonderful Victorian Family Festival featuring period games, crafts and activities, dress-up photos and more.
Gawk at hot rods, tractor pulls and vintage race cars, and enjoy hayrides on a monster truck at the Long Island Antique Power Association Summer Show in Riverhead.
Sailfest 2013 takes over New London, Connecticut for three days of nautical fun like boat rides, kids' activities and fireworks.
In Westchester, the Greenburgh Nature Center celebrates the town's 225th anniversary with live music, nature walks, and meet and greets with its animal residents.
Don't forget: There's more fun to be found in the Mommy Poppins Event Calendar.
Tags: