Free & Fun Things to Do This Weekend with NYC Kids: Cherry Blossom Festival, Tribeca Family Festival, Street Games April 27-28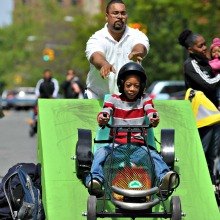 Are you good at making tough decisions? We hope so, because there's a slew of amazing activities to choose from this weekend, including three picks from our April NYC Go List: the Brooklyn Botanic Garden's Sakura Matsuri: Cherry Blossom Festival, the Parks Department's no-cost celebration of Street Games in East Harlem and the Tribeca Film Festival's free Family Street Fair.
While those three annual family favorites promise to be super-cool, they'll also be super-crowded. So you might want to try hitting an event that's a bit more under the radar like Park Slope's Fifth Avenue Family Fest, the Queens Botanical Garden's Arbor Festival or your local YMCA for Healthy Kids Day. If you just feel like hanging out at a local green space, check out our Parks and Playgrounds Guide for the scoop on NYC's best outdoor play spots.
These are just a few of the great things going on this weekend. All of our best bets are below. You can find additional options in our Event Calendar and our Spring Fun Guide.
All Weekend
Sakura Matsuri 2013/Cherry Blossom Festival – Prospect Heights
The Brooklyn Botanic Garden's celebration of traditional and contemporary Japanese culture is one of my favorite festivals all year. Activities include Taiko drumming performances, Samurai swords, flower arranging workshops, martial art displays, Japanese pop bands, tea ceremonies, cooking demos and, new this year, manga drawing, origami, crafts, magic and drumming workshops for kids. Bonus: Lots of revelers come dressed in their best anime-inspired outfits. The lines often snake around the block so arrive early. Or better yet, buy tickets in advance so you can go right in. $20 for adults, free for children under 12
NYC 19th Century Extravaganza – Park Slope
Go back in time at the Old Stone House's retro fete. Although the event isn't aimed at families, there's lots for kids to enjoy like an old-school photo booth, a Steampunk and neo-Victorian fashion show, and Sunday's dress-up picnic. Most activities are FREE but a few require prepaid tickets.
Sor Neakabas – Battery Park City
Cambodian shadow puppet company, the Sbeik Thom Troupe from Wat Bo, performs the traditional folk tale The Magical Arrowhead Dragon at the World Financial Center. Best for older children, the show features actors and dancers manipulating large-scale leather shadow puppets against a lit screen while accompanied by a pinpeat ensemble. FREE
New York Children's Theater Festival: Cheater, Cheater Pumpkin Eater – Upper West Side
The second annual fest continues this weekend at the Marjorie S. Deane Little Theater with a musical puppet show about a young girl determined to ace an upcoming test without cheating. Additional activities include a pre-show performance by Rosie's Theater Kids. $18-$25
The Gruffalo – Greenwich Village & Manhattan Beach
The U.K.'s Tall Stories theater company brings its musicalization of Julia Donaldson's best-selling kids' book to NYU's Skirball Center on Saturday and Brooklyn's Kingsborough Community College's Leon M. Goldstein Performing Arts Center on Sunday. $28 at Skirball, $12 at Kingsborough Community College
 
Saturday, April 27
Tribeca Family Festival Street Fair & Tribeca ESPN Sports Day – Tribeca
The highlight of the Tribeca Film Festival's family programming is really two fests in one. The Family Festival Street Fair features games, contests, bouncy houses, giveaways, live performances from the casts of Broadway's Wicked and Annie, kids' bands and much more. The concurrent ESPN Sports Day offers interactive games, demo and activities, and appearances by local athletes. If you've never been you must check it out. There's nothing else like it. FREE
Street Games – East Harlem
Leave your iPads and iPhones at home! The Park Department's annual Street Games in Thomas Jefferson Park is dedicated to the kinds of analog amusements we grew up with back in the '60s and '70s. Kids can try classics like pogo sticks, hula hoops, yo-yos, hippity hops and double Dutch. In addition, there will be an old-fashioned soap box derby race, a Radio Disney deejay, performances by the Dance Theatre of Harlem, skateboard clinics with the Uptown Skate School and soccer clinics with major league soccer's Red Bulls. FREE
Healthy Kids Day – Citywide
YMCAs across the nation celebrate Healthy Kids Day today with all kinds of free family programming. Each branch throws its own party, so check with your local Y for activities and schedule. We know that the McBurney branch in the West Village will have a bouncy house, face painting, food art and soccer games; there will be family spin, Pilates and yoga at the West Side Y; and Bedford Stuyvesant's Y in Brooklyn will offer family Zumba, African dance and face painting. FREE
FIAF Family Saturday – Midtown East
Hit the French Institute's monthly family fete for animated French films, a French storytime and craft projects, and a performance of Afternoon of a Foehn Version 1 in which plastic bags dance, twirl and float on stage to the music of Claude Debussy. Prices vary. See our listing for details.
Fifth Avenue Family Festival – Park Slope
Enjoy live family bands, face painting, carnival games, bouncy houses and other kid-centric fun at this annual favorite presented by Puppetry Arts. The first 200 children to arrive snag free goody bags. Free admission but there are fees for certain activities.
Jack and Jill School Spring Fair – Gramercy
The perfect fete for the preschool set. Kids can hit the bouncy castle, do crafts and go on rides at this annual school benefit. Free admission but there are fees for certain activities.
CCNY Family Arts Day – Harlem
The City College Gradate Program in Educational Theater offers free fun for families like art projects, singing and dancing, theater games, face painting and more. FREE
Bird Watching Buddies – East Harlem
Hit Randall's Island in search of resident and migratory birds. Afterward, make a bird-related craft, and snack on lemonade and cookies. Binoculars and guidebooks will be provided. RSVP suggested. FREE
Underbirds – Upper West Side
Head to Symphony Space to catch the first-ever concert by this kindie pop power duo of Morgan Taylor (the innovative singer/songwriter behind Gustafer Yellowgold) and rocker Todd McHatton. $20 for adults, $13 for children
Korean Festival – Hudson Square
Hit the Children's Museum of the Arts to learn all about Korean culture through hands-on projects and traditional performances. Activities include calligraphy, embroidery, sculpting and more. Free with admission: $11
Sunday, April 28
Arbor Festival – Flushing
Celebrate Arbor Day at the Queens Botanical Garden's third annual fest. Enjoy a petting zoo, old-fashioned games and crafts, face painting, gardening and composting workshops, a performance by Hiccups the Clown and live music. Bonus: There will be a beer tasting tent for grown-ups. Free with admission: $4 for adults, $2 for children ages 3-12
The Okee Dokee Brothers – Tribeca
This folksy duo plays tunes from their Grammy-winning album Can you Canoe? at 92YTribeca, which will soon be closing. In fact, this is the penultimate show of 92YTribeca's popular Bring Your Own Kid concert series. $15, free for children under 2
A Clearing in the Forest: Music & Crafts – Upper West Side
Central Park's annual family art and performance series kicks off today in the Peter Jay Sharp Children's Glade with an Earth Day celebration. Make your own musical instruments from recycled materials with Bash the Trash and bring snack wrappers to turn into treasure with TerraCycle. FREE
World Wide Pin Hole Camera Day – Staten Island
Educators at the historic Alice Austen House Museum will create an eight-foot-tall camera obscura on the front lawn and teach families how to work it. You can also bring your own pinhole camera and use the museum's darkroom to develop your pictures. Reservations suggested. $5
Senses of Springtime – Upper East Side
Learn about the Islamic world and the Ancient Near East at the Metropolitan Museum of Art. Fun on tap includes art workshops like calligraphy and paper marbling, Turkish, Arabic and Persian storytelling, henna painting, and dance and music performances. Free with suggested museum admission: $25 for adults, free for children under 12
Spring Family Fair: Join the Circus! – Murray Hill
The Morgan Library & Museum is hosting a circus-themed spring fair In conjunction with its Degas, Miss La La, and the Cirque Fernando exhibit. Activities include a show by the Ben Jam troupe, an interactive multimedia music performance, crafts, costumes to try on and clowning workshops. $8 for adults, $2 for children
Kids Row Spring Fest – Upper East Side
This sounds like fun for little ones: In addition to snagging discounts at all of the kid-friendly businesses on Second Avenue between East 73rd and 74th Streets, which include Cozy's Cuts for Kids and Greenstones/Naturino, families can enjoy art projects, theater games, face painting, glitter tattoos, a DJ and more. FREE
Outside NYC
Long Island's beautiful Planting Fields Arboretum in Oyster Bay celebrates Arbor Day with crafts, face painting, a petting zoo, live music and other nature fun.
Or celebrate our planet at Heaven Hill Farm's Earthfest in Vernon, New Jersey, with live reptiles, raptor and snake demos, hayrides and a butterfly release.
Meriden, Connecticut's annual Daffodil Festival in Hubbard Park features live music, food, rides, a craft fair and fireworks on Saturday evening.
Don't forget: There's even more fun in our Event Calendar.
Tags: