Sword Fighting & Stage Combat Classes for NYC Kids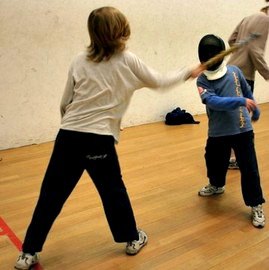 If every pencil, ruler or ear of corn becomes a potential weapon in the hands of your young swashbuckler, it may be time for a sword or stage combat class where those instincts can be channeled in a fun and productive way. Japanese and Korean martial art traditions stress the "art" of sword play as well as the importance of respect for the weapons and the opponent. Plus kids can improve their body mechanics, breathing patterns, and agility and speed in a safe space with trained instructors. If your child is more Luke Skywalker than samurai, there's even a light saber stage combat program for aspiring Jedi Masters.
Here are five places where New York City kids can work on their sword play and stage combat skills—far away from your fine china. You can find lots of other offbeat and enriching programs for children in our Classes Guide.
Sword Class NYC – Midtown West
Ripley Greer Studio, 939 Eight Avenue at 56th Street
Ages 8-14
Founded in 2009, this program combines several Eastern and Western sword-style traditions. Siljun Dobup is the study of the curved Japanese sword known as a katana; German Longsword is rooted in fencing; and finally, Kendo, or the Japanese "way of the sword", encourages a strong spirit, healthy body and sharp mind. Students practice barefoot and use an iaito, or blunted metal practice sword, which is provided for beginners. Youth classes are held on Tuesdays at 4pm. Drop-ins are allowed provided there's room. No long-term commitment required.
New York Budokai – Midtown West
Ripley Grier Studio, 520 Eighth Avenue between 36th and 37th Streets
Ages 12 and up
Run by dedicated volunteer instructors, this program teaches traditional Japanese sword fighting a.k.a. "iaido, the art of drawing the sword." Intro classes cost $25 and if you continue there are monthly dues which help defray the cost of renting space and buying equipment. Young students are assessed in the first session for maturity and developmental appropriateness. While officially New York Budokai is aimed at ages 12 and up, tweens who are serious about studying can attend with an adult chaperon. A practice iaito (sword) and a bokken (wooden practice sword) are provided.
Yoshi Amao – East Village & Battery Park City
Peridance Capezio Center, 126 East 13th Street between Third and Fourth Avenues (ages 14 and up)
Battery Dance, 380 Broadway near White Street (ages 10 and up)
Yoshi Amao is the leader of a performance troupe called Samurai Sword Soul. His classes consist of basic sword techniques such as gripping, breathing, yelling, cutting, stances and footwork. It is both a martial and performing art as students learn choreographed routines.
Stage Combat – Battery Park City
Asphalt Green Batter Park City, 212 North End Avenue between Warren and Murray Streets
Ages 11-17
At the brand-new downtown fitness complex, kids can learn theater fighting techniques that include a bit of martial arts, fencing and grappling. A great option for youngsters who are more into imagination than athletics.
Saber Kids – Midtown West
Ripley Grier Studios, 520 Eighth Avenue between 36th and 37th Streets
Ages 7-13
The Force is strong with them: New York Jedi: The Light Saber Enthusiasts Collective, a group of cosplayers and martial artists, are bringing back their popular stage combat classes for kids, which debuted this past summer. Padawans attend two weekly sessions over the course of five weeks, and learn all of the techniques they've seen in their favorite Star Wars flicks along with stage and performance techniques. The course culminates with a live presentation for family and friends. You may B.Y.O.L.S. (light saber) if it is the approved type, or purchase an LED saber in a blade color of your choice from Saber Kids.
Find out about other offbeat kids' programs in our Classes Guide.